Rate Now
Share Your Experience
Have you seen Dr. Jeffrey Mcgillicuddy?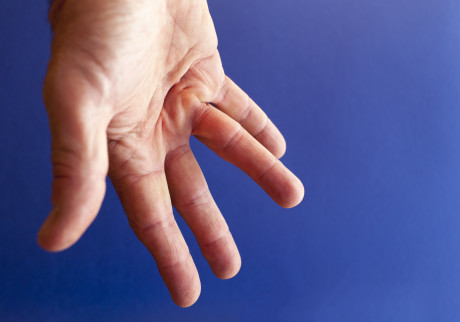 Dupuytren's Contracture
Dupuytren's contracture is a thickening of the tissue beneath the skin of the palm of your hand
26 Ratings with 16 Comments
5.0 Rating
March 28th, 2017
Best Ortho EVER!
1.0 Rating
June 9th, 2013
Doctor please review the patient's comments.
Reading the comments that patients have made, I am wondering does this Doctor ever searches to see what the patients are saying? I think it is a good idea for every Physician to take a look from time to time what impression or opinion leave with their patients. Definitely this physician looks like he is self absorbed and that is very wrong.
1.0 Rating
April 30th, 2013
Past Patient
I was referred to him after injuring my knee. By the time I saw him I had been on crutches for over a week, with pain, and an inability to have a full stride when walking. I was moving with a heavy limp. He was SO RUDE. Cut me off the minute I tried to explain what my symptoms were, would not take time to answer our questions, and when he did ask me a question he still interrupted. I asked for an MRI and his response was that my insurance was PPO, and it wasn't worth paying all that money to get one with the chance the image might not show up clearly. He told me I could return to work, and that I did not need physical therapy. I was not at peace with his diagnosis that I just dislocated my patella, because all my symptoms were showing something else was wrong. I went to another surgeon and found out through an MRI that I tore my meniscus. It was folded in half under another bone, and that I needed surgery ASAP to repair it and save my cartilage. Due to Dr. Mcgillicuddy's lack of patience and care I was severely MISDIAGNOSED, walking around with a brace to aid an injury I did not have. This kind of malpractice is dangerous. I went back to work as a server and worked 3 days pushing myself through immense pain, swiveling to turn corners endangering my knee I did not know was so damaged. Turns out my insurance FULLY covers my MRI'S.......I am upset by what happened to me, and there are more frustrating details I won't share. Please know this Dr. is not one you would want to use. Look up others surgeons in this area, there are MANY great ones that will not only aid your injury but listen to you as a patient.
1.0 Rating
July 6th, 2012
Don't waste your time
Forget the 50 minute wait for a 10 minute appointment. More importantly, Dr. McGillicuddy seems to be interested in treating healthy, highly athletic people only. I've gained weight since injuring my knee 2 years ago, but he didn't ask about that. He took one look at me & my "BMI" and just told me to lose weight, that he couldn't do anything for me. My MRI clearly showed a meniscus tear! I changed doctors, got my surgery a year ago & am now training for a marathon - just like I did before my injury! Dr. McGillicuddy is an elitist snob without the compassion required of a great physician.
5.0 Rating
June 23rd, 2012
Outstanding
Dr McGillicuddy looked after my father and fixed his rotator cuff. My father, an avid golfer, had shoulder pain for years. Dr McGillicuddy knew exac ...
5.0 Rating
June 21st, 2012
Dr. McGillicuddy and my son
Last month, my world, as a mother of an athletic thirteen year old boy was forever changed when he was diagnosed with a tumor on a bone on his leg. Not knowing if it was malignant or benign, we went to Dr. McGillicuddy looking for answers and possible treatments. We left the first visit still unsure of our son's predicament, but reassured knowing we had an incredibly knowledgeable doctor doing everything in his power to research and create the best treatment for our son. He discussed, illustrated and reviewed options and then contacted us immediately when further results were given to him. One month later, my son is doing well after the doctor removed the tumor orthoscopically. It was an extremely stressful morning; we sat and waited- hating that we had no control over what happened in the surgery room, but knowing we had the best doctor in there with our son. The doctor, his staff, as well a's the staff at Roseville Sutter Hospital, went out of their way to make our time with them comfortable, while going the "extra mile" to take the best possible care of our son. A million "thank you's" to Dr. McGillicuddy and his support staff! I have a smiling son, a's well a's a smiling heart because of the care you all demonstrated while caring for my son!
1.0 Rating
April 26th, 2012
5.0 Rating
April 23rd, 2012
Do you want a skilled surgeon or a therapist?
If you want someone who has expert surgical skills, go see him. If you want someone to hold your hand and let you cry on his shoulder, then find someone else. I personally want someone who can fix my problem vs holding my hand. The "bedside manner" is left to the surgical staff which by the way did a great job as well.
1.0 Rating
March 24th, 2012
1.0 Rating
September 6th, 2011
TERRIBLE!!! DOES NOT CARE ABOUT YOU!!
Doesn't care about you once surgery is complete and he has gotten paid. I was 3 minutes late for my 2nd follow up appointment and was eventually told that I needed to reschedule my follow up because ANYONE WHO WAS 1 MINUTE LATE WOULD NOT BE SEEN. He's an inconsiderate jerk riding a really high horse. Like I said, he got what he wanted with performing the surgery. After that, he could care less.
1.0 Rating
September 6th, 2011
TERRIBLE!! DOESN'T CARE ABOUT YOU!
Doesn't care about you once surgery is complete and he has gotten paid. I was 3 minutes late for my 2nd follow up appointment and was eventually ...
5.0 Rating
June 6th, 2011
Shoulder Surgery on 92-year-old Woman
Dr. Mc Gillicuddy performed shoulder surgery on my 92-year-old mother. She gave him high marks on how carefully he explained the procedure using her x-rays before surgery. She sailed through the operation, which was done exactly as he had described. She also said his direct bedside manner after surgery was very professional and suited her style. His office staff were courteous and helpful. One of her office visits was superseded by elective surgery on another patient and had to be rescheduled. A follow-up review will be written after her shoulder rehabilitation.