Rate Now
Share Your Experience
Have you seen Dr. Jeffrey Wang?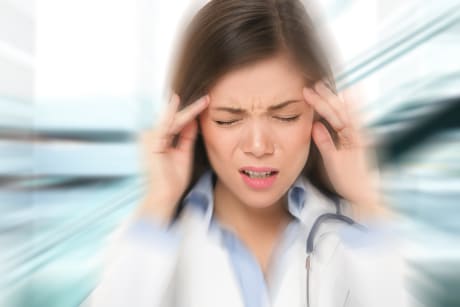 Migraine
Get the facts about migraine headaches, including the different types of migraine and migraine triggers.
20 Ratings with 9 Comments
2.0 Rating
December 22nd, 2015
Factory, not clinic.
Doctor Wang's practice is like a factory, always way behind schedule and cracking through patients as quickly as possible. Neither Doctor Wang nor his associates seem interested in really caring about patients, but instead are more interested in meeting as many patients as possible in a day, taking as little time as possible with each one.
1.0 Rating
April 13th, 2014
They Won't Help You- They Want to Use You as a Test-Dummy for Electronic Implants
Never, ever gave me a prescription. Never, ever was there communication between staff. Never, ever will I go there again. Never, ever will I pay the bill they just sent me out of the blue. Never, ever would I recommend anyone to go there. They only want to use you as a test-dummy for implanting an electronic device in to your spine. And they want to remove me from the pain medicine that has been working for the past decade. SHAME ON YOU! When you go out of business, I'll be dancing on your grave, right after I defecate all over you.
5.0 Rating
April 12th, 2012
Understanding
the wait for getting an appointment is my only complaint. It I'd take over a month to get one other than that I have no complaints. Jackie was very accommodating even though they were not accepting anymore new patients with my insurance. Dr. Wang spent a lot of time explaining to me what could and couldn't be done and the best things I should try first. He was gentle and very thorough in explaining everything he was going to be doing before he did it. Mike the physical therapist is great. He is very patient and caring . He does not push you if you can't do what he suggests. Over all I'm having very good experiences in their office and hoping for some relief. I did just start my treatment plan recently. I would recommend this office to anyone experiencing long term chronic pain.
5.0 Rating
February 25th, 2012
Focused and caring
5.0 Rating
December 13th, 2011
Talented and caring doctor
I've been a patient of Dr Wang for 12 years now and I can say he is one of the most wonderful and caring doctors I know. Pain management is a difficult field. There are plenty of so called pain specialists out there who claim to give you a quick fix and take your money just as quickly. Dr Wong's talent lies in the ability to analyse each patient and treat with a great variety of methods, both chemical and surgical if needed.
1.0 Rating
September 19th, 2011
The worst bedside manner I have ever seen
I started seeing him over a year ago. He has no bedside manner whatsoever. He seems so cold, and very judgmental. Calling him unfriendly is an understatement. He never spends more than 5 minutes with me, does not care if my pain level has increased, he tries to pressure me into getting spinal injections which he has done for me in the past and they do not work for me. He will not consider anything else, not even changing medications. He does have a "God" complex, as someone else stated.
5.0 Rating
August 25th, 2011
Great pain therapist.
Although I admit Dr Wang is not the warmest or friendliest of doctors, I have seen him for a number of years for treatment of severe chronic pain. He is always professional and listens and understands when pain levels increase, but he provides various other options instead of just increasing your medication doses over and over (like changing medications, nerve blocking injections, intrathecal pain pumps, physical therapy, etc) I am thankful that I have kept him as a doctor because unlike doctors I have seen before, he has helped me manage my pain instead of just accept it.
1.0 Rating
July 3rd, 2010