Rate Now
Share Your Experience
Have you seen Dr. Jeffrey Settecerri?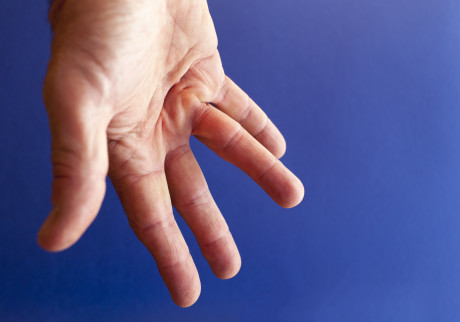 Dupuytren's Contracture
Dupuytren's contracture is a thickening of the tissue beneath the skin of the palm of your hand
35 Ratings with 12 Comments
1.0 Rating
June 14th, 2017
Rude and condescending
1.0 Rating
June 11th, 2015
1.0 Rating
January 20th, 2015
A couple years ago, my then 12 year old son saw Dr. Settecerri. At that time I was VERY frustrated about waiting! I actually left the office after 2 hours and rescheduled thinking it was just an off day. The next visit wasn't much better. He was condescending, brushed off my questions etc. My son just broke his collar bone. The er doc recommended surgery and to follow up with an orthopedic doc. We went to Settecerri. Same old routine. VERY short, rude, rushed, not at all thorough and was only focused on his own sons recently broken clavicle. Really, like I care about that!!! I will NEVER go back and will not refer him!!!! We are going to a different ortho tomorrow.
1.0 Rating
December 26th, 2014
I ENDED UP NEEDING SURGERY WHEN HE SAID I WAS FINE!
2.3 Rating
April 17th, 2014
Good guy but always behind schedule
We have to pull our son out of school for appointments and this office is an hour away from home. Many, many times, we have arrived early or on time for our appointment only to be told the doc was running an hour and a half behind. We would appreciate a call from a staff member if the appointment is going to be delayed that significantly, because we would not have to remove our child from his education time just so he can sit and be bored in the small, packed waiting room with nothing to do. Office visits, once we actually get in the exam room, seem rushed.
1.0 Rating
March 7th, 2014
Poor experience
5.0 Rating
July 31st, 2012
Scoliosis Surgery
1.0 Rating
February 23rd, 2012
I would not recommend this doctor.
My daughter had scoliosis surgery by Dr. Settecerri approx 2 years ago. Since then, she has had pain on a regular basis. Dr. Settecerri was not open to trying to help my daughter with her pain. I then went to Dr. Reynolds at Children's Hospital who put my daughter in physical therapy. My daughter said that she felt like a new person. Unlike Dr. Settecerri, Dr. Reynolds is very easy to talk to and very open to trying different things to help my daughter's pain.
5.0 Rating
January 11th, 2012
One Happy Mom
I loved the treatment that he gave my child. He took the fear out of having a cast removed. He is a dear man and the bones were set and healed as if there was never even a fracture. This is one of the few doctors I have been impressed with in the State of Michigan. I highly recommend him. Most of his staff was pleasant as well.
5.0 Rating
November 11th, 2011
Dr. Settecerri is the BEST.
1.0 Rating
October 10th, 2011
If either of my children's problems were resolved upon being "treated" by this doctor, then the wait time would have been the worst of our experience. After my daughter went to the emergency room, had x-rays taken and was sent home with only crutches--an actual doctor called a day later after reading the x-rays, indicating 2 breaks in her leg, she had to wait an AGONIZING 8 additional days to get an appointment for this doctor to get a cast. Numerous visits over incidents with 2 kids...we never waited less than 2-1/2 hours to see him. I thought we lucked out once when I received the first 7:30 a.m. appointment...at 9:00, when inquiring at check-in counter how much longer could it possibly be, we were told the doctor's not even in the building yet. Another time, once we were in a room and the doctor's student came in to take a first-look, a worker popped their head in indicating that another patient was wondering how behind the doctor was since they had another appointment later that afternoon...the student indicated that he's pretty much on time (I indicated--that's funny, we've waited over 2-1/2 hours and we haven't seen him yet, but then again that is normal. Unfortunately, my son had an injury to one of his shoulders 10 years ago and after multiple visits, was told that he would just always have problems with that shoulder. My daughter sought treatment for back problems she experienced for a couple years, and was told to lose weight...luckily, once she turned 18, she was able to seek treatment with another doctor who did an MRI and diagnosed a bulging disc. UNFORTUNATELY, during my kids' needs for treatment, this was the ONLY pediatric specialist we had available to us!
1.0 Rating
September 28th, 2010
Be ready to wait