Rate Now
Share Your Experience
Have you seen Dr. Jeffrey Spoo?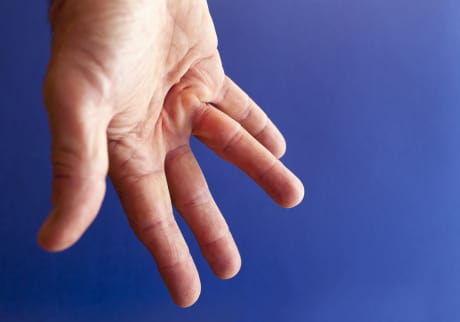 Dupuytren's Contracture
Dupuytren's contracture is a thickening of the tissue beneath the skin of the palm of your hand
14 Ratings with 7 Comments
5.0 Rating
June 2nd, 2017
Super Doctor - Great Results!
3.0 Rating
October 27th, 2016
Have a doctor willing to take time to inform you about invasive procedures.
I respect his education and reputation. However, my experience is that he explained very little re my complicated MRI"S...actually nothing more than "you have miniscal tears in both knees"....he was looking at rolling film on his computer...I was sitting on a table. He didn't say..."you see here" or any such info. After about 5 minutes of studying the film, he said, something like...v ery close to: Well would you rather have injections or surgery? Then had his MA have me arrange for Injections of Euslexxa....series of 3. No explanation of the drug. I was too backward a patient to ask "why" this, and "where" will you use it exactly. Research on Net puts me off. Too many poor results with too many patients, WORSE than before. The injections are not exactly a day at the beach, but if the result is good, my experience with Orthovisc and Synvisc through IL Bone and Joint in Chicago area was more than worth the injection pain. Only one was bad, and the staff settled me down on a gurney with an icepack and a script for about 10 Darvocet. and waited for me to begin for pain to back off.
5.0 Rating
August 8th, 2016
Very good doctor
5.0 Rating
September 8th, 2015
Awesome Guy, Straight shooter!
I read the reviews on hear and it seems that the people that Spoo has dealt with on this page are vulnerable and a bit on edge and are the type to bark at the poor front office staff. Don't complain about the receptionist as a reason not to visit. COME ON! Spoo has been great through the process of my ACL reconstruction. He gives it to you straight and does not give you fluff. If he says he cant fix something he tells you and if he is unsure he tells you he doesn't know until he is conducting surgery. funny sense of humor and would recommend this doctor to family. (I am writing this review because I am tired and have nothing to do during my recovery) Good luck!
1.0 Rating
January 28th, 2015
Avoid this doctor
3.7 Rating
August 27th, 2013
Great Doctor...terrible staff
1.0 Rating
June 27th, 2013
usatisfied
Central Coast Orthopedics is extremely poor when it comes to their service. From the get go of the rude and ignorant receptionist, to poor record keeping of their entire staff that seems to always be lost, all the way up to the arrogant attitude from the doctor when he's so called listening to a patient's concerns and needs.
4.0 Rating
July 28th, 2017
4.0 Rating
February 21st, 2017
3.0 Rating
October 25th, 2016
1.0 Rating
July 8th, 2016
4.0 Rating
July 7th, 2016