Rate Now
Share Your Experience
Have you seen Dr. Jeffrey Spychalski?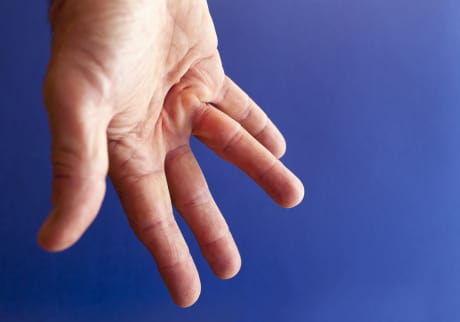 Dupuytren's Contracture
Dupuytren's contracture is a thickening of the tissue beneath the skin of the palm of your hand
47 Ratings with 20 Comments
4.0 Rating
May 10th, 2017
The Worst Doctor
I'm 58 years old and have worked in the medical field for 20 of those years. I have never experienced a doctor like this before. He is rude, will not make eye contact and would not physically examine me. On my first visit he referred me to PT. The PT explained everything my MRI revealed. The Dr. Never took the time to explain the MRI findings. After 5 weeks of unsuccessful PT. PT referred me back to Dr. Spychalski. Again very rude and uncaring plus he never read the report from PT. He said "well I could just give u steroid injections". He disappeared. The aide came in and said sit down and be ready when he comes in. I explained to her it was very painful to sit. She said you better be ready. He entered swabbed an Area on by knee and inserted the needle. With no explanation of what to expect or what he was about to do. I screamed with the worst pain I have ever experienced in my life. He said "come on it doesn't hurt, I've had it done before'. He said "I'm not going to do it, you got no medication"" he then left the room. His aide came in and told me to go see my primary doctor and get referred to another doctor. I said you bet I am. This is the worst doctor I have ever experienced in my life. Apart of me believes he treated me that way because of my insurance and because I'm Mexican. I wouldn't refer my worst enemy to this doctor. He actually deserves a negative in stars.
1.0 Rating
May 28th, 2016
dr Spychalski
Dr .Spychalski should work in a Prison, no take that back, it would be cruel and unusual punishment. He had a Medical asst. or what ever ask questions pertaining to mechanism of injury, onset of symptoms etc, then came in room , had me move knee, didnt touch me or probe my knee, told me he would order an MRI ( 30 days later nothing ), seemed to get offended when i asked about in term care and prognosis, asked me if I had pain , I replied yes, waited an hour for a RX for pretty much something OTC, again delivered by a med tech or something, no instructions on follow up. next appointment anything. I have tried calling the office twice no reply. I have never seen an operation like this,
4.0 Rating
November 14th, 2015
5.0 Rating
November 12th, 2015
I'm a new patient at his office. I was welcomed by the staff and processed my paperwork accordingly. In my opinion, Dr. Spychalski is a very straightforward professional orthopedic surgeon who maybe mistakenly rude. He listened and explained in details about my concerns. I received the authorized referral in a timely manner.
1.0 Rating
August 22nd, 2014
Not impressed- will tell people to stay away!
The office is clean. It took about 30 minutes to get called into room and another 15 minutes for dr. to enter. I would not tell anyone to see this doctor. I was not impressed. I felt that the fact that my knee hurt went out the window when he said " there is no fluid under the knee so there is no injury but we will get an MRI to check just in case" he did not do any test to see if my knee was loose like the ER doctor did. He did not believe the diagnosis of my doctor about my previous injury in Jan. Claimed there was nothing wrong with my knee so that what going on now. I will NOT be going back to him!!! He did not spend much time in the room at all- maybe 5 minutes
1.0 Rating
May 7th, 2014
Spychalski refused ACL surgery, only physical therapy.
Three (3) other renowned orthopaedic surgeons specializing in sports medicine, knee surgery that did a complete physical examination and reviewed MRI imagery findings: "high-grade partial tear". All agreed surgery is required to restore my knee strength and stability to the level of function and range of motion he had before the knee injury.
1.0 Rating
May 6th, 2014
Worst doctor ever - bar none
We had the unfortunate experience of having my 12 year old son referred to Dr. Spychalski after he injured his elbow playing baseball. The guy comes in to the room, no introduction, no eye contact, asked what happened and without any examination of my son's arm, tells us we need an MRI. I try asking him a few questions, like we are concerned bc this is the second type of avulsion injury he's had, is there something we can do in the future to minimize the chances of him getting this type of injury -- his answer, was "don't play baseball." That's it. No explanation as to anything. So about a week later, we are back to see Dr. Spy about the MRI. I had asked if we could see a different doctor to go over the MRI with, but Dr. Spy's office told us no, we had to come back and see Dr. Spy. So my husband took my son back and he basically says medial epicondle fracture. He'll be out for at least 6 more weeks. He needs to be in a brace. So my husband takes my kid to the place in the same building where he is supposed to get a brace. They sent someone up from Dr. Spy's office to help them get fitted and she clearly had no idea what she was doing. Finally they find someone who does know what they are doing and my son is fitted for his brace. Being someone unsettled by the lack of information given to us about our son's condition, I ask for a copy of the MRI report. The MRI report indicates that in addition to the medial epicondle fracture, my son also has a high grade tear to his ulnar ligament. What? Dr. Spy never mentioned this. And regardless if he thought it was accurate or inaccurate, why wouldn't he at least even talk to us about it? To make a long story short, we had to fight to get a referral for a second opinion. Dr. Spy was willing to refer to us to another doctor in his same office -- no thank you! Our pediatrician was finally able to get us referred to another orthopedist who explained to us what was wrong, what sort of treatment my kid will need, and what sort of restrictions were recommended as far as playing baseball. So here is the icing on the cake - my kid already had a follow up scheduled with Dr. Spy for 6 weeks after we went to see him for an explanation of the MRI. My hubby brought our son to the appointment, Dr. Spy came in the room to see them, and in his usual rude and arrogant manner said he has nothing to say to us. Any follow up should be done through whomever we got a second opinion from. Well, that's nice. Didn't stop them from collecting a co-pay and undoubted they will be billing our insurance for this visit. To sum it all up, this guy has no business "treating" patients. He's a disgrace to the medical profession. I would give negative stars if I could.
1.0 Rating
October 17th, 2013
Please listen to the other reviews
I had a horrible experience with this office and doctor...I mean HORRIBLE. I have never in my life had to fight back tears at a doctor's office, until today. I was concerned when I had to hold for 30 minutes just to schedule my appointment, but I had no clue what I would be in for once I arrived. Dr. Spychalski is the rudest doctor I have ever met. Did not introduce himself and avoided all eye contact. He never once looked me in the face. I felt like he was appalled by my presence. I already have a diagnosis from my prior doctor, but due to insurance, I was sent here. He dismissed my clear diagnosis, but in the most condescending manner agreed he could do surgery still, but doubts it will help...claiming I have severe arthritis in my knee so fixing the torn meniscus wouldn't matter. 1. I do not have severe arthritis according to my prior Doctor, MRI report, and my personal experience of having no pain until this injury. 2. I tried to explain all of this to him and he didn't care. Acted like I was stupid and said "be prepared for a lifetime of pain" due to arthritis. Well considering I was pain free prior to tearing my meniscus 2 months ago, I think I'll take my chances with surgery...but NOT from him. As much as I hate to delay the ordeal of getting my knee fixed any longer, I do not trust this doctor to perform a safe and accurate surgery. If I were you, for your health and sanity, I would avoid seeing Dr. Jeffrey Spychalski or any doctor in the office of Orthopaedic Specialties Associates.
5.0 Rating
July 29th, 2013
Competent, Knowledgeable Orthopaedist
Before undergoing arthroscopic knee surgery, I looked at Dr. Spychalski's reviews online. Nothing within the reviews gave me pause to question his medical competence. Before surgery, Dr. Spychalski spoke with me and I stated some specific concerns I had. He addressed these concerns concisely and precisely and I felt he listened to what I had to say, understood my concerns, and acted accordingly. I underwent the arthroscopic procedure and so far have no complications. I am quite pleased with Dr. Spychalski's professionalism and expertise as an orthopedic surgeon.
1.0 Rating
July 27th, 2013
Appalled by this unprofessional doctor. Do not schedule an appointment.
First of all, one star is far too kind. Under no circumstance should you waste your time with this doctor. He will not look at your films. He will not listen to you. He will not introduce himself or even look at you. He will become agitated, almost aggressive if you even start to ask questions about YOUR body and YOUR pain. He is incredibly dismissive and rude. I honestly cannot believe he is still practicing, I left the office in tears wishing I had never shown up. I am a young woman suffering IMMENSE pain and he offered no help and acted like I was wasting his time by being there. My appointment was at 2:15 and I didn't see the doctor until after 3:30. I only spoke with him for about 3 minutes. Please listen to these reviews. I read all of his negative reviews and thought " There's no way a doctor could be that bad! These people must be overly sensitive or crazy". No, they were totally right and completely honest. He is awful and he should be ashamed of himself.
1.0 Rating
September 18th, 2012
Seemed in a hurry and disinterested. A waste of time.
I saw Dr. Spychalski for a 2nd opinion on a shoulder problem that I have. The Dr. seemed disinterested and in a hurry. He made little eye contact. I was VERY surprised that he did not even take the time to visually examine the shoulder in question. He referenced the X-Rays that I brought in, but by his comments seemed unaware that I had also brought in a CD with the results and images of an MRI that I had. I would estimate the total time that I spent with the Dr. at probably 5 minutes.
1.0 Rating
March 15th, 2012