Rate Now
Share Your Experience
Have you seen Dr. Jennifer Kuzel?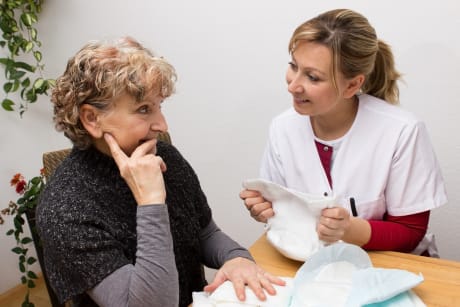 Urinary Incontinence
Learn about the symptoms and causes of urinary incontinence or urge incontinence.
39 Ratings with 10 Comments
1.0 Rating
November 15th, 2015
Nurse
RUN if this is your doctor. She is NO friend of the vagina or any pregnant woman for that matter. An absolute tyrant to work with (as a provider) has no bedside manner and should have her license revoked.
1.0 Rating
April 20th, 2015
Please read if you're considering going to her!
She makes it very clear she is not concerned with your questions, and makes it obvious she's in a rush. I'm very understanding and completely get that doctors are busy but to be rude about it each visit is not acceptable. I see most other reviews have said the same. Anyway, I ended up having a surgery done by her after she did a few tests I needed it asap. I was so happy someone was finally doing what needed to be done for me to get a diagnosis and treat me from there. My hope has completely vanished since, and I am not over exaggerating at all. Since that surgery my life has been debilitating to say the least. At my follow up appontment she got me mixed up with some other patient after an hour of waiting' She let me know that something had gone wrong with my surgery, which was obvious. I'm now in even more severe pain daily that continues to get worse, I'm unable to walk, and vomit constantly from the pain. Now I miss periods frequenty and they are always late and messed up. Even with all my issues before, I had NEVER had a late period or irregular now I'm terrified this has done something to my fertility. This is barely any of my story, but she's moved office; I was not told of this and now I've gotten ripped off waiting on my medicine because they haven't even called me back when they said they would two weeks ago.. I KNOW if she felt the way I did everyday, she would actually do something about it. It's complete negligence on her part. I have no idea what to do, I'm seein a new doctor now but PLEASE proceed with caution because I would never want someone feeling the way I do each day now. If you want a doctor who at the very least explains procedures and medications she is not the one for you, she doesn't even take the time to do that. Honestly it's sickening, I'm scared I'll lose my job over this but I've been pushing through it but it's getting to be too much for me. Sorry this is so long, please take this into consideration if you're thinking of going to her. Good luck to you all!
2.0 Rating
March 9th, 2015
Leaving after many years
I am no longer going to be a patient of doctor Kuzel's office and I feel this has been several years coming. The nurses in the office are downright rude and offensive, and highly unprofessional. The thing that set me over was when I was going to have a procedure done, and it turns out the office mislead me into thinking my insurance covered it fully, and Dr. Kuzel did not fully explain all of the side effects and pain of having the elective procedure. I feel I cannot trust this office at all anymore. I am also sick of having to make appointments 4-5 months in advance. No one ever would return my phone call, and they wanted me to come in for a minor yeast infection before they would give me a prescription to treat it.
1.0 Rating
October 17th, 2014
Disappointed by rude behavior
The office assistants are very nice, but the doctor is not. I went in for a new patient OB visit. I had been experiencing really bad morning sickness and had questions about staying hydrated and maintaining good nutrition for my baby. It was quite clear she was becoming irritated with my new pregnancy questions and rolled her eyes. She went on to say that throwing up is a good sign that you haven't miscarried, so I should be happy. Not quite the response you expect when attempting to discuss nutrition. I didn't return to her office. I found an OB GYN I really love!
2.3 Rating
August 5th, 2014
1.0 Rating
February 15th, 2014
Dr. Kuzel is a horrible doctor. I saw her for my second pregnancy and wound up switching to one of her partners about three quarters of the way through. Her bedside manner is terrible. She never read my chart before seeing me. She had no idea I had been diagnosed with GDM nor that I had been hospitalized at one point. She never measured my belly despite my requests bc of the GDM. While she did not deliver my baby, she was on call when I was discharged and refused to give me a script for Vicodin saying she doesn't prescribe pain meds for a vaginal birth. I was in agony my first weekend home with my new baby. She was on call for the weekend so I waited until Monday morning and called the office to complain and immediately had a script for Vicodin called in to my pharmacy by one of her partners. I will never see her again and would never recommend her!
1.0 Rating
August 10th, 2011
3.7 Rating
April 2nd, 2010
5.0 Rating
October 29th, 2009
Wonderful personable doctor
1.0 Rating
March 30th, 2017
4.0 Rating
January 27th, 2017
Nearby Doctors

Dr. Jennifer Kuzel is similar to the following 3 Doctors near Saint Clair Shores, MI.