Rate Now
Share Your Experience
Have you seen Dr. Jennifer Staud?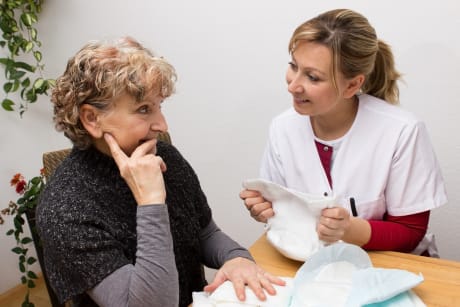 Urinary Incontinence
Learn about the symptoms and causes of urinary incontinence or urge incontinence.
57 Ratings with 15 Comments
5.0 Rating
December 9th, 2015
BEST OBGYN IN THE WORLD!
I cannot praise this doctor enough for the knowledge she posses and for the professionalism she has. She is the best OBGYN I have ever come across. I moved from TX to FL and now that I am pregnant, I was literally in tears wishing she was still my Dr. Her Staff is extremely sweet and prompt with all questions asked, if you leave a message a call will follow with in 1 to 2 hours. She has the best bed side manners I have yet to see any place else, Dr. Staud always spends times with you to explain all possibilities and diagnosis of your condition and makes sure to follow up as soon as possible. Crystal, her nurse, is also the sweetest girl I have ever dealt with. I miss Dr. Staud and wish her all the best in her practice. You will not be disappointed with her practice at all.
1.0 Rating
July 29th, 2015
Dr. Staud heart bit not expirience !
Well, It took me 6 1/2 to write a review about Dr. Staud! I saw her the other day and she didn't even almost acknowledge me. Pretty sad after all I went through just because she didn't know how to read my daughters heart bit. I remember very clear how every time I had my sonograms she said " Ohhhh her heart is perfect" Guess what ? my daughter was born with a heart defect and Dr. Staud didn't even noticed it! :( Hopefully she did something to learn how to read baby's heart bits. The reason I am writing this now is because mothers should be more aware of some unexperience Doctors and make sure to select the right doctors.
5.0 Rating
June 18th, 2015
4.0 Rating
February 13th, 2015
5.0 Rating
February 9th, 2015
Dr Staud went above and beyond in her care for me while I was pregnant. I had none of the risk factors for pre-term labor but ended up in that boat anyway. I was on bedrest for 9 weeks and Dr. Staud took the utmost care of me while I was under her care. I developed PPD after delivery and she stood by me every step of the way until I was back to normal.
5.0 Rating
April 29th, 2014
Dr Staud is the best!!
My experience with Dr. Jennifer Staud has been excellent. She has always been there for me, made me feel so comfortable. She guides you well and knows what's best. She takes CARE!. :) Dr. Staud is the best OB/GYN any expecting mom could ever imagine. Lucky I found her. I don't write reviews much but making a exception here because I want more concerned people out there to benefit and know of her.
2.3 Rating
March 19th, 2014
longer wait times !!!
We Had to wait for more than an hour for our appointment last time !!! They said they have only one ultrasound machine which is strange for such a busy clinic.
5.0 Rating
September 27th, 2013
Love love love
Love Dr. Staud!! She made me feel comfortable with my pregnancy and delivery! Love her. She. Is. Awesome.!!! Its difficult finding the right doctor to be in your "personal business."
5.0 Rating
November 10th, 2011
Great doctor with a positive attitude
Dr Staud is my OB for my first pregnancy. I am close to delivering but wanted to share my thoughts about her and her staff before I get lost! Dr Staud is a very positive doctor with great bed side manners. She spends ample time answering to all your questions. You never leave feeling scared or anxious as she gives you the right amount of information with the right tone. A special note to Dr Staud's staff - They are awesome. They call you back as soon as possible and talk your concern over. Dr Staud and her nurses bring a lot of humanity to what they do!
5.0 Rating
December 10th, 2010
YES
5.0 Rating
August 10th, 2010
I will never go to another gyn/ob
1.0 Rating
December 21st, 2009
I went to her 2 years back just for a routine health checkup.I was perfectly healthy at that time.She did a blood work and told me that there is variation in my hormone level and put me on a very high dose of medication due to which my condition worsened.I changed the doctor and the new doctor told I am perfectly healthy.But since she initially put me on the high does I developed hypothyroidism and I have to take the medicine throughout my life.She also asked me to take some other medicines which I did not do.Don't go to this doctor if you want to be healthy.
Nearby Doctors

Dr. Jennifer Staud is similar to the following 3 Doctors near Irving, TX.