Rate Now
Share Your Experience
Have you seen Dr. Jesse Eisler?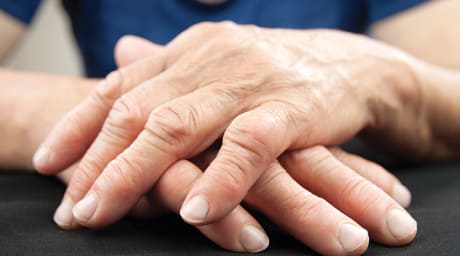 Osteoarthritis
Get the facts about osteoarthritis, including the symptoms and doctors who treat it.
64 Ratings with 32 Comments
1.0 Rating
August 7th, 2017
Just Awful
Dr Eisler and staff are very unprofessional. It is hard to believe that he is a medical professional, he is more like a used car salesman. I was treated for injuries by Dr Eisler and 8 months later I had very little improvement. I got a second opinion from someone else and I am having better results.
5.0 Rating
July 26th, 2017
So thankful.
5.0 Rating
January 12th, 2017
Fractured L-1 vertebrae.
5.0 Rating
November 16th, 2016
5.0 Rating
September 2nd, 2016
A doctor who cares about his patients........and will always be ready to help.
Dr Eisler has fused my lumbar spine and this has made a big difference in my life. Today walking, sitting, standing is without pain and discomfort. Each day is a surprise, as movement is so easy now thanks to Dr? Eisler's skill. Oh, that fusion, it was 2 years ago. Now l will return to see him again for another problem. Believe me when l say, "l trust no one else". He is the best ..........
5.0 Rating
June 10th, 2014
I had very severe spinal stenosis, which made it difficult for me to walk and almost impossible for me to stand for longer than a few minutes at a time. Thanks to the genius and skill of Dr. Eisler, I am now almost totally pain free and able to live a normal life. I would recommend Dr. Eisler to anyone in need of any type of back surgery. He's the best!
5.0 Rating
February 21st, 2014
Very Confident
I am very pleased with my experience with the office staff and Dr. Eisler. He took his time one on one with me and went over my issues with my back. He showed me my M.R.I. and took his time with me explaining what it showed and the options I or we have to deal with my lower back. I was very pleased and glad my orthopedic Dr. reffered me to him.
5.0 Rating
November 18th, 2013
Dr. Jesse Eisler is my hero
Dr. Eisler was highly recommended by friends and my PCP, Ian Tucker in Somers, CT. I had been experiencing horrible back pain for 50 years. Dr. Eisler encouraged me to follow their process of PT, Pain Management, and injections. Eventually, surgery was the only solution. Dr. Eisler, Doniel, Missy, and the entire staff at the CT Back Center were fantastic! After many hours of surgery over two days, four segments of my spine were repaired and fused. Today, 50 years of back pain is all gone! I am free to exercise and work as I please. To say it mildly, Dr. Eisler and his entire team are all my heroes!!! As Dr, Tucker told me, "If you have a back problem, get yourself to Jesse Eisler right away!"
5.0 Rating
November 18th, 2013
Dr.Eisler changed my life!
Dr.Eisler has seriously changed my life for the better. Prior to finding Dr.Eisler, my previous doctor whom I'd been with for 10+ years, was not effectively treating my neck/back issues which were getting worse as time went on. I found Dr.Eisler online. When I met with him, Dr.Eisler took the time to explain the issues he identified in my x-rays and MRI's and after first trying some conservative treatments which were not helping relieve the pain and numbness, ultimately led to ACDF surgery. He thoroughly described exactly what the surgery entailed and what I should expect during and after the surgery. His knowledge and genuine concern for my well being made me feel confident and cared for. The surgery was successful and I had a quick recovery, less than 4 weeks. I was back to work fast and I'm able to do normal things again without pain! I know someone who had the same surgery performed by Dr.Eisler a few years prior and he was very impressed with him as well. After the surgery, Doctor Eisler continues to be a caring Doctor. His staff is helpful and attentive. I highly recommend Dr.Eisler.
5.0 Rating
October 14th, 2013
FINALLY A RESULT
I have suffered with severe leg pain for 2-3 years. Before Dr. Eisler my journey to find the cause took me to 6 doctors with no avail. Once I was given Dr. Eisler's name I thought why not one more! His first visint was very professional and friendly. He sat with me and listened to what I had been through. Took a few tests and found my problem - Lumbar Scenosis. In discussing my options we had decided on surgery. Again, very professional, great bed side manner and his personality puts you at ease and releases your nervousness. I would definitely recommend Dr. Eisler, in fact I already have.
5.0 Rating
September 28th, 2013
Surgery Success
I had been having back pain that was getting progressively worse to where I could barely walk. I saw Dr. Eisler in Jan 2012 and we talked and he did appropriate tests before he thought I should consider surgery. I never felt pushed. I had surgery an l4/5 s-1 fusion and immediately I had pt and able to walk. It is almost a year now and my back seems to be getting better and better. I felt like it was a miracle that I can walk as much as I want now and I am pain free. Also after the surgery the Dr himself was available and would call if I had any questions. I had been to several other orthopedic drs in the past and felt like I was fluffed off and my back problem was something I would have to live with. Not so with Dr. Eisler. I had full confidence in his ability.
1.0 Rating
May 15th, 2013
This is a good news/bad news type of experience. The front office staff was absolutely terrific. They took me through the registration process (admittedly cumbersome, thanks to the insurance companies) with professionalism and patience. Explained what to expect next and we took a seat to wait to see the Doc. After a reasonable wait, I was led to an examination room and sat there for what seemed like an eternity. Finally, Eisler breezes in, and quickly appears to lose all interest in my condition because no surgery would likely be required. I was then referred for therapy and imaging and told to follow up. No details - boom...in a flash he was in and out without giving me an opportunity to get any answers to all of my questions. Back to the front office staff who seemed to have a better clue of what was going on and, almost more importantly, an actual interest in how I felt! Outrageous. I'm now seeing another specialist. His office staff pales in comparison but the quality of the direct care of this alternative makes it all worth it.
Nearby Doctors

Dr. Jesse Eisler is similar to the following 3 Doctors near Vernon Rockville, CT.