Rate Now
Share Your Experience
Have you seen Dr. Jessica Jacob?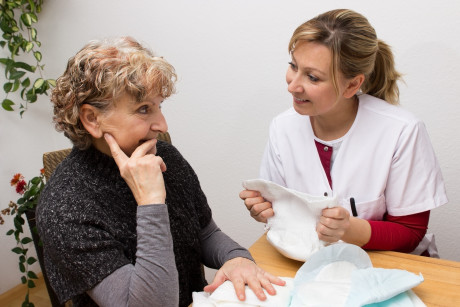 Urinary Incontinence
Learn about the symptoms and causes of urinary incontinence or urge incontinence.
69 Ratings with 22 Comments
1.0 Rating
July 8th, 2017
Never going back!
I've been a patient for a few years, but I am done now. It is very obvious that money is motive for Dr. Jacob. As soon as you walk into the overcrowded waiting room where there is standing room only you know there is a problem with overbooking. I never received any time with her, she's always in a rush to get out of the room. I stayed as long as I did only because it's a hassle to get to know a new doctor, but the truth is, after seeing me many times, I'm sure she has no idea who I am, I'm just someone in her long line of cattle at the factory. I feel bad for anyone who thinks that they actually matter to her, you're just another addition to her bank account.
1.0 Rating
October 23rd, 2016
Dr. Jacob did not listen - did not give me 5 min
I suffer from endometriosis. Dr. Jacob simply refused to listen to the problems I experience. She could not give me 5 minutes - opened the door letting me know that my time was up, did not try to help me with my issues. Upon leaving, Dr. Jacob did not forget to tell me to come back in 6 months. Guess what ? I won't be back.
1.0 Rating
January 5th, 2016
This was the most unprofessional office I've ever been to? The staff wasn't so bad,except one girl, the medical assistant, she was as bad as the doctor! I waited close to 2 hours as a new patient and then the medical assistant went over my history, not the doctor, and truthfully she was more interested in herself than me. Then when I did actually see the doctor I was totally rushed! I didn't get more than 5 minutes of her time. Very awful experience! I wouldn't recommend her to anyone!!
1.0 Rating
February 20th, 2015
Dr. Jacob's behavior is rude and she spends less than 5 minutes per visit
Dr. Jacob screamed at me and my husband that we were questioning her. She is pretty tired and rude. Rushes you out of the office, cannot give you 5 minutes per visit. Everyone knows that Dr. Jacob has not taken a vacation for over 20 years. It is not good for the patients. Dr. Jacob is tired and easily irritated. She has not had a normal sleeping schedule for many years. She feels screaming at patients and family members is not a big deal. Dr. Jacob probably was better in the past, but now her good days are over. Stay away from her. There are better doctor out there.
5.0 Rating
December 29th, 2014
Great Doctor
1.0 Rating
November 9th, 2013
Dr. Jacob told me my insurance did not pay her enough
Dr. Jacob told me she will not come to the hospital until I am ready to push (10 cm dialated) because my insurance does not pay her enough. As it turned out, I had to spend my first stage of labor in the care of a first year resident. Maybe people who had only one doctor do not know any better. But I had more than 1 baby and more than 1 doctor. The most of the doctors will come to the hospital when you are in active labor (4 cm). If you are using a group practice, on-call doctor will be there for you since you are admitted. If your labor lasts more than 12 hours, another doctor will take over. Also Dr. Jacob spends less than 5 minutes during pre-natal visits - she is always in rush and difficult to talk with. Dr. Jacob outsources her work to residents and hospital staff in order to make as much dollors as possible and I do not recommend her.
5.0 Rating
March 1st, 2013
patient
most amazing, wonderful, caring, professional, skilled doctor i have ever had the pleasure of having. truly a stellar doctor and a wonderful person who puts the comforts of her patients as a priority, very dedicated to what she does.
5.0 Rating
February 21st, 2013
5.0 Rating
September 10th, 2012
Love, Love Dr. Jacob
3.7 Rating
August 6th, 2012
Wouldn't choose anyone else
2.3 Rating
May 15th, 2012
Time to switch...
The positive about Dr. Jacob is that she seems to know her stuff very well. On the negative end some of my issues are that the waiting room is too small for the amount of patients that go to see her; although sometimes there are friends or relatives with the patients, which doesn't help. The waiting time is also ridiculous...over an hour to see her. Now someone may think...wow, she must be some excellent MD to have a waiting room so packed. Personally, I feel it shows that she overbooks to make more money and/or they are not very well organized in scheduling appointments to avoid such an extreme wait time. When I finally see her, it's usually under 10 minutes. The experience lately has left me feeling like I'm in some gyno factory mill or something. I also believe that at this point, she is pretty burnt out and the quality of her care has dropped a lot since I started seeing her. Therefore, I've decided to take my business elsewhere and am much happier.
Nearby Doctors

Dr. Jessica Jacob is similar to the following 3 Doctors near New Hyde Park, NY.