Rate Now
Share Your Experience
Have you seen Dr. Joan Bergstrom?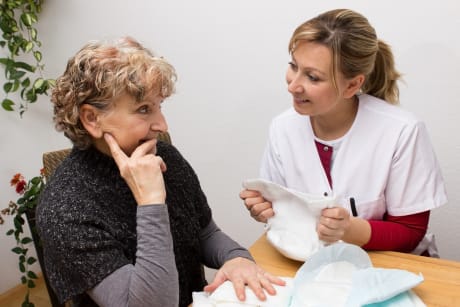 Urinary Incontinence
Learn about the symptoms and causes of urinary incontinence or urge incontinence.
17 Ratings with 10 Comments
5.0 Rating
January 25th, 2017
Mrs. Hammad
5.0 Rating
December 23rd, 2015
3.7 Rating
November 7th, 2011
Dr. B is so great, but there are a lot of down sides. She made me feel extremely rushed. This has happened every time I have gone. The plus is that she has always made me feel extremely comfortable in the room. She did my mom's hysterectomy and cared so well for her. I think she is great with surgical patients. The wait times are terrible.
1.0 Rating
June 20th, 2011
So disappointed
I went for my 2nd yrly visit. My !st visit in 2010 was uneventful. Pap, normal. She did say I should get ablation. I chose not to. This yr I brought up that I get hemmorrhoids. A lot of women who have babies get them. She is an OB/Gyn. They always give proctofoam in the hospital to women after they have babies. That is the best stuff. I asked for an RX for for any hemmorrhoid med. Her nurse called me and said they do not prescribe those meds ever! What? Does she not deliver babies? She said the I could go to a surgeon, or my GP. She also said the Dr. thinks my periods could cause them, and I should have ablation. They are pushing that! I am done with them, and I would not recommend.
1.0 Rating
March 8th, 2011
Great Doctor HORRIBLE STAFF
The doctor and her nurses were through, answered all questions, I felt like she genuinely cared about how I was doing. Her staff, however, is very rude, unaccommodating, difficult to work with and the wait is always rediculous. Will not continue to use Dr. Bergstrom because her staff is so horrible.
5.0 Rating
April 20th, 2009
Dr. B
I saw Dr. Bergstrom recently and she was wonderful! I didn't have to wait long, and when she saw me, I felt that she was personable and professional. It was a routine appointment, but she took care of everything and I was happy that I made the choice to come to her. If she is accepting new patients I would definitely recommend her!
5.0 Rating
April 20th, 2009
Best Change I've Ever Made!!
I was going to Dr. Talkington for years and years and then he retired. But before he had retired he had referred me to Dr. Bergstrom for my gyno care. I called for my annual exam, and was able to get in for an appoitment within 2weeks. Once I went to the appointment the staff was so friendly and helpful, once I was brough back to see Dr. Bergstrom I waited a few minutes and she came in, and within 20minutes I was done with my appointment and able to still get things done in the afternoon! Dr. Bergstrom was so friendly and answered all the questions I had. I have referred my two granddaughters and my daughter and they loved her too!
5.0 Rating
February 5th, 2009
Excellent Personal Care
5.0 Rating
February 5th, 2009
Msbx
2.3 Rating
August 24th, 2008
Would not recommend
Dr. Bergstrom is pleasant, but she seems hurried. She is not thorough and her diagnosis was incorrect (which was serious) and another problem I had was ignored. I was not given paperwork to do a mamaogram or bone density test, which my age requires. She, did however give lab work for hormones, I just don't know what they mean! She misdiagnosed, which my dermatologist was surprised she did not even culture the problem. My lab results were called in by a nurse, which I later had a copy faxed to me to take to another doctor for explanation. Twice I had to reschedule appointments, one for childbirth (understandable) and another because of a meeting she needed to attend. She seems overbooked. Her office personnel were very nice. She might be a good baby doctor, but for gyn issues, I would look elsewhere. My issues with her are almost identical to an earlier review here.
5.0 Rating
September 5th, 2017