Rate Now
Share Your Experience
Have you seen Dr. John Baldauf?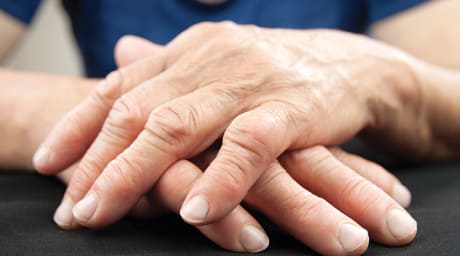 Osteoarthritis
Get the facts about osteoarthritis, including the symptoms and doctors who treat it.
31 Ratings with 13 Comments
5.0 Rating
September 12th, 2017
one of the best in the field of orthopaedic
Dr. John Baldauf, is one of the best in the field of orthopaedic. I had to have a knee arthroscopy to remove a lose body and with it being my first surgery, I had many questions that were all answered. Dr. Baldauf was my second opinion and I had got a total of four opinions from different surgeons prior to deciding to go with him. Dr. Baldauf took the time to explain the procedure and did not pressure me into surgery, like some of the other surgeons. He truly does care for his patients and treats his patients with the utmost respect. His entire team is professional and eager to help. I had a great experience dealing with Heather and Cyndi. Communication is great prior to appointments and after surgery, they make it easy to have a clear way of communication. I would highly recommend Dr. Baldauf and had referred him to my family and co-workers. Hopefully I never need any of his medical services again, but if I do I would not hesitate to trust him with my health.
1.0 Rating
April 26th, 2016
Assembly line medical practice
This practice is strictly assembly line medicine. You think you're scheduled to see the Dr. when in reality you see a PA. I saw the Dr literally 5 minutes during my pre-op appt in Feb and then 5 minutes each in hospital pre-op and discharge. All the other times, I saw the PA. I am quite younger than the "average" hip replacement patient, yet I was given pre- and post-op instructions as if I were 80 (eg, take your beta-blocker in the AM, discontinue the high blood pressure pills, this is covered by Medicare, this isn't). PAs seemed confused when told I don't have Medicare, nor am I taking any medications. That's where the assembly line feeling comes in. As soon as I arrived for my appt, the front desk person says "You know your deductible is $500 and you have to pay it today, right?" She repeated this about 4 times before I told her, "I'm fine, how are you? [pause] And yes, I know all about the deductible". They insist on calling you by the name on your license, even when I tell them to use my nickname. PA dismisses my complaint that when I was in the hospital, I was prescribed a drug I'm allergic to with "oh, that's standard therapy after surgery". Another assembly line feeling. Good thing I ignored the discharge instructions. Now they want me to use their own outpatient PT office. I don't think so. I'm going to an independent company that treats me not like just a number, I get quality PT time with them. Oh, and if you go in for a surgical pre-op appt, you are not required to take the drug screen blood test they want you to take. That's done with a secondary company and its not a requirement for surgery. UPDATED ADVICE: If you ask them for the DMV handicap form to be filled out --- make sure they CHECK ONE OF THE LENGTH OF DISABILITY boxes on the form. I didn't notice that the idiot PA didn't check the box; spent 1.75 hrs at DMV waiting to get the hang tag only to be told one of the 3 boxes needed to be checked. The guy at DMV tried calling the office to get an answer, but came back after about 15 minutes, telling me the office "couldn't locate the doctor" to talk to DMV. Now I have to go back to the office just so some idiot can check one measly little box she should have checked in the beginning.
1.0 Rating
November 22nd, 2014
1.0 Rating
June 13th, 2014
Poor excuse for a Healthcare Provider:
Not a single appointment was without a 2-hour wait. Dr. Baldauf spent a total of 10 minutes with me between 5 appointments. When he was unable to diagnose my pain with an MRI (ignoring my request for a surgical scope as the previous MRI found nothing) he then released my to full duty without consulting me, though in his paperwork it states he did (falsification of medical records is a felony). He's sold out his integrity for a promise of more patients from Workers' Comp. To release a patient when not knowing what is wrong and not being certain there is no possibility of further injury is medical malpractice. He should be ashamed of himself not only as a doctor, but as a person. A perfect example of why patients have an increasingly hard time trusting their physicians.
1.0 Rating
November 1st, 2013
5.0 Rating
May 23rd, 2013
Happy with results
After several months of being in pain in the hip area I visited Dr. Bauldauf and the visit couldn't have been more fruitful. I have a new hip, free of pain, and was surprised how well the surgery went and how quickly I recovered. My physical therapist said "Dr. Baldauf's patients don't need very much therapy because of his techniques. I couldn't be happier with the results.
5.0 Rating
January 20th, 2013
Knee Replacement surgery
5.0 Rating
September 30th, 2012
1.0 Rating
February 15th, 2011
DISASTER
dr baldauf advised me that my knee replacement would keep me in the hosp 4 or 5 days. I was in for 18 days with renal failure and an infection. he has no bedside manner whatsoever. after 2 months of physial therapy i still had pain and lack of motion. i went to another ortho dr for a second opinion . the second doctor showed me on a new x-ray that my knee cap wasin wrong.He said he would have to do the whole knee over. because of my age and health status i would be at risk. r. Baldauf is a very bad surgeon, has no ability and no consideration for patients.I understand that he had to change hospitals because of his lack of ability.
5.0 Rating
January 6th, 2010
I went to see Dr. Baldauf for shoulder pain which he determined to be arthritis. Dr. Baldauf believed that an injection would relieve my pain and that surgery wasn't necessary. After a day of pain from the injection, my shoulder feels fantastic. I found Dr. Baldauf and his staff to be very caring and friendly.
3.7 Rating
October 28th, 2009
Excellent surgeon just no bedside manner
The doctor has zero bedside manner. I only saw/met him once and he failed to show before or after my surgery to discuss it. No follow up calls to see how I was doing either. That said, the surgery for my torn meniscus was excellent. I had no problems and zero pain. The staff was fantastic and caring.
5.0 Rating
September 27th, 2008
Highy Recommended
Nearby Doctors

Dr. John Baldauf is similar to the following 3 Doctors near Las Vegas, NV.

Dr. Daniel Lee

Orthopedic Surgery of the Spine, Orthopedic Surgery, Trauma Surgery

Las Vegas, NV 0 mi