Rate Now
Share Your Experience
Have you seen Dr. John Curtis Jr?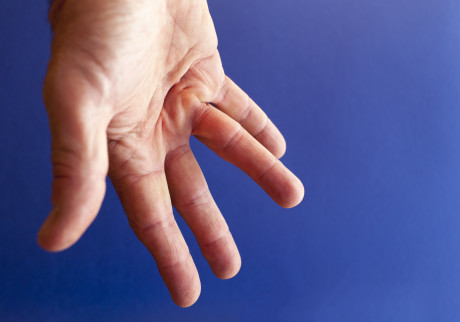 Dupuytren's Contracture
Dupuytren's contracture is a thickening of the tissue beneath the skin of the palm of your hand
34 Ratings with 7 Comments
5.0 Rating
September 14th, 2017
D.A.
5.0 Rating
October 21st, 2015
I was told after 22 weeks of therapy for a torn ligam.entry in a sprained ankle and started having much sholder pain and now a claw hand, waited a week to see him and told him about mri kirklin did friday, THEY refused to release it to him as he said it wasn't shoulder maybe neck, then his advice was for me to go to the downtown er, I'd been twice since Sept 14 to the freestanding new er in Hoover close to the accident and my home so my family refused to take me there, I tried to make another app to let him review the disc and was told they wouldn't see me for that so I'm at a loss of what to do, All my left side problems began after auto accident in Nov 2912drooping left lid, double vision as well as sensory deprivation on the left side and this is the 6th mri they have done wirh no diagnosis continual canceled and rescheduled ppts with all the falls and blackouts ive had you woukd think theyd figure something out but the only neurological md I've supposedly seen st cooper green is a md Bashir whom I have yet to meet and the only diagnosis I have so far is from dr diyle and kline from callahan they are neuroopthamologists who told me the 3rd and 4th nerves going to my left eye were damaged and it's as good as its gonna get surgery could cost me more of my visual field, i have seen 4 or 5 different residents but never dr reed or bashir and so now I have no clue what to think too many don agree on what they see and doing another mri because they cant find the one I brought from Virina or the ones done on Nov 12 and 13 2012 or Nov 1 2013 it's rediculous all this started in my shoulder, arm and hand after I told them I couldn't bear my weight on the left they insisted I try crutch on left and I fell then Friday they had me putting weight on the left side AGAIN and since then I have a claw hand can't move my wrist ir 2 littlest fingers I picked up the disc, now I need him to review I wit me I have medicare medicaid and keep being told i can see anyone but I've had 4 different primary care refuse to accept me as a patient so I've been stuck at the coop it was Nov 1 2013 a year after my wreck before I saw the 1st resident at cooper green and VA doctors he'd seen me as early as may 20q3 because i collPsed5in the driveway and was taken to th er when coop refused ro send referral they were unable to perform the surgery to correct the injuries now it's too late for my vision, how can I trust uab when I've been thru all the canceled appts and multiple tests nit one of them has gone o er the imagery the way t Dr Gurtner did in Virginia, toobad she moved to Austria to teach our less invasive surgeries
1.0 Rating
July 29th, 2015
Bad referral
5.0 Rating
May 8th, 2015
y
I dont know what any of these morons are talking about but he is the Best doctor in the state of ala. If they cant take the fact that he's upfront and tells it like it is then frankly they are pretty stupid. And im being nice because frankly i have alot harsser words that I Could be using. So to all of you southern two faced ppl. You will never find another awesome doctor like Dr. Curtis
4.0 Rating
March 26th, 2015
rotator cuff repair
I went to St. Vincent's first and was totally blown away by the lack profession with Dr Buggay. I ran the web in my area and was recomendedd Dr. John Curtis and im actually in recovery from surgery now. He did a fantastic job, and Im glad he's in my area. I highly recommend Dr Curtis if you have any type of injury.
5.0 Rating
March 19th, 2015
knee surgeries
Dr. Curtis did both my knee surgeries and is a great DR, straight to the point no beating around the bush. I liked his straight forward demeanor that some may take otherwise. This DR knows his stuff when it comes to knee surgeries and is a great DR, I will highly recommend DR Curtis.
1.0 Rating
January 16th, 2012
peggy lee patient with cash no ins
since i did not have ins. but was required to pay 100.00 office visit should have entitled me to the same treatment as those that have ins. that was not the case. for my payment i got about one sentence not even complete telling me what the E.R. had already told me. he had no time for me or my broken foot or the pain i was in. he has an attitude like a convict serving a life sentence. i guess with me he couldnt milk bcbs for all he could get.i paid for my office visit and would have paid cash for what ever i needed although he didnt bother to find out. its a sad world when money is your god and learning how to milk the systems is your goal. all i can SAY is what goes around comes around GOOD LUCK
Doctor's Response
Al uninsured patients are charged by all private practice docs. I'm not an anomaly. Often the ER docs get the correct diagnosis and often foot fractures are non-operative and need only bracing or casting. As far as the BCBS comment goes, I would get one payment based on the CPT code of the fracture and have to provide free follow up care for 6 weeks under a global period. I care about all my patients and have well over 4000 at this time. Unfortunately only unhappy ones write these comments. I would be happy to talk to you personally about this. You can have my mobile phone number 205-566-7100. I give this out to many of my patients.
SHOW
5.0 Rating
April 20th, 2017
5.0 Rating
November 17th, 2016
3.0 Rating
November 16th, 2015