Rate Now
Share Your Experience
Have you seen Dr. John Holmes?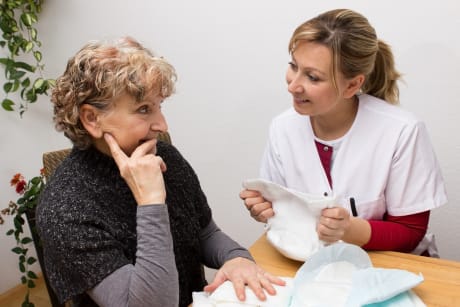 Urinary Incontinence
Learn about the symptoms and causes of urinary incontinence or urge incontinence.
Quality Rating
Highly Satisfied
26 Ratings with 8 Comments
5.0 Rating
March 15th, 2017
5.0 Rating
March 23rd, 2015
AWESOME DOCTOR
5.0 Rating
August 17th, 2013
He is a GREAT doctor
It is so hard to find a good doctor these days. Every practice is so big that all I see when I go in to the doctor are nurse practitioners. But at Dr. Holmes office I have only ever seen him. He knows me and knows the worries that I have. He spends plenty of time with me explaining procedures and what's going on and he answers all of my questions. I never feel rushed. He delivered five of my moms children and all of the nurses at the hospital where she delivered her babies said that Dr. Holmes is their favorite doctor because he is always calm and really kind in the delivery room. My mom had a D&C after miscarrying a pregnancy. A week later she was bleeding really bad and was going to have to go to the ER on a Sunday. Dr. Holmes met her at his office on a Sunday and checked her to make sure that everything was ok so that she wouldn't have to wait in the Emergency Room. I'm so grateful that there are still good some good doctors like Dr. Holmes out there practicing.
3.7 Rating
June 3rd, 2013
Good OB overall
I went to Dr. Holmes after my husband and I moved very late in my pregnancy. He got me in within 24 hrs of my initial call. He spent a lot of time explaining things and never seemed to be in a rush. When I was induced, and went into labor, he was extremely busy with other deliveries and had to run into the room just to catch the baby - he almost missed it! That is probably the only downside of having a private practice doctor - he is responsible for all of his patients and is a bit overloaded. But, on the upside, I enjoyed knowing that HE would deliver my baby. With larger, shared practices, you only get who's on call, possibly a Dr. you've never even met before. For my follow-up visit, Dr. Holmes asked personal questions about how life was with a new baby. Being a dad of many kids himself, he seemed genuinely interested in my response. He will always personally return your telephone calls, even after office hours. I have never received this kind of treatment at any other OB office; I've always received callbacks from a nurse. My husband's only complaint was that he didn't announce that he was going to break my water, he just went ahead and did it (my husband was in the cafeteria when it happened and regrets missing it). Overall, Dr. Holmes is a sure bet for a caring, one-on-one doctor who will be there for you anytime, day or night.
5.0 Rating
May 18th, 2012
Awesome Doctor!
I cannot say enough great things about Dr. Holmes. He's an incredible doctor. My first visit with him I had just had a miscarriage. He was so caring and made sure I felt as comfortable as I could be in that situation. He talked to me about the miscarriage on a medical and personal level (but never in an unprofessional manner) and it really made me feel so much better. I am now 32 weeks pregnant and he has been my OBGYN up until now. Unfortunately, we moved out of state and he is unable to deliver my baby. Now that I'm looking for another doctor, I've realized how hard it is to come across a good doctor and lucky I was to have Dr. Holmes. One thing I really appreciated about him was that he was so supportive of natural births. I did not want an epidural and he was very supportive. He also uses mineral oil/olive oil for the perineal massage before and during labor to prevent tearing, which is nice for preventing tearing and the need for an episiotomy. Staff is really friendly and helpful. I literally have no complaints about this doctor and his office and I've never had such a great experience at a doctor's office. Highly recommend!
5.0 Rating
January 3rd, 2012
5.0 Rating
October 14th, 2009
two deliveries
Doctor Holmes is very profesional and caring when it comes to his patients, he is not only there to do his job but he also engages in light conversations with people, and i never once went without a phonecall to see how i was doing! he even steped away from a family dinner to conduct a house call to see how the progress in contractions were going.
3.0 Rating
March 15th, 2017
5.0 Rating
March 8th, 2017
5.0 Rating
April 29th, 2015