Rate Now
Share Your Experience
Have you seen Dr. John Fulkerson?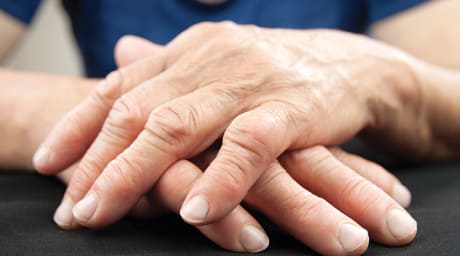 Osteoarthritis
Get the facts about osteoarthritis, including the symptoms and doctors who treat it.
Quality Rating
Highly Satisfied
33 Ratings with 14 Comments
5.0 Rating
July 12th, 2016
Great Doctor
5.0 Rating
July 11th, 2016
5.0 Rating
February 23rd, 2016
5.0 Rating
July 30th, 2015
The best!
I had the wonderful experience of finding Dr. Fulkerson. I relocated back to CT from AZ. I was nervous, at first because I was use to my Tucson Dr. Dr. Fulkerson is courteous, friendly, listens to my concerns. He is not surgery happy, which was a relief to me since I have osteoarthritis in both knees. Dr. Fulkerson has injected my knees with cortisone and Synvisc 1. I use to dread the shots in AZ, as they would hurt and someone would have to drive me because the knees were numb. Dr. Fulkerson is so well experienced that the procedures is painless. We have chatted about a few ideas to help my knees. He is very empathetic. I highly recommend Dr. Fulkerson. He has years of experience and is a "gentle man". He and his staff are superb!
5.0 Rating
July 19th, 2015
Excellent surgeon!
Dr Fulkerson was very confident he could help me. He presented facts for me to consider but was not at all pushy. He did an excellent job of informing me as to what to expect and the time frame for recovery. Everything went exactly as he explained and I had an excellent outcome. I cannot say enough wonderful things about Dr Fulkeson's kind bedside manner and skill as a surgeon!
5.0 Rating
January 28th, 2015
Knee Ligament Reconstruction
5.0 Rating
November 19th, 2013
An Exceptional Physician
I write this review because I am now 2 years post surgical rotator cuff surgery (complete tear) and I think it important for anyone considering orthopedic surgery to know about what en exceptional surgeon Dr Fulkerson is. My history with Dr Fulkerson goes back almost 35 years, and I am now 60 years old with a history of athletic involvement my entire life. My initial introduction to Dr Fulkerson was when I injured my knee playing basketball in my early twenties, diagnosed as a torn miniscus, repaired by Dr Fulkerson, Several years later (late 20s) a torn ACL sustained while paying soccer. Into my mid 30s another torn ACL (other knee) while playing in the Ct Soccer League. Later in my early 40s an ankle injury requiring repairative surgery. And lastly two years ago a complete rotator cuff tear repaired by Dr Fulkerson, with complete success allowing me to return to the athletic life I love so much. Over the past 30 years not only has Dr Fulkerson repaired my body in a way which has allowed me to continue playing basketball, softball, racquetball, and other sports I love but it is his demeanor and kind supportive manner which instills confidence in one's belief of their ability to overcome the procedures which he is performing. I will say with all seriousness that I had been warned by many about how painful rotator cuff surgery would be and how difficult and uncomfortable the healing process. I was almost guaranteed by others that I would never have full range of movement and motion again, yet my experience is just the opposite. After reviewing the MRIs with Dr Fulkerson, having him explain the shoulder damage I sustained to me, and deciding to have the surgery; I could not have been more pleased with the outcome. The first day post surgical was the only time I took any narcotics (percoset) for the discomfort, and that's only because I was told to "stay ahead of the pain" by others; My mistake. The pain was so insignificant and tolerable that I never had to take anything stronger that Ibuprofen for the minor discomfort. My recuperation (aided by the excellent therapists in Ct Orthopedics rehab clinic) was manageable, comfortable and progressive improvement in range of motion and shoulder strength was noticeable and increased over time. Now some two years later I play softball weekly, racquetball, and lift weights without any discomfort or restraint of movement. Although I admit that my exercise routine may be deemed excessive by some the important fact is that Dr Fulkerson, through exceptional surgical diagnoses and technique has given me the ability to rebuild and restore my physicality to a level which is only limited by myself and my age. To anyone considering orthopedic surgery I cannot stress to you enough, as someone who has been under the knife 5 times with Dr Fulkerson, you need to at least meet this extraordinary physician before you make a decision which will potentially impact the rest of your life. And as an aside, years ago I was also diagnosed by Dr Fulkerson as having pseudo-gout which flared up in my right knee previously undiagnosed. While a visit to another physician (while Fulkerson was on vacation) led to suggestions of a need for immediate knee surgery I waited for Dr Fulkerson return and correct diagnosis which was treated with an anti-inflammatory and required NO surgery. There are still doctors out there who are extraordinary and humble, kind yet professional, John Fulkerson is one of the rare breed.
5.0 Rating
January 26th, 2013
5.0 Rating
October 27th, 2011
5.0 Rating
September 20th, 2011
great
5.0 Rating
August 31st, 2011
Scott E.
3.7 Rating
August 10th, 2010
the dr has treated one of my family member's twice. the first time his bedside manner was terrible, but his technique was fine. the second time his bedside manner had improved, and his technique appears to have worked. he worked on the same knee twice, but the second procedure was not available when the first was done. we;re hoping for the best
Nearby Doctors

Dr. John Fulkerson is similar to the following 3 Doctors near Farmington, CT.