Rate Now
Share Your Experience
Have you seen Dr. John Haasis?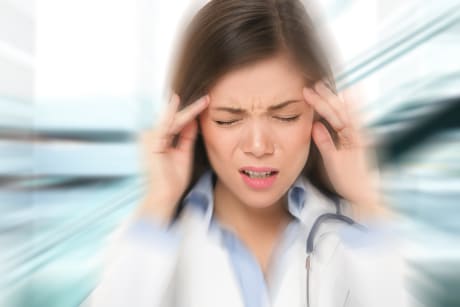 Migraine
Get the facts about migraine headaches, including the different types of migraine and migraine triggers.
44 Ratings with 19 Comments
1.0 Rating
July 6th, 2017
dr. rude
5.0 Rating
March 23rd, 2017
Very caring and kind
After reading the reviews I was so apprehensive about seeing him. I was in terrible pain and did not want someone to make me feel worse. He listens and pays attention and always answers questions. Could not be happier with him. Don't let the negative comments turn you off. Staff is not rude. I highly recommend Dr. Haasis. He is a no nonsense Dr.and I am certain he has seen it all in pain management!!!
1.0 Rating
September 10th, 2016
I was stupid.
This site requires you to award at least 1 star, I would prefer zero. This man had me hood winked for 15 years. I've allowed him to perform all the expensive procedures he offers to be done to me many times & still suffer in tremendous pain. Since I no longer allow him to get rich with these procedures he has chosen to discharge me from care. I only saw him every 3 years or so. My medical records from him are fiction. He is rude, abrasive, short-tempered, unprofessional and he has taught his staff to be the same way. The telephone is never answered by a person, instead you get an answering machine that drones on & on with a message of multple choices to make to leave a message. Phone calls are rarely returned by anybody. To report substandard care call the North Carolina Medical Board. To report fradulent billing call Medicare or your private insurance. Best wishes for you to find help for your pain issues somewhere else.
1.0 Rating
September 1st, 2016
Worst Pain Management in Spartanburg , zero stars!
I could write a book! But since I can't prove most of it I can't say it. I can say stay away from this doctor. My new pain management is incredible. They've helped me more in a few weeks that Hassis has in all the years I went there. I only had one 5 minute appointment with Hassis the whole time. The rest of the time I saw his nurse. She's rude, surly and won't lift a finger to do her job other than write a script. The front office staff are unfriendly as well. Don't asked for an itemized billing to see what you are being billed. I never got one, though I asked several times. I'm with a new doctor totally separate from Hassis office. The staff is nice, friendly and courteous. And I'm paying a tenth of what I was paying Hassis! I wish I'd never went to Hassis. Now I actually see the doctor! Don't go to Hassis!
5.0 Rating
July 7th, 2016
1.0 Rating
October 5th, 2015
Don't bother
His nurse Mary Cohen is rude, abrupt, abrasive and snarky. She won't lift her finger to do her job beyond the bare minimum much less the extra mile. I have had to research medication and ask her to prescribe them. This is after multiple attempts at trying to address my medical concerns with her and get the answer, I don't know what you are going to do. She doesn't go out of her way to accommodate the patient's need for appointment times or days. She's not going to be inconvenienced for anyone. There's no real treatment other than pushing medication. I've had to ask for certain test and therapys. This lady has berated me in front of other patients and staff. I've only stayed as long as I have because of health and the difficulty of changing to another pain management. And beyond the initial visit where the doctor saw me to tell me they'll stop the pain, I have had one other appointment with him. It's be 5 years. That's my experience with them. Very unprofessional!
1.0 Rating
December 11th, 2014
Loud, abrasive, patronizing... are the three best words to describe Dr. Haasis.
1.0 Rating
September 10th, 2014
I've wasted 5 year's of my life and pain is worse!
I have only seen this Doctor on the initial visit. He came in ask why I was there and said we're going to get you some help. Since then I have seen him only when he does injections every 6 months. I see his nurse . She is scattered brained. Can't remember from one appointment to the next what has been said. I'll prepared. All they do is write prescriptions. Every time I have a new medication, I've had to ask for it after month's of complaining about the problem I am having. I suffered from severe nausea since 2007. I kept hearing insurance will only pay for s certain medicine. I don't know what you're going to do. Finally, my husband called insurance to ask if there was anything we could do to get a certain medication and they told him it only needed to be FAXED. All the year's if suffering and believing I had to because she didn't bother to find out. I was 5 minutes late one time. I tried calling to let them know. Over and over, I got a busy signal. When I got checked in and was finally called by the nurse she screamed at me that she was sick and tired of me being late and keeping her from her lunch. I was so stunned all I could say was I'd be happy to make another appointment or wait until she could work me in. I was trying hard not to escalate the confrontation. The receptionist we're visibly concerned but only stated that I had arrived within the allowed time frame. The nurse's reply was to only schedule me in the afternoon from now on. I've had a few problems with prescriptions also. Once I had an allergic reaction to latex in a pain patch. I spoke with them and they refused to write another prescription so I could get latex free patches. Fortunately the pharmacy exchanged the unopened box. But I had to deal with s month of bad, painful, itchy rash. Most recently, I received a prescription printed on paper with no water mark. It was clear to anyone looking at it that there's no water mark. I called the nurse and explained the situation and asked her to call the pharmacy to verify. She insisted there was a watermark. The pharmacy accepted it without the watermark because she called. There wasn't one. I had to ask her for physical therapy, for test, for everything. All they do is manage pain medications. I am still with them only until I find someone else to treat me. Please do not waste your time here. I should have Googled and I shouldn't have put up with it this long.
1.0 Rating
January 15th, 2014
Chronic pain
I don't take giving anyone a low rating lightly, however, I do have to be honest with this feedback. I have chronic pain and it has altered my life in every possible way. I have used this pain mgmt clinic for awhile now. I only actually saw the doctor for the first 2 appointments - that was it. Since then, I've never seen him again. If the medicine isn't helping your pain enough, that's just too bad, they don't believe you. If you have a problem and call the office you don't get called back for days and then you get yelled at. The doctor makes decisions about your care without personally seeing you. The PA compares you to other patients who have the same pain condition as if something is wrong with you and as if you are lying about your pain, even though they have all of the medical records that prove the truth. There isn't much compassion left in them at all. This business has hardened them.
5.0 Rating
November 25th, 2013
Completely Satisfied!
I don't place a great deal of weight on online reviews of doctors as they can be so subjective, but I was a bit apprehensive about my first visit to Dr Haasis after reading some of the reviews from this site. I saw him at the Self Regional location. Everyone I had contact with, from reception, the nurses and Doctor Haasis handled themselves very professionally. I felt very at ease and comfortable with Dr. Haasis. After consultation, it was decided that I would have a "selective nerve root block". Dr. Haasis performed the procedure in short order with almost no pain or discomfort! He explained what he was doing each step of the way, which helped lesson the stress level. I was up and within a few minutes, out the door. Based on my experience, I would highly recommend him!
2.3 Rating
January 23rd, 2013
Unprofessional
1.0 Rating
July 15th, 2012
During the first visit for chronic coccyx pain and acute neck pain, this MD ordered several blood tests. Because two of the thyroid measures were slightly out of range, Haasis said that I should check with my PC.At the PC office, a PA and an MD said that the thyroid counts were sub-clinical. When I told Dr. Haasis what they said, he started yelling at me that I was abnormal and that most if not all of my pain issues were medical and thus there was nothing that he could do for me. He continued yelling for about 15 minutes. This doctor is not only rude and abrasive, but he should be checked for mental illness.
Nearby Doctors

Dr. John Haasis is similar to the following 3 Doctors near Spartanburg, SC.