Rate Now
Share Your Experience
Have you seen Dr. John Karlen?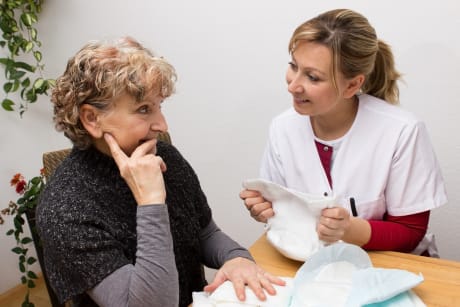 Urinary Incontinence
Learn about the symptoms and causes of urinary incontinence or urge incontinence.
31 Ratings with 16 Comments
5.0 Rating
June 26th, 2017
Miracle 36 years ago
In 1981 I was diagnosed with cancer of the cervix. They told me I may only live 6 months. Dr Karlen treated me, removed my bladder and gave me a urostomy . I am still alive 36 years later. I would like to talk to him and let him know how I am.
1.0 Rating
April 4th, 2016
Cancelled Too many times !!!!
2.0 Rating
February 6th, 2016
Has very poor people skills. Does not want to talk with you very long. Did not give me very much information about my surgery. I ended up with a complication that took longer to deal with than my initial problem. According to my next Dr., I have a lot of scar tissue from the surgery Dr. Karlen did. When I was in his office and he was writing, his hand kind of shook. He was totally accurate with my diagnosis and assured me it wasn't cancer. He was right, thankfully. But I was not happy with having very little information about my surgery or the possible complications that I ended up having.
1.0 Rating
December 3rd, 2015
5.0 Rating
September 23rd, 2015
Wonderful
5.0 Rating
June 10th, 2015
5.0 Rating
October 30th, 2014
Caring
Dr Karlen was honest and direct about my diagnosis, but he was very caring and took his time explaining all the options and gave me his personal opinion that ultimately could have very well saved my life. I heard about him from a friend who highly recommended Dr Karlen. I also referred friends of mine to him also.
1.0 Rating
August 12th, 2014
Terrible experience
1.0 Rating
August 27th, 2013
Was late for surgery, and not around at all for recovery
Went in last Thursday for vaginal hysterectomy, Dr. Karlen was over an hour late, and there were 2 residential Dr's there with 3 medical students interviewing me about my medical history. At this point I am very scared to get this procedure done last and the last to do thing I want to do is answer questions to a student. I wasn't seen by Karlen the next day, but by residential doctors with 4 yrs experience. I was also told by a nurse that I wasn't going to get a menu and I would eat what was served
3.7 Rating
May 20th, 2013
Amaing doctor, but yes- not very sensitive
Dr. Karlen is an amazing doctor. He has performed two different surgeries on me, both to remove cancerous cells. Yes, he does not have great bedside manner, and he is "short" with people. However, that is his persoanlity. Personally, I rather go to a great doctor who has poor bedside manner, rather than a horrible doctor who acts like a therapist.
1.0 Rating
May 4th, 2013
Horrible Experience
I had to have an emergent radical hysterectomy for a benign tumor that was pressing on my kidney. Before the surgery, I had a CAT scan that also revealed a sludgy, stone-filled gallbladder. I asked if he would also be taking out my gallbladder and he said no-this was not my problem today. 2 weeks after my surgery I went for my follow up appointment when's the office staff removed my stoles with a staple remover that had been lying on the back of the sink. I asked for a new pair and the staff member rubbed them off with alchol while she assured me that they were "sterile". At this time I also conveyed to Dr.Karlen that I did not feel good - I was nauseated and tired all the time. He said it was because I had just experienced a major surgery. 1 week later I was in the emergency room because my rotten gallbladder was infecting my liver. I had to have another major surgery within 24 hours when this could have been taken care of. Dr. karlen does not listen, his office staff are unprofessional, and I definitely would not recommend him to operate on anyone .
1.0 Rating
January 29th, 2013
His beside manner is atrocious....he is very rude.
After trying to conceive for 15 years, I finally became pregnant. My labor and delivery was awful. The OB left products of conception inside of me and almost caused me to die. I returned to the hospital with abscess which were life threatening and had 3 major abdominal surgeries within 45 days of giving birth. Dr. Karlen had to remove some of these abscess and he ended up doing a full hysterectomy. His bed side manner was awful, appalling. My family was shocked with the way he treated me. I had spent several months in the hospital due to what I suffered. When he did my hysterectomy, he judged me for being anxious? How could someone not be anxious, after spending over 2 months in the hospital with life threatening abscess and being told she may not make it? I believe the anxiety was warranted given the circumstance. My entire family had anxiety over it. After the surgery, he told me that my surgery was one of the most difficult in his 37 years of being a surgeon. When I went to see him, to have him remove the staples, he had no compassion, no patience and did it in less than 5minutes. It was painful and very rough treatment. After a hysterectomy, you are to be seen twice. Once to remove staples, the second time is to look at vaginal cuff to make sure you are healing. He never scheduled me a second appointment and told me I didn't need one? My gyno was in shock, he said that was very wrong and he should have seen me. I had to beg Dr. Karlen for a Cat scan, where he argued with me about it. I told him something was seriously wrong, because I had so much pain. I ended up having a hematoma and seroma above my vaginal cuff! He never saw me again after taking my staples out. It's a shame he has such terrible bed side manner and he is extremely rude. The only thing I can say positive is that he saved my life with this surgery!
Nearby Doctors

Dr. John Karlen is similar to the following 3 Doctors near Akron, OH.