Rate Now
Share Your Experience
Have you seen Dr. John Lurain?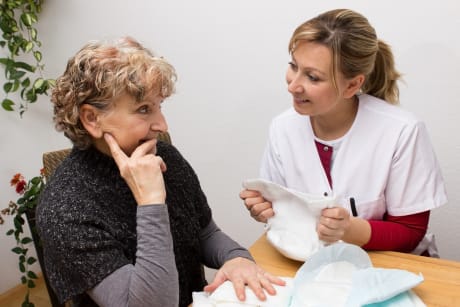 Urinary Incontinence
Learn about the symptoms and causes of urinary incontinence or urge incontinence.
Quality Rating
Highly Satisfied
31 Ratings with 9 Comments
1.0 Rating
October 21st, 2016
AVOID THIS DOCTOR. I was referred to Dr. Lurain for a colposcopy due to an abnormal pap smear for dysplasia and a positive HPV test. Dr. Lurain must have been trained in the 1950's, because his view of medicine and women is most distressing. Dr. Lurain REFUSED to perform the colposcopy because I did not consent to a Resident (doctor in training) observing his procedure. I walked out of Northwestern Memorial Hospital because I saw his actions as completely UNETHICAL. It is completely optional and at the patient's sole discretion whether they want a Resident present. Other physicians I saw told me this was not only unethical but potentially illegal and against all medical practice. The delay in diagnosis threatened the timeliness of the LEEP procedure for severe dysplasia at its end stage (before a cancer diagnosis). His actions threatened my health and a successful outcome of my LEEP. The margins of procedure were in fact positive and it was miraculous that my pap smears reverted to normal. This man should not be seeing patients. He is a better academic physician.
1.0 Rating
May 9th, 2016
Worst Doctor I've ever seen
Dr. John Lurain is hands down without a doubt the worst Doctor I've ever been to in my entire life. My primary Doctor referred me and I was very stressed about the appointment. The Doctor came in with 5 people all there to watch the exam and when I said I was uncomfortable with that he said I could deal with it or not see him. Needless to say I left and have reported him to my insurance, the hospital and lawyer. It's illegal to tell patients they have to be seen with 5 med students and not even warn them before hand. He is rude and it's very clear from the second you walk in that he doesn't care about you or your health. It's a business and he's in it for that reason only. If you are having problems I strongly encourage you to see someone else because this will only make things worse emotionally and physically. I have stopped seeing Dr. Shari Snow who referred me to Dr. Lurain as well because together they are very poor doctors.
5.0 Rating
August 18th, 2012
Exceptional physician...
I have been a patient of Dr. Lurian for eight years now and truly count him as one of the great blessings of my life. I trust him like I have never trusted another Dr. before. From the first consultation my husband and I had with him, any expectations we had were exceeded. Not only is he a top-notch oncologist, he is a beautiful soul.
5.0 Rating
February 18th, 2012
Dr. Lurain is a no-nonsense professional, with a sense of humor and more than a little compassion. He spent time with me, answered ALL my questions (and I had a page full of them!), and made sure I understood what was going on and what his recommendations were. On the day of surgery, he visited with me, answered my remaining questions, and left me with a sense of well-being. After surgery, he saw me in the hospital several times, each time making sure to answer questions.He returns calls promptly, and his office is run professionally. I trusted this man with my life, and I'm glad I did.
1.0 Rating
December 5th, 2011
Find someone else if you want to be treated like a human
Find someone else if you want to be treated like a human. I've waited up to four hours to see this doctor. When I've asked about what procedures he'd be performing on me he was extremely rude and condescending. There I am half naked with my legs in stirrups with a very serious subject matter at hand (checking for possible cancer) and this doctor doesnt think it's important and/or my business to tell me what's going to happen to MY body. I would not recommend him to anyone who wants to be treated with dignity.
5.0 Rating
April 5th, 2011
Dr. Lurain was brought into my life when I was 23 and not a clue in the world at the time what really made such a difference in bedside manner or the outcome of a serious illness and what a difference the Doctor would make. I from the moment of meeting Dr. Lurain knew he was the one the Doctor I needed and wanted to make me feel safe and know I was in great hands. He comes across as not just a Doctor but a friend, someone who really cares and makes you feel the warmth of a Doctor and friend all in one. I could never thank him enough.
2.3 Rating
January 30th, 2011
Not very concerned about the patient
5.0 Rating
January 18th, 2011
He saved my life
1.0 Rating
June 16th, 2010
bad doc- bad bedside - has fellows do his work- nothing but bad
thanks to this doc i will not trust another medical profesional.for me didn't explain anything. untill day of surgery. then as it turned out i was USED for his fellows. and they did a truely bad job.LOTS OF EXTRA DAMAGE.i went and payed for the best and got fellows. thanks to this doc i refuse any farther cacer treatment or testing . i could wright several pages on my experience with this terrible quality of care.
5.0 Rating
July 6th, 2017
5.0 Rating
July 6th, 2017
5.0 Rating
April 10th, 2017
Nearby Doctors

Dr. John Lurain is similar to the following 3 Doctors near Chicago, IL.