Rate Now
Share Your Experience
Have you seen Dr. John Moreland?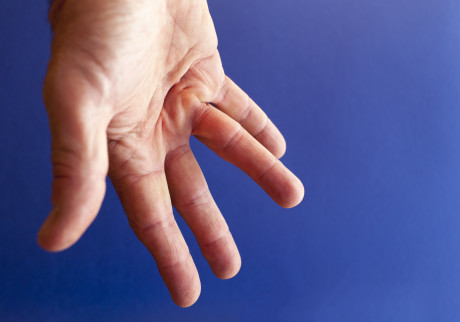 Dupuytren's Contracture
Dupuytren's contracture is a thickening of the tissue beneath the skin of the palm of your hand
Quality Rating
Highly Satisfied
30 Ratings with 11 Comments
5.0 Rating
September 16th, 2016
TOtal right knee replacement 19 July 2016
Dr Moreland, in Santa Monica is an amazing surgeon. I had a total Knee replacement not even two months ago..spent three days in the hospital, then 6 in rehab ...I do not live in CA and the staples had to be removed after 9 days. In rehab I cut one Percocet into 4 pieces and and took those during the day especially before PT. ...went home to NV and never took a pain pill after that...I started driving two weeks after surgery...still go to PT twice a week and love it.....my flexibility is 127......need my glasses to see the very thin scar...have been completely painless for weeks...my new knee is so much better that the so far good left knee... I have friends who have had TKR three or. more years ago...and they are still hurting...thank you dr Morland, I am forever grateful to you...you are the best!
5.0 Rating
August 31st, 2015
5.0 Rating
March 22nd, 2015
Best Orthopedic Suregeon
After having a disastrous total hip replacement by a doctor in Tucson, AZ in 2004, I found Dr. Moreland through months of research. Because my left his was already damaged by another doctor, I blew out my right hip. Dr. Moreland did a total right hip replacement. In 6 weeks, it was perfect. He revised my left hip. It turns out the original implanted shifted and the doctor in Tucson never re-attached the hip muscles. Had Dr. Moreland not performed the left hip revision, I would have lived the rest of the my life as a cripple. Dr. Moreland fixed everything. I can't thank him enough for giving me my lift back. He is a miracle worker!
5.0 Rating
March 19th, 2015
5.0 Rating
April 28th, 2014
State of Art
5.0 Rating
September 17th, 2012
A MAGICIAN!
I had a TKR done by Dr Moreland on a disastrous left knee which was compromised by a severe ski accident 40 years ago and never properly dealt with two years ago. Last Tuesday he did my right knee. Today is Monday - six days after surgery. I am home with no pain, no pain medications, walking down six stairs to my dining room and cooking my own scrambled eggs.....I have 90 degree flexion, have taken two showers, washed my hair and dressed myself. The PT guy couldn't believe any of it! Dr Moreland is a magician, pure and simple! The precision of his every move during the operation as well a delicacy you can observe in the almost invisible scar on a pristine leg attest to the very highest skill we his patients are privileged to enjoy.
1.0 Rating
September 5th, 2012
Hip Replacement
Dr. John Moreland performed a total hip replacement on me approximately four years ago. I researched surgeons for over a year and choose Dr. Moreland because of his outstanding reputation. When I awoke from the operation, I had no feeling in my right leg from the knee down and could not move my foot. I ended up staying in the hospital for a week. The electric shocks from nerve damage were excruciating and the doctors had to put me on anti-seizure medication to stop the pain. The medication turned me into a zombie and I began having suicidal thoughts. I was told by Dr. Moreland that he would be performing the operation from the front, but when I was on the table and unconscious, he changed his mind and went in from the back. He stretched or nicked my sciatic nerve (he's not sure) and now my foot is permanently paralyzed. My husband and I asked him if this would have happened if he went in through the front and he said "probably not". I never received an apology and I am forced to wear a brace when I walk. He told me that it could take up to two years for the feeling to come back, but it never did. This will never get any better and I am now crippled. I am in my 40's and have two young children that I can't keep up with. This was the worst decision of my life and I feel that Dr. Moreland is living off of the reputation he once had. He is sloppy and uncaring. This doctor is too old to be practicing and should retire. If you let this doctor touch you, you may end up like me, which would be a terrible tragedy.
5.0 Rating
February 28th, 2012
E.Browne
Dr Moreland is the BEST,,I had a TKR, you can hardly see the scar...I was driving in 5 days, walking the next day, used a cane for only 1 week...I feel great, it was easy, not like all the scary stories you hear about. Dr Moreland and his wouderful staff are the greatest. He is an excellent physician, I am an RN, Dr Moreland was my choice for surgery.
5.0 Rating
February 28th, 2012
Hip and Knee Replacements/Revisions
I met Dr. Moreland over 30 years ago at UCLA.He only does hip and knee replacements.He also created the Moreland Instrumentation, I think it's called, for removing failed hip replacements.He may have other patents.So far, knock on wood, my implants are in good shape. He first worked on me about 20 years after we had met.Only a handful in the country with his level of expertise.Able to take on challenging revisions.I can walk again, thanks to the corrective work he's done on a hip replacement and he's also installed both of my knees... one at a time.The best in California, hands down.His work has changed my life.It's no wonder he is the go-to surgeon to the stars.No matter what your occupation may be, (whether you're a movie star or a school teacher), it's always a gift from God to have the opportunity to hire one of the best.
5.0 Rating
November 23rd, 2009
A New Trust for Doctors
I've never had what I would call a good Doctor. I have avoided seeking medical treatment because of this. Dr. Moreland and his staff make sure you are well attended to at every stage of your procedure. When I came for post follow-up visit, all the documents where ready for me, handicap doc, air port cards that id my knee replacement (metal) prescriptions, post care provide, everything was taken care of.My knee has healed and I am walking excellent (two months after surgery). My friends that have had recent knee replacements can't belive how well my knee looks and functions, (painless!) Dr. Moreland is my Doctor Hero...Thanks Dr. Moreland and your excellent team, Elvira, Heilda and Matthew.
5.0 Rating
October 5th, 2009
Total Knee Replacement
I've never had a good experience with any doctor/medical care facility. I'm 60 yrs young and needed a knee replacement. I waited till it was bone on bone and had been draging it for about two yrs. Dr. Moreland and his staff are very accurate, kind and detailed. I now can say I am truly satisfied with Doctor Moreland, his staff, and my post surgery care by Dr Moreland and the medical facility. PTM
3.0 Rating
July 19th, 2017
Nearby Doctors

Dr. John Moreland is similar to the following 3 Doctors near Santa Monica, CA.