Rate Now
Share Your Experience
Have you seen Dr. John Kelly?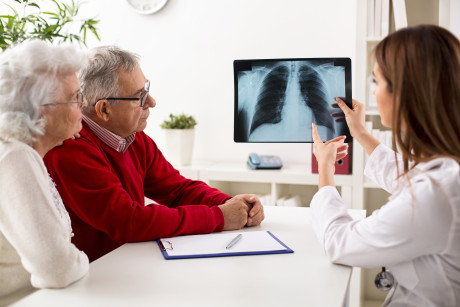 Lung Cancer
Get the facts about lung cancer, including how many people get it and what increases your risk for developing it.
23 Ratings with 11 Comments
5.0 Rating
September 30th, 2016
Dr. Kelly was my uncle's doctor and all I can say is thank you to him and his staff. My uncle unfortunately did not beat cancer but I know he had the help he needed during his fight against this horrible disease.
1.0 Rating
April 24th, 2016
Worst Doctor I ever encountered
Just 5 minutes into our first visit with Dr. Kelly, I knew it was a big mistake. Dealing with cancer patients takes a lot of compassion and empathy. He showed neither one of these traits.He may be great in diagnosis and treatment, but if he can't convey a caring attitude, his patients can not survive and thrive. There is no support system on his part which is essential in treating cancer patients. He belongs in a lab somewhere.
1.0 Rating
March 23rd, 2016
5.0 Rating
March 9th, 2016
Dr Kelly saw my father before he passed. He was so rude and unprofessional that my dad chose no treatment, rather than subjecting himself to such abuse.
1.0 Rating
April 21st, 2015
Horrible appointment
Dr Kelly is the rudest professional I have ever met. He wouldn't allow me to ask even one question and cut me off entirely. He trivialized my illness (Cancer) He hadn't even looked at my file before seeing me. Thank you for your page so I know it wasn't just me as 4 others decribed my exact feelings better than me. Can I give him a half star? I plan to change doctors before I get any further if I can.
5.0 Rating
October 13th, 2012
A special, highly qualified doctor....he is the absolute very best, and we are lucky to have him in our area...love him!!!!
1.0 Rating
April 20th, 2012
1.0 Rating
March 8th, 2011
The worst bedside manner I have ever experienced
This was the worst experience I have ever had with a doctor period.Rude, horrible bedside manner, and extremely condesending. He did not even want to hear what my medical compaints were(first appointment) and acted as if I was wasting his time.He literally cut me off about 30 seconds into me describing my medical complaints and told me he was "not interested in all of that" Upon follow up, I drove over an hour to get to the appointment, waited over an hour and a half for the doctor, and then was told that they did not receive my lab work back and I would have to reschedule.Then they even tried to charge me when I had not even seen the doctor. I then found out after I contacted the lab, that the results were in fact faxed to his office a week before the appointment and if he had in fact lost them, he could have called and they would have been faxed over.Absolutely the worst. This man should retire.
5.0 Rating
September 13th, 2010
Straight Shooter
Dr. Kelly will tell you exactly what he thinks and will lay out your options. His staff is very courteous and his practice location is amazing. Highly recommended, but follow ups could be improved.
1.0 Rating
August 28th, 2009
I am so upset
My son has had a bone marrow transplant along with toxoplasmosis. He is 23, on unemployment and has moved to the area becuase unemployment is paying for college there. My son has had to save $185 for the first visit and wait 5 weeks for an appointment. first he had to find another Dr. in the area to give him a referal to Dr. Kelly. Dr. Kelly's policy is they do not give reminder calls. They only give calls after you have missed your appointment according to Cindy Lavelle and another employee. Cindy rudely called my son today and informed him he missed his appointment, my sons medical records have been shredded and Dr. Kelly does not reschedule. Thank you and have a nice day and hung up. According to Cindy Lavelle and the other employee I spoke to, they have never heard of places giving reminder calls. Sunrise Children's Hospital has never heard of such rudeness as this Dr.'s office has exhibited.
2.0 Rating
December 8th, 2016