Rate Now
Share Your Experience
Have you seen Dr. John Sarwark?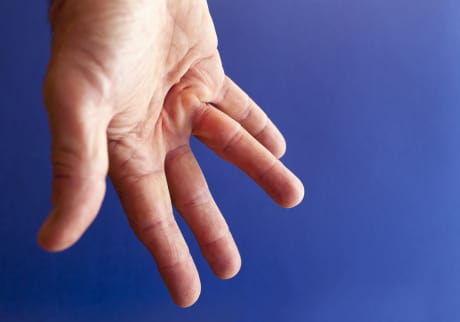 Dupuytren's Contracture
Dupuytren's contracture is a thickening of the tissue beneath the skin of the palm of your hand
Quality Rating
Highly Satisfied
34 Ratings with 11 Comments
5.0 Rating
August 9th, 2016
Top Notch
5.0 Rating
May 16th, 2016
Arthrogryposis and spinal fusion
Dr Sarwark has cared for my son since birth when he was diagonosed with distal arthrogryposis. Performed several surgeries including spinal fusion. All experiences have been extremely favorable. Has gone out of his way to help my son and our family to address the challenges faced with an arthrogryposis diagnosis. Highly recommended in the field of orthopedics.
5.0 Rating
April 24th, 2015
My son had a spinal fusion with Dr. Sarwark. He is an amazing surgeon, his team is great, and the surgery was an unqualified success. We are very grateful.
5.0 Rating
October 30th, 2014
So grateful!
I had spinal fusion surgery for scoliosis 12 years ago, when I was 15. Dr. Sarwark did an amazing job- I returned to highschool and was dancing in the showchoir within 5 months after the surgery! While my memory is fuzzy, I do remember him being very kind and doing a great job explaining the condition of my scoliosis and what the surgery entailed. He also did a wonderful job with the incision (i hear spinal surgeries scars can often look botched). I'm so grateful to have gone to him, and highly recommend him if you need spinal fusion.
5.0 Rating
March 27th, 2014
Scoliosis surgery
In 1993 he performed a Scoliosis surgery on my spine correcting it from a 55 degree curve to a 30 degree curve, the most my spine's abnormal curvature was able to be corrected. My parent's did their homework & selected the best Dr. in the area, luckily our insurance covered him. He inserted 2 harrington rods in my spine after working with another Dr. who braced me & saw me for a year. Dr. Sarwark was my parent's second opinion Dr. we regret not finding out about him earlier & having him brace/ monitor me & my spine as well. .05% of Scoliosis surgical patients get an infection due to no fault of the Dr. something the medical community still isn't sure why it happens. 10 yrs. later I became one of the .05% while in college 4 hours away. I called him & he knew exactly what was going on & set me up for a debridment surgery w the only ortho Dr. in my town at the time. He said infection went to the rod hooks & screws & he'd have to give me a perm IV (PICC Line) instead w bunn & creatine tests every week & meds 2x a day. Long story short meds didn't work I called Dr. Sarwark in tears he promptly took over my care switched my meds. Two 2wks. later the meds weren't working & the pain was too much for me to bare. I called in tears again saying I wanted my rods removed & he asked what I was doing on Friday. I said "Going to class my business administration & hospitality operations/ accounting classes why?" He said "No you aren't. I've got three surgeries but I'm canceling them & you are coming in for emergency surgery to remove the rods." He has the hands of God in the operating room. You hear of all sorts of complications people have after surgery. I haven't had any of them thank goodness. I was able to see 2 other Drs. regarding my back & I can say they can't hold a candle to Dr. Sarwark. After the Dr. at school I vowed to never let anyone else look at or touch my back if I should have a issue with it other than Dr. Sarwark. I can't thank him enough, had I not had surgery I likely would be in a wheelchair
5.0 Rating
February 20th, 2013
Scoliosis Surgery
Dr. Sarwark performed by scoliosis surgery when I was 12 (now 22). It was not an easy surgery to recover from, but I am very happy where I am today. Dr. Sarwark was recommended to my family, and I'm grateful. As I got older I read more about scoliosis surgery, and ill effects most patients had. I never had any. He doesn't have an amazing bed side manner. He is very to the point, and honest. There is no sugar coating with him, but I liked that. He's still kind, and gentle though, please don't get me wrong. He always spoke to me, and not to my parents. Doctors I had seen previously would speak to my parents directly and act as if I wasn't in the room. This wasn't the case with Dr. Sarwark. He addressed me, and told me what was happening with my body. I saw him with every appointment. While his interns would be with him, I always saw him. Sometimes he would only stay for a few minutes, but he always came. I saw a post on here complaining about the interns. If you choose to go to a learning hospital you should expect to deal with interns. That's naive to think you won't. You will have to do some waiting. Bring a book. I guess now a days bring a Kindle, or an iPhone. Back when I saw him people still read books. Bottom line is the surgery saved my life. I have no setbacks, I've backpacked, climbed mountains, skydived, and repelled. I owe it all to Dr. Sarwark.
1.0 Rating
January 10th, 2012
5.0 Rating
July 13th, 2011
1.0 Rating
September 19th, 2010
horrible experience
never saw dr. sarwark. only saw his residents. he was supposed to be physician in charge of operating and fixing my child's knee, but i found out from the nurses that he wasn't even in the room. he also only saw us briefly in the office and before surgery and walked out of the room before answering any questions. would not recommend him.
2.3 Rating
April 15th, 2008
My son saw him for Clubfoot- he should have been casted but instead he put him in an AFO splint which continually slipped off. My son's foot eventually needed surgery but I strongly believe that this had a good chance of being avoided if he had casted him from the beginning. The receptionist said that he had seventy something patients to see that day and I believe now that he was really nice but just too busy to cast or supervise an intern or resident casting my son. It has been 8 years since this happend and I feel good that I finally have a forum where I can comment on this. Who knows if anyone will ever read it!
4.0 Rating
June 5th, 2017