Rate Now
Share Your Experience
Have you seen Dr. Karena Neri?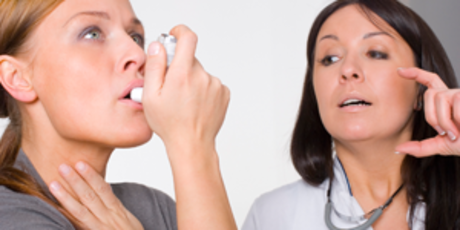 Asthma
More than 22 million Americans of all ages have asthma. Prepare to talk to your doctor about symptoms, diagnosis and treatment options.
62 Ratings with 34 Comments
1.0 Rating
January 8th, 2017
Don't go here!
1.0 Rating
October 31st, 2016
Long wait for doctor, long wait for referrals (if they ever get sent)
Waiting time is horrific....minimum 45 minutes but usually 2-3 hours!! No apologies or acknowledgment of this wait, as if you have no other obligations or responsibilities in your own life. Example: Called to make an appointment and told there was 10:30am availability. Accepted this appointment. Showed up on day of appointment and signed in to see that there were 4 other patients signed in for 10:30 appointment time with same doctor! And then you think that because of the long wait time that the physician must be spending a lot of quality time with patients. NOPE. In and out. And the referral department is AWFUL. AWFUL. No person ever answers the phone. You have to call and leave a message. They'll call back in 1-2 weeks to see if I know what the status of the referral is....huh? Why wouldn't THEY know what the status of the referral is? Did you send it or not? I've had to miss appointments with specialists because the referrals still haven't gone through after up to 5 WEEKS in ADVANCE and several phone calls by myself to follow-up on them and then REASSURED by the referral person that it was sent. NOPE. This has happened repeatedly. In fact I am currently waiting on a referral to a vascular surgeon with the appointment now coming up this week.....still no referral. Come here if you want but don't say that you weren't warned. It's terrible. We have military insurance and are limited in where we can go but anywhere else has got to be better than this.
1.0 Rating
October 20th, 2016
Sent to Collections over an appointment booked and cancelled weeks before scheduled date!
I just reached out the DEBT COLLECTOR who is attempting to make me pay for an appointment that I scheduled and cancelled within days of each other and weeks before my appointment was actually set to take place. I have a credit score of 740 and now, it is suffering, as a result of something that is not a valid bill in the first place! I just sent the following message to the debt collector, and hope that Palm Harbor Internal Medicine attempts to correct this error very quickly. Otherwise, I will be forced to take additional action. I booked and almost immediately cancelled my appointment at Palm Harbor Internal Medicine before it ever occurred. I was NOT a no show and yet they sent my information to your company (collections). Now, my very high credit score is suffering as a direct result of your submitting me to the 3 big companies that monitor credit worthiness. I just located a letter in my mail with a statement date of 8/5/16 and tried to go online to pay this $25 just to get it over with but you have NO ONLINE PAYMENT OPTION. I NEVER AND WILL NEVER mail payments and am ONLY willing to pay my bills online. Please get back to me with information as to how to resolve this. This is unthinkable that I would be held responsible for paying for a visit that was cancelled well in advance of my scheduled appointment. I am very disappointed. Thank you, Emily Keeton 205 613 5465 emilyak1187@outlook.com Account # XR3050 Creditor : Palm Harbor Internal Medicine
5.0 Rating
August 19th, 2016
5.0 Rating
August 4th, 2016
5.0 Rating
July 27th, 2016
Love her, love the front and back office girls.Great practice!
1.0 Rating
April 28th, 2016
1.0 Rating
April 25th, 2016
Not worth it
Great doc and medical staff. Caring thorough and knowledgable. Office staff awful- the worst!!! Never answers phone - and cannot get accounts straight so cannot get appointment. Great doc but between the wait time and hassle and listening to other Pantene complain about staff I will be finding a new doc. Too bad hard to find a good doc but you deal with office more then and it's just not worth it!
5.0 Rating
March 6th, 2016
Excellent!
I read many reviews prior to making an appointment and I selected Dr. Neri knowing that there would be a wait. I assumed a busy office is better than one without patients. I made the initial phone call and like a previous commenter stated; I had to leave a message. I was called back within 15 minutes and made the appointment with ease. I had an annual physical that included: blood, urine, EKG, a few questions answered and my prescriptions were refilled. The staff was pleasant and welcoming, the billing process was simple (but I am knowledgeable about my own coverage) and Dr. Neri was compassionate and kind. I did wait. It wasn't terrible. It's obviously a busy office. I appreciate how many people seek treatment in that practice - it shows me trust from the community.
4.0 Rating
November 23rd, 2015
4.0 Rating
November 2nd, 2015
Staff incompetent!
4.0 Rating
October 6th, 2015
Nearby Doctors

Dr. Karena Neri is similar to the following 3 Doctors near Palm Harbor, FL.