Rate Now
Share Your Experience
Have you seen Dr. Karl Lorenz?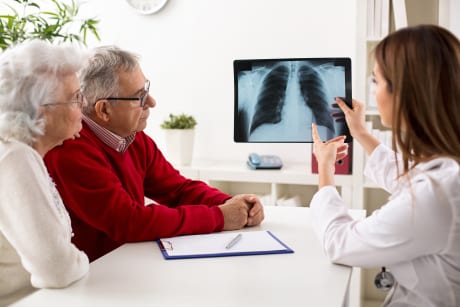 Lung Cancer
Get the facts about lung cancer, including how many people get it and what increases your risk for developing it.
Quality Rating
Highly Satisfied
15 Ratings with 12 Comments
5.0 Rating
August 10th, 2016
Awesome Dude
5.0 Rating
April 4th, 2015
Run Over by am Ambulance but That's OK. Know What I Mean?
Ssems like I was waiting a long time, but it went by really quickly. Doc came out and we had a bbq in the parking lot in between patients. I swallowed a thigh bone, and they had to pluck it out. Then I fell in the smoker which wasn't real good for my lung disease, if you know what I mean. I was just relaxin out there on the asphalt all afternoon waitin for the doc before I got run over by an ambulance on the way to the emergency room. However, that was really convenient too and they just took me over quick-like. All in all, it was a great day just waiting around and I never got to actually see that doc anyway. The Clippers won though, at least that's what I think. I was tryin hard to watch the TV in the trauma operating theatre while they were reattaching stuff. Anyhow, all good and I recommend this guy. Plus, man this website is super helpful. I took its advice which is why I'm still alive today. Clearly.
5.0 Rating
June 22nd, 2013
super duper doctor dude
5.0 Rating
January 26th, 2013
Sick in my head
I sure wish I wasn't sick in my head. I lost my love in the Spring of '10 and been missin' my honey every since. I went to this doctkar cause of a big heartache, livin off of moonshine and trying to stay warm with my hound dog. this doktur really unnerstood it all, said he'd been thar hisself, lost a luv and all that, just sits up dreamin' of running off to the Kalahari. reckon i'll go back and see him cuz he listened real goood.
5.0 Rating
January 25th, 2013
Kalahari Dreamboat
5.0 Rating
May 27th, 2012
So fine, so glad he's mine
This doctor is a suave sophisticate, who dresses with finesse, drinks only the finest wine, dabbles in the most magnificent cars. I was so impressed by his fine clean clothing, manicured appearance, expensive and impeccable vehicle. He wowed me as well with an impressive analytic display and immmediately wooed me to his point of view. I am enthralled and will clearly visit again.
5.0 Rating
April 14th, 2012
When your toothaches
This doctor can cure toothaches. My tooth was aching, cause I'd been chewing on my toenails real hard, plus I sort of strained my neck and my thigh bone doing that. I practically split a tooth when I gnawed a big chunk off that right toe. He gave me some motrin to help. I did develop gangrene of my lips later. I wish he'd thought of that, but I guess I deserve it.
5.0 Rating
November 27th, 2011
Found me a good discount body part
5.0 Rating
June 10th, 2011
Super Doctor
This doctor was super for me. I had a big stick stuck in my head. He was able to pull it out with a yank. Then he stopped the bleeding and plugged the big hole. I was real grateful. I love this doctor more than anybody and he's really great with stick pulling if you have that problem of a stick in your head like I did.
5.0 Rating
May 8th, 2010
Best Stomach Surgeon Ever
This doctor really knows how to make a man well. I took myself to him on day I had a bad tummy ache and he did some surgery right on the spot in the hall, untwisted my intestines next to the kidneys, added a little Worcestershire sauce and bingo! I felt like new! This site is full of bunk by the way. You can write anything and they never check.
5.0 Rating
April 18th, 2010
The best of the best
This doctors is the very best of the best. He's the best of the best of hte best of the best. He is so smart I can't even understand him, but I love that about him. He explains neurons and my medicine. We need more doctors like that. He's also the best. When I need heart surgery, I'm goiing to him, even if he doesnt' do that, because I know he can master anything.
5.0 Rating
February 22nd, 2010
What I love about the greatest doctor in the world
This doctor is the best brain surgeon I've ever, ever seen. He put my brain back in my head like you wouldn't believe. My cerebrum and my pons were in backwards, but he switched them around using a triple-axle reverse axonal GABAnergic procedure which fixed my seizure disorder too. Now I can drive and do crosswords and text message at the same time (well, not if I might get arrested, ha, ha like that the Gubernators's wife!). I'd pay a billion dollars to see a doctor like this. My brain is super, dooper precious. You've got two realy love your top notcher brain guys like Dr. Lorenz. Oh darn, maybe I'm getting confused again about which doctgor he is, but I think I've got it right.
Nearby Doctors

Dr. Karl Lorenz is similar to the following 3 Doctors near Los Angeles, CA.