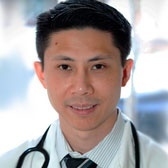 Dr. Ken Truong MD is a male Internist and practices in
Internal Medicine
.
Doctor's site
Brought to you by
License & Identifications
A medical license is required for a doctor to practice medicine in a particular state. Requirements vary by state but most require, at a minimum, post-graduate training in the doctor's specific specialty. An NPI number is a national identifier unique to an individual health care provider and is managed by the Center for Medicare & Medicaid Services (CMS).
Learn more about Dr. Ken Truong:
View the full profile to get information on:
Qualifications
What's important to you
---
View full profile
Patient Reviews
The overall average patient rating of Dr. Ken Truong, Internist is Excellent. Dr. Truong has been reviewed by 25 patients who have provided 13 comments. The rating is 3.5 out of 4 stars.
Patient Ratings
Ease of Appointment

4.0

Promptness

3.9

Currently 3.9166666666667 of 4 stars

Courteous Staff

3.9

Currently 3.9166666666667 of 4 stars

Accurate Diagnosis

3.9

Currently 3.9166666666667 of 4 stars

Bedside Manner

4.0

Spends Time with Me

4.0

Follows Up After Visit

3.9

Currently 3.9166666666667 of 4 stars
Specialties & Research
He has special expertise in 22 areas:
INR monitoring
abdominal pain
allergies
annual physical exam
chest pain
cough
diabetes management
diarrhea
fevers
flu shots
hair loss
headaches
high blood pressure management
high cholesterol
joint injections (platelet rich plasma injections)
palpitations
runny nose
skin rashes
sore throat
sports clearance
---
Education & Awards
Dr. Truong graduated from State University of New York Downstate, Brooklyn.
---
Affiliations
Dr. Truong has 3 hospital affiliations:
Ny Hospital Medical Ctr Of Queens,The
North Shore Univ Hosp At Forest Hills
Mount Sinai Hospital of Queens
---
Additional Information

Where does Dr. Ken Truong practice?
Dr. Ken Truong practices Internal Medicine near Astoria, NY.
See Astoria Internists.