Rate Now
Share Your Experience
Have you seen Dr. Kenneth Goldberg?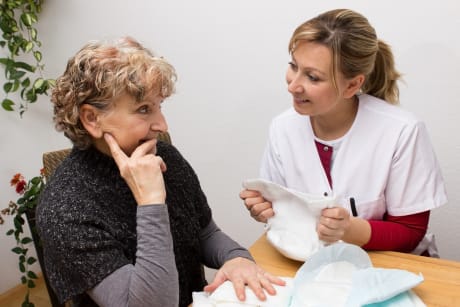 Urinary Incontinence
Learn about the symptoms and causes of urinary incontinence or urge incontinence.
39 Ratings with 12 Comments
5.0 Rating
December 2nd, 2016
2.0 Rating
March 26th, 2015
1.0 Rating
September 26th, 2013
Severly disappointed
1.0 Rating
June 14th, 2013
Wished I had read these reviews first.... :(
Certainly not a doctor with a personality or compassion for his patients. Seems too busy or preoccupied to talk with you or tell you what's happening. Just had surgery today and didn't have a clue going in nor did anyone in the hospital as they were all confused with the orders. Also I don't have a clue what the outcome was because he never came out to talk with me like I was told he would. Not my idea of a healthy doctor/patient relationship. Have to see this through until it's over but will not recommend him to anyone.
1.0 Rating
April 23rd, 2013
If you want the anti-personal, you're just a number feeling, he's your guy
My Ob-GYN had referred me to Dr. Goldberg. Bad move. I called requesting a new patient appt and the lady was very sweet on the phone. After asking her what she needed from me to confirm the appt, she kindly took my basic info and said all I had to do was fill out the new patient forms online. Well, that wasn't the case. When I checked in at my appt, i gave the the lady behind the window my forms and then she alerted ( what I assume to be the head nurse) that I had arrived. Rather than consulting me via check-in, this nurse opens the main door and asks my name and ' what can I do for you?!'. Stunned, I hesitantly stated that I was referred by my doctor and was a new patient. Without any regard to the audience in the waiting room, she began raising her voice to address the fact that they had not received any previous lab or patient history from my doctor. (Granted, I haven't even begun to share later on with Dr. Goldberg). Twenty minutes later after I had frantically called my OB-GYN to request an urgent fax of info, I then was graced with Dr. Goldberg. He entered the room in such a rush, barely connecting when I tried to shake his hand, them started quizzing me when asking why I had brought him insufficient 'data' to conclude that I examined. Awesome. He also went on to explain that I needed to bring back PHYISCAL copies of my medical history because he won't get it if they are faxed. I find it sad that his staff is that unqualified to manage the delivery and proper file management when receiving incoming faxes. As if that wasn't enough, he asked me what I did for my job and what hours I work. Because I initially hesitated when addressing his question, he then aggressively stated "we'll I work Tuesday starting at 8 and Wednesday starting at 7 - if that's any indicator". Wow. I immediately went home and scheduled a new appt with a doctor ranked #3 in top Dallas urologists. At the end of the day, I truly feel sad for the patients who feel as though they don't have a choice in who they are referred to in the medical field. Do yourself a favor and read reviews on your next doctor. Had I taken the time to read this doctor's past reviews ( even when they were submitted 2+ yrs ago), I would not have wasted my time taking off the 2 hours of work.
5.0 Rating
April 30th, 2012
Dr. Goldberg saved my life!
Diagnosed my cancer accurately and immediately. Performed the surgery two days later. Gave me great advice and now I am cancer free one year later.
5.0 Rating
December 28th, 2011
Dr. Goldberg is excellent in telling the patient what is going on, developing an action plan for the patient and letting the patient know exactly where he stands. Although he comes across as a very strong willed practioner, beneath that facade is a very kind and caring physician. I have going to him for the last 6 years and he has taken great care of me.
2.3 Rating
March 27th, 2011
Looking for another Urologist
Quite abrupt and crude at times.I normally stick with my primary doctors, but I am real tempted to switch. He gets so much business, I probably will not be missed. Some of the staff is nice. He does seem to know what he is doing, but does not focus too much on prevention it seems.I do not think he is a bad person, it is just his nature to be rude.
5.0 Rating
November 12th, 2010
DC
2.3 Rating
October 29th, 2010
Liked him personally but not as my doc anymore
Dr Goldberg had been my uro for years. I met him in the hospital.His bedside manner stunk but we began to get along better.I believe he knows what he's doing but can be so crude and uncaring at times that I have changed dr's.The last time I saw him he had just returned from hip surgery, and his first words to me were "let's get this over I have to go home and ice my hip". I have tried to talk with him about another uro condition my gyno believes I have and his nurse told me he said I don't have it without discussing it with me. I've found someone else to diagnose me. I won't see him again. I liked him personally but not as my doctor.I believe there are better doctors out there for me.
1.0 Rating
April 6th, 2010
My experience with Goldberg precisely. What's worse, instead of calling you he'll hold your lab results for days so he can bill you for an appointment. A "follow-up" appointment after my biopsy consisted of Goldberg handing me a piece of paper and telling me to go home and look up the condition. I went home and googled urologists and immediately found a new one. Then this audacious oaf tried to charge me $25 to forward my medical records. Needless to say, my primary care doctor got an earful for referring me to this character.
1.0 Rating
February 27th, 2010
Rude and crude
Dr Goldberg was very aggressive. He turned his back on me while introducing himself to me while shaking my hand. My follow up prognosis was(and I quote) Dr Golberg said I am going to take a HOT DOG SIZED OBJECT AND SHOVE IT UP YOUR BUTT. I walked out and found a good doctor who found the same prognosis and allowed me dignity.