Rate Now
Share Your Experience
Have you seen Dr. Kenneth Chapman?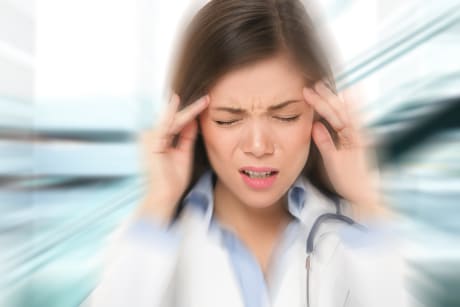 Migraine
Get the facts about migraine headaches, including the different types of migraine and migraine triggers.
Quality Rating
Highly Satisfied
100 Ratings with 36 Comments
5.0 Rating
July 2nd, 2017
Best pain dr I have met
I was in the hospital last year after a serious spine surgery that I needed from a staph infection on my vertebrae and cord. I took pain meds from my dr at home before this surgery and when I woke from surgery I was not give sufficient pain meds for the new surgery I wasn't even given what I was on at home. After arguing with nurses and attending dr I insisted on seeing a pain specialist with in the nest few hours. I had a 10 inch insitiom down my back from the top of my neck to my lower back had vertebraes shaved down and hardware installed. I started to feel intense pain and started feeling withdraw! Symptoms. Dr Chapman came in to see me and was the most sincere dr I have ever met. When I told him what I take at home and what they were giving me in the hospital he told me to hold on a few minutes he would get me straitnened out He got me back on what I took before the surgery and added new higher dose to cover new pain. If I ever need a new pain dr I would run straight to him. He didn't treat me like a drug seeker or some liar. I was givin a spinal stimulator from another pain dr and developed a bad infection and no feeling in my lower half. Dr Chapman made my month stay in the hospital managble. Thank god for him.
5.0 Rating
April 14th, 2017
THE BEST PAIN MANAGEMENT PRACTICE I HAVE EVER GONE TO
Dr. Chapman is so knowledgeable, and understanding of his patient's needs. All of his staff from the front desk to the physician aide (I met Anna) and office manager , Lou, everyone is warm, welcoming and compassionate about the patient's pain. I had several back surgeries that were unsuccessful, as well as bad knee surgery and after going to so many doctors to get me out of some of the pain, I discovered Dr. Chapman. I have been going to him once a month for a few months and am still in awe of how efficient and welcoming everyone is. I am on pain medication and in the middle of setting up some procedures that might help alleviate my pain. he's honest in his evaluations and is not aggressive with meds or methods. anyone who has ever said anything nasty regarding his care could not possibly be talking about this Dr. I recommend him to anyone who needs help in matters of pain management. I am grateful that I am his patient Reyna from Riverdale
4.0 Rating
May 26th, 2016
I have NOT got one negative thing to say about Dr.Chapman or his staff.
5.0 Rating
April 26th, 2016
Great experience!
5.0 Rating
January 15th, 2016
Grateful and happy
As a new patient, I was greeted by a caring, professional staff in the Staten Island office. From the first call to the appointment desk and throughout the interviews and treatment, I knew I made a good decision. 'Had treatment on the first visit. (I brought copies of my MRI and x-rays) The staff led me through each step of the process. Next step is a follow up appointment in 3 weeks. So far, I have found relief from my pain.
1.0 Rating
October 8th, 2015
Med Addiction
The only recommendation he could give is follow up with your refills which are narcotics and come in for injections. Any doctor that's not interested in your insurance they would just turn you into a junkie and tell you to follow up with dr. Kenneth Chapmen when you question the doctor how can I fix my problem the only thing he can recommend you is to follow up on medication an injection witch is temporary relief only .every doctor I go to say Chapmen is there to harm his patients for business..
Doctor's Response
Sometimes when dealing with chronic pain there are not many other options than taking pain medications and intermittent injections for symptomatic treatment. Unfortunately for some chronic degenerative spinal conditions there is no cure (if that is what you were looking for). It is our job to help you find what options are available to help with your pain and improve your quality of life and that is what we try to do for all our patients.
SHOW
ttcqeayetrwczwezdueawsrsbdyr
5.0 Rating
September 16th, 2015
Nothing short of a miracle
I had been in agony from arthritis in my back for months. One visit to Dr. Chapman and the pain disappeared almost instantly. Oh, it came back after several months but Dr. Chapman fit me into his schedule and with a few more injections it was gone again. The office is very busy but they always find time for you if you have an emergency. As a result, you often have to wait but that's so much better than going days without treatment. Another reviewer suggested that Dr. Chapman pushed anesthesia. That has not been my experience at all. It is available but I have never taken it for the injections I received. I found the procedures a bit uncomfortable but that was all.
4.0 Rating
August 4th, 2015
5.0 Rating
May 20th, 2015
Miracle worker
Saw Dr. Chapman for lower back stenosis with associated pain. After one & a half series of injections, which had only limited beneficial effect, we discussed the microsurgery option, which I then did take. The experience itself & the post-operative course were exactly as he earlier described. This was about three years ago, now, & I have remained remarkably improved. Yeah, still get some pain or numbness & other intermittant, mild symptoms, but I remain dramatically improved over the crippling pain I was in before his treatment. This man is a miracle worker.
5.0 Rating
May 7th, 2015
Truly caring and compassionate
3.0 Rating
April 6th, 2015
Indifferent
I have seen Dr. Chapman several times. He doesn't seem to look over medical tests, or give an exam and you usually have a long wait and have to meet with some assistants before you even meet with him. He is often interrupted by staff and doesn't spend much time with you. He seems to be half listening sometimes and very busy with injections and leaving you to go inject someone rater than doing pain management, exam and doing tests. He seems to be set in his diagnosis and doesn't seem to work with other Dr's for your care. If you want an injection then go see him. He is a very nice guy but I prefer a Dr. that will walk you though things, find things to help you and make you feel better about your situation and help find solutions.
5.0 Rating
March 16th, 2015
Excellent doctor
Dr. Chapman has an extremely busy practice, but he does not let this prevent him from taking the time with his patients to give them the individualized attention they require. He is caring and compassionate. He has the amazing ability to recall the smallest detail of my symptoms and details of my particular ailment, which helps tremendously in my treatment. He is sensitive and straight-forward in regards to treatments and prognosis. I would definitely recommend him.