Rate Now
Share Your Experience
Have you seen Dr. Kenneth Adams?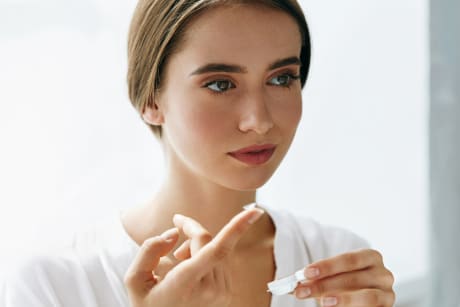 Contact Lens Care
A complete overview of what you need to know about your contact lenses.
10 Ratings with 5 Comments
5.0 Rating
July 3rd, 2016
1.0 Rating
September 22nd, 2015
Just went in to take my 5 year old son into see Dr. Adams. My son's school was concerned after providing him with a routine eye exam, so i contacted my son's pediatric doctor, and he referred me to the office of Dr. Adams. I was confident that the office visit was going to be the best for my son because of the fact that the office insured me that Dr. Adams was a pediatric doctor, however the experience my son had was not so well. The waiting area is very kid friendly and my son's enjoyed the toys and movie that was playing, and his assistant that was helping my son before Dr Adams came in was excellent and actually my son was having a good time with her, clapping and excited when he did well on his exam. However when Dr. Adams came in, it was straight to business (which was fine) but it did intimidate my son some what. Any way, Dr. Adams asked to put Eye drops in my sons eye to dilate them, which i approved of, while warning Dr. Adams that my son will move around and resist because he does not like the drops. Well my son did just that and Dr. Adams began to scream at him "Stop that!", "Put your arms down!" Stop it!!!" "Lower your arms now!" "Your going to make me poke your eye and then its really going to burn!" "I am not even hurting you!!!" "Stop it now!" ect. My son's face after the drops were put in was heart breaking. Here I am bringing him some where that I was informed was kid friendly and my son only moments before having a good time with his assistant was scared and had his feeling hurt because he didn't know what he was doing wrong. I was very upset after leaving and I would not recommend sending your child to his practice.
5.0 Rating
January 28th, 2014
Very satisfied
1.0 Rating
September 26th, 2013
Failed to diagnose eye disorder
Appt was quick and support staff were polite. As soon as Dr. Adams entered I got the feeling he did not like children. He was irritated easily and did not have time to listen to my concerns about my 2 years old sons eye (two of my children were being seen). He blew me off numerous times and finally said I have already done his exam and I see no concerns do you really want another exam on him. I said yes and he huffed but did a second exam. He found no concern and no vision loss. Months later I convinced our insurance to allow a second opinion at nother Dr. who diagnosed my now three year old with Amblyopia from Strabismus. I am so sad and disappointed to find that vision loss is present. If Dr Adams had done his job this could have likely prevented and treatment would probably already be done. Thank God I persisted and trusted my instincts. Had I not my son could have lost his vision in one eye or reached any age where treatment isn't as effective.
1.0 Rating
August 30th, 2013
Routine vision exam
Dr. Kenneth P. Adams, DO, PC was extremely rude and unhelpful. He did not have the patient's best interest or health in mind. At the end of the visit, the doctor forgot to give us our daughter's diagnosis. We had to prompt him and ask if there was the need for glasses. The overall encounter was unpleasant as we felt we were in his way. Our insurance covered 100% of the service (routine eye exam). We left the office with the most unfavorable experience. We would not recommend Dr Kenneth P Adams to anyone as he does not seem to really care to use his intelligence to assist the patient for a treatment plan. He never offered any strategies or information to assist us in the understanding of the final outcome.
1.0 Rating
March 17th, 2016
4.0 Rating
March 13th, 2015
5.0 Rating
October 8th, 2014
1.0 Rating
June 1st, 2014
5.0 Rating
October 12th, 2012