Rate Now
Share Your Experience
Have you seen Dr. Kenneth Pettine?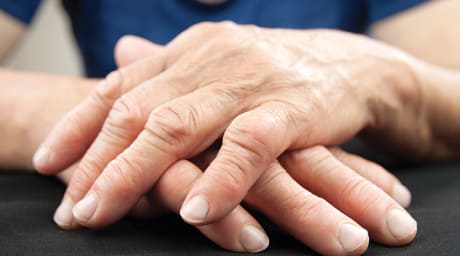 Osteoarthritis
Get the facts about osteoarthritis, including the symptoms and doctors who treat it.
111 Ratings with 41 Comments
5.0 Rating
June 12th, 2017
dr Kenneth pettine performed back surgery on me in 2001, at which time I was 72, and practically unable to walk due to the pain I suffered. after my surgery, I walked out of th hospital with 27 pieces of metal in my back and never had another pain associated with my back. I thought he was a wonderful doctor.
5.0 Rating
May 28th, 2017
Excellent & Knowledgable
1.0 Rating
October 3rd, 2016
Patient
5.0 Rating
September 25th, 2016
GREAT SURGEON
5.0 Rating
July 30th, 2016
Stem cell transplant
Dr Pettine was knowledgeable, educational in discussion, and courteous in presentation of information. He is a caring, Christianly man making me glad I chose him for a stem cell treatment of my lumbar and cervical disks. Two years later with good results I would recommend him to any family member or friend. Well worth the trip from California to Colorado, plus you get cleaner air and a sprinkle of snow.
5.0 Rating
July 29th, 2016
Excellent Doctor
Dr Pettine is an expert in his field and has always tried to find the best way to conservatively treat his patients. He performs all kinds of spine surgeries, but goes out of his way to offer other options. If surgery is necessary, he is capable of doing state of the art work, and not just continue to do what he learned long ago.
5.0 Rating
July 22nd, 2016
1.0 Rating
July 16th, 2016
A complete waste of money, energy and time
I had 2 Coflex put in my lower spine which did nothing to stop the pain in my lower back, that was about 4 yrs ago. Dr. Pettine's personality was not comforting and clownish. His assistant doctor (can't remember his name) was fine. I went to Pettine because I was impressed by his credentials and new technologies but it was all a farce.. I still suffer to this day from back pain.
1.0 Rating
July 14th, 2016
Whacky Guy, Now I Know Why!
The only reason I went to Pettine in 2014 was because he was the surgeon in the area performing the clinical trial for M-6 disc replacement. I'm okay (not great) but was never happy with this guy's persona and inability to carry on a conversation, never mind answering questions. He would come into the exam room acting like a pirate or talking about a movie he saw. But my research on him showed him to be a good surgeon and the M-6 had been used in Germany successfully for 20K surgeries. Turns out that the clinical trial paid nothing towards my co-pays because my insurance paid for the surgery, and it would have paid for the surgery if I had gone to Germany! I do wish I had. I would have gotten to stay in the hospital for 5 days and gotten the recovery care and post-op instructions one needs after spinal surgery. As it was, when I was having trouble a couple months out, all Pettine offered me in the way of help was a prescription for muscle relaxers which I refused like I had refused OPIODs post-op. I wasn't in that much pain, just having the same symptoms I had before getting the surgery (numb and tingling hands and arms from a pinched nerve). Turns out things had gotten inflamed from overdoing it, which my GP determined (not Pettine) and prescribed me an anti-inflammatory. I am finished with the clinical trial but wondering now that Pettine has been arrested for fraudulent use of prescriptions for himself and botching 3 surgeries if he botched mine somehow. His replacement at my final visit told me that the M-6 disc is a little to the left, but not to worry. But that could be why I am only comfortable turning my head one way. Even if Pettine gets his license back, I would not recommend him. Even though the staff was honest with me about why Pettine had been replaced (they told me to look it up online), I won't go there again because his replacement was part of his team. If I have future problems, I will go elsewhere for help and get a second and third opinion! My advice is to trust your gut if a doctor seems a little off. They might just be under the influence of prescription meds!!
5.0 Rating
July 10th, 2016
Nearby Doctors

Dr. Kenneth Pettine is similar to the following 3 Doctors near Johnstown, CO.