Rate Now
Share Your Experience
Have you seen Dr. Kenneth Jaffe?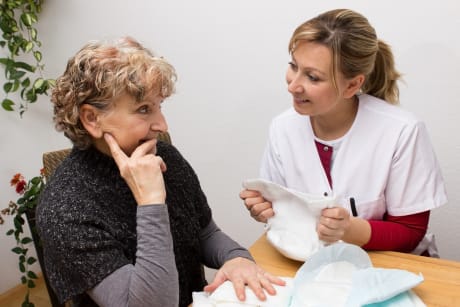 Urinary Incontinence
Learn about the symptoms and causes of urinary incontinence or urge incontinence.
81 Ratings with 36 Comments
1.0 Rating
April 22nd, 2016
Lawsuit
This guy needs to be outed from his practice & have his license taken away. He's got to be bipolor. My son went in after surgery to have his surgical site looked at. Never looked at the paper work from the surgeon. Just screamed at him & belittled him. Sent him into an anxiety attack. He poked into his wound with a q tip then a piece of wood on the other end, making the hole bigger then it was, meanwhile not even knowing what he had done. My son tried to talk to him & he wouldn't listen, just kept yelling at him. This man has got to be stopped. People we all need to pull together on this. Please call the medical board & report him. Let them know what he has done to you if it was bad etc.
5.0 Rating
March 30th, 2016
I and my husband have been Dr. Jaffe patient for 12 years. He is very knowledgeable and good at diagnosing ailments. He diagnosed my husband's allergies which was previously missed by 2 doctors.After an hurricane, when there was no power, he came in , opened the office and dressed my husband's foot injury. He offered to help us when we were having martial issues and took time talking to us from his busy schedule. He does care of about his patients. Jackie is very helpful too. We always had good experience.
5.0 Rating
March 29th, 2016
1.0 Rating
March 16th, 2016
5.0 Rating
February 15th, 2016
Doc who is concerned!
My son of 22 had a heart issue. He was frightened and concerned as was I. After the hospital found nothing major we came to DR. Jaffe. He ran stress tests and was kind and personable. My son Jonah now trusts and respects him. I too am joining his practice as a patient and am referring friends. Thank you DR. Jaffe for easing our concerns and for explaining all there was to know.
1.0 Rating
January 28th, 2016
The worst!
We were unfortunately assigned to Dr. Jaffe thru Obama care. We endured 9 months of torture. All of the other reviews which are negative are being kind compared to our experience. His office staff, in particular Jackie have only two responses: "We sent it" or "We never received it!" Appointments were cancelled because they didn't follow thru on authorizations, medications were not authorized in a timely fashion. He comes into the room, usually after an extended wait and spends under one minute with you. Questions are not permitted and his scam is to require numerous appointments for simple issues that could have been handled by a simple phone call. Please AVOID his office!!!
1.0 Rating
January 16th, 2016
STAY AWAY
This man is the rudest, most arrogant doctor I have ever met. He wants me to come in once a month because he "gets paid that way." He said he doesn't get paid to retrieve your medical records. "You're on your own." He says he gets paid $18 to tell you to quit smoking, so he checked that box. I am a high risk patient for breast cancer and ovarian cancer, but he said, "How do I know that?" and refused to write the prescription for a cancer screening.
1.0 Rating
October 9th, 2015
The Worst
The worst bedside manner. This is a person who is really only in it for the money. He rushes patients, talks down to you, gives misinformation and doesn't give you a chance to ask questions. His staff continually make unnecessary appointments under the guise of a follow-up but they only take your blood pressure, ask what brings you in, Dr. Jaffe sees you for less than a minute and of course they charge your insurance, you pay the co-payment and goodbye. Seems like a scam. They also insist you have blood work done only in their office even if there is a more convenient lab for you. This is unfortunate bec many patients don't realize that they deserve better. Thank God I have now found a true professional, who actually cares about patients. I will never tolerate this kind of blatant unprofessional behavior again.
5.0 Rating
April 27th, 2015
Decently good doctor
1.0 Rating
April 6th, 2015
5.0 Rating
December 17th, 2014
Dr. Jaffe is very smart and kind. One of the best doctors I have had. He worked overtime to find out want was going on with me medically. When my formal doctor of 20 years had not clue. Now I have the best health care team around me so I can feel better even if it's for a few days a week. Thanks Dr. Jaffe
5.0 Rating
September 30th, 2014
Better than the rest!
Nearby Doctors

Dr. Kenneth Jaffe is similar to the following 3 Doctors near Lake Worth, FL.