Rate Now
Share Your Experience
Have you seen Dr. Kenneth Wright?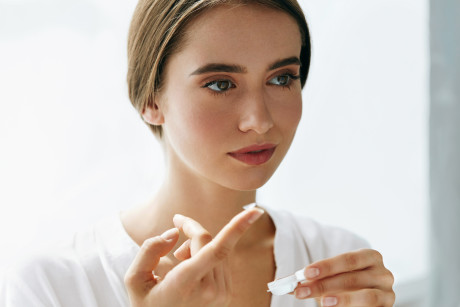 Contact Lens Care
A complete overview of what you need to know about your contact lenses.
Quality Rating
Highly Satisfied
42 Ratings with 17 Comments
5.0 Rating
February 6th, 2017
He was nice and helpful
5.0 Rating
July 28th, 2016
This Doctor is The Truth!
I don't know what Debbie Downer posted those negative reviews, but it must have followed an argument with a partner. I just left Dr. Wright's office, and I came away wanting to become a Republican!!! (I'm an Independent, and he's running for Congress, chillax). I told him he had much more spark and personally than I expected....I was soooo nervous before going to him. He took plenty of time with me, conducted a thorough exam, told me he would treat me like his own family....but surgery was my choice. I'm 46, and have been dealing with strabismus my whole life. Whether or not I have surgery, I am glad I chose to see Dr. Wright, the absolute best in his field. Naysayers be darned.....See him for yourself!
1.0 Rating
July 5th, 2014
RUDE RUDE RUDE doctor
Kenneth is a rude, rude man that does not earn the respect of me referring to him as a M.D. He spent less than 5 minutes with my son after we had to wait 80 minutes after our scheduled appointment. When I asked him for an explanation of his diagnosis I thought he was going to rip my head off. He is a loose cannon and should not be practicing medicine.
5.0 Rating
May 31st, 2013
He's the best.
He's good, he's dang good. This man is the leader in the field of strabismus. He is the most caring, delicate surgeon for eye muscles you will meet. Your recovery time will be 1/2 what it will be with less talented surgeons. He is out of network which sucks, but, he is worth the extra cost. Smart, friendly, good. He's the only one I trusted to do surgery on my eyes as an adult and I would suggestion him to anyone looking for an eye surgeon for themselves or child!
5.0 Rating
July 16th, 2012
THANK GOD I DID NOT CANCEL MY APPOINTMENT. DOCTOR WRIGHT IS A VERY CARING AND SWEET DOCTOR.
I ALMOST CANCELLED MY APPOINTMENT AFTER READING SOME BAD REVIEWS ABOUT DR. WRIGHT. ACCORDING TO SOME PEOPLE, HE IS GROUCHY AND MEAN. MY 19 MONTH OLD HAS ATTENTION SPAM ISSUES AND I WAS VERY NERVOUS ABOUT DR. WRIGHT GETTING IMPATIENT WITH MY SON. I TOTALLY GOT A DIFFERENT EXPERIENCE FROM HIS OFFICE. EVERYBODY WAS VERY KIND AND SWEET TO MY BABY WHO WAS VERY FUSSY AND DID NOT WANT TO COOPERATE WITH THE DOCTOR. HE WOULDN'T OPEN HIS EYES AND HE WAS CRYING A LOT. DR. WRIGHT WAS VERY PATIENT AND LOVING WITH HIM. HE EVEN DILATED HIS EYES TO MAKE SURE THAT MY LITTLE ONE DIDN'T NEED EYEGLASSES. HE SPENT A LOT OF TIME WITH US AND HE DID NOT LET ME GO UNTIL HE PERSONALLY PRINTED HIS REPORT FOR MY PEDIATRICIAN. I REALLY REALLY RECOMMEND THIS DOCTOR, BESIDES, HE IS AN AUTHORITY IN THE FIELD!
5.0 Rating
April 28th, 2012
The best doctor
1.0 Rating
March 10th, 2012
Mistreated my son
Anyone who goes to Wright is now being warned. He screwed up my son after surgery and threw his hands up in the air and said he did not know how to treat him.My son was a mess. Wright also refused to return phone calls as he did not know what to do or say. We ended up at another Pediatric Opthamologist who has helped undo the damage Wright had caused. Forget his good reputation from other doctors and find someone at UCLA in their Pediatric Opthamology department.
3.7 Rating
February 11th, 2012
Worst Employee Ever
5.0 Rating
June 10th, 2011
Best around, very caring
5.0 Rating
May 16th, 2011
So happy!
Dr. Wright performed a Strabismus surgery on my extremely complex condition I've had since birth and I keep looking in the mirror thinking that I'm dreaming. He was extremely honest with me prior to the surgery telling me that he could not promise the outcome, but that he would do his best. I appreciated not only his honesty, but his willingness to take on a case that many ophthalmologists would not touch. He fought hard during surgery to get to the muscles that he needed to get to and my eye is now straight! I've cried with happiness quite a few times now. I'm so thankful I found him.31 yo female
5.0 Rating
April 25th, 2011
1.0 Rating
March 14th, 2011
Rude staff
The staff was so incredibly rude kept me on hold for 10 minutes then when I complained she put the phone down, when I called again she did not care that I was upset and said thank you and hung up on me. What kind of doctor runs an office this way, who does he think he is anyway why do doctors offices think they can't treat people any way they want horrible place!!!!!!!