Rate Now
Share Your Experience
Have you seen Dr. Kevin Bozic?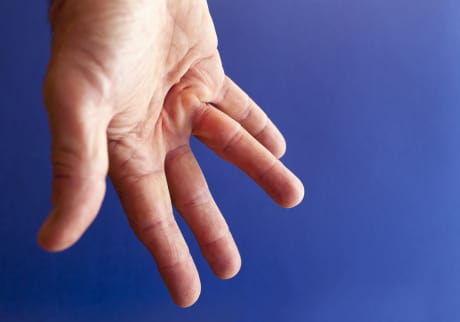 Dupuytren's Contracture
Dupuytren's contracture is a thickening of the tissue beneath the skin of the palm of your hand
29 Ratings with 12 Comments
5.0 Rating
November 3rd, 2016
I'm so happy I heard about Dr. Bozic!
The hardest part of my hip replacement experience was finding a doctor I had confidence in to do the surgery. It has been a year since I had my hip replacement and I rarely even think about the fact that I have it. I am so thankful that I heard about Dr Bozic and I would recommend him to anyone contemplating joint replacement.
5.0 Rating
August 12th, 2016
Thank you for giving me my life back Dr. Bozic and Team!
5.0 Rating
May 1st, 2014
Total Hip Replacement
5.0 Rating
December 13th, 2013
Dr. Bozic, his staff, and UCSF are great!
Dr. Bozic replaced my hip that had been damaged in a car crash, after which I could only walk about 100 yds with a cane for almost a year and a half. Now, several months later, I can easily walk a mile, and some days I walk up to 2 miles...and NO CANE! And I am finally back to work rebuilding my business. I cannot say enough good about Dr. Bozic's expertise, professionalism, and follow-up. His nurse practitioner, Lisa Hartmayer, is also excellent and very caring, as is the rest of Dr. Bozic's team right on through the nurses on the floor and all the way to the orderlies who assisted me during my stay at UCSF. Great job by all!
5.0 Rating
November 7th, 2013
Correctional Officer
5.0 Rating
July 16th, 2013
Got my life back
Dr. Bozic was professional and courteous, but like many surgeons he is not warm and fuzzy. Once I felt sure that my problem required a hip replacement, I selected a surgeon who does lots and lots of hip replacements using an approach I favored. His office staff, especially Lisa, the NP is wonderful -- always responsive to phone calls or emails and forthcoming with whatever information I needed. The preoperative preparation was really helpful in reducing anxiety by giving me the information I needed. A 2 was postoperative, I didn't even need a cane.
5.0 Rating
September 7th, 2012
In 2008 I had already been in pain for several years,and despite physical therapy (which I paid for), I found it difficult to walk, sit, or even lie down. AT UCSF Dr. Bozic told me that due to extreme osteoarthritis I needed a left hip replacement. He was warm, friendly, informative, amazingly knowledgeable, and positive in his outlook. As a result, I felt confident and envisioned a positive outcome. Within three weeks I was back at work, feeling no pain at all, and able to resume all my activities. At 65, I had my life back. So often we, as patients, forget that we are a major part of our own recovery. Dr. Bozic helped me understand that there were risks to the surgery, and that it was my decision whether or not to proceed. I placed my trust in him and he did not fail me. There are no words that can fully express my gratitude to him for his kindness and care.
5.0 Rating
September 5th, 2012
Excellence
I am an active 50 year old female and had a THR two years ago. I will soon have Dr. Bozic do the right side. He is an outstanding surgeon and the quality of care is superior. He is respectful, friendly, personable and knowledgeable. I live outside of the area and travel six hours to have this high standard of treatment.
5.0 Rating
May 3rd, 2012
VERY POSITIVE EXPERIENCE!
Dr. Bozic replaced my right knee, using minimally invasive techniques, five years ago. The knee felt well-placed from Day One of the surgery and has held up beautifully ever since. I was fully back to a demanding job eight weeks later, and now I can hardly find the small scar that remains! For that reason, I am about to have a second procedure performed by Dr. Bozic. I know that recovery from this surgery is initially painful, but I also know that the postive results it can achieve are dramatic and well worth it!!As for Dr. Bozic's manner, I found him slightly intimidating at first, but increasingly warm and caring as treatment progressed and he came to know me better as a patient. I was very pleased with my experience and highly recommend Dr. Bozic and his methods for this procedure!
1.0 Rating
March 30th, 2012
Dr. Bozic is very snubby
I met him 6 years ago. He is very snubby and rough. I had osteoarthritis on my hip and needed hip surgery. He made me feel like I was an old woman by telling me:" ... I have had a patient that was 17..." meaning you should not be feel bad for yourself having hip surgery at age 40. While I was in much better postion than 17 year old and I felt bad for her, it didn't mean that he had to trivialize my situation. I think he feels he is too smart!
1.0 Rating
October 31st, 2011
Mistake re Hip revision
My entire left leg/left side of my hip was in such horrible pain I could barely walk during the day and not at all by evening. Dr. Bozic ordered a new Xray and told me my bilateral resurfacing implants were in place perfectly. He stated that if he did hip revision surgery on me that I'd most likely still be in pain. Then stated "I think you have multiple issues" suggesting it was my back giving me grief. I saw another ortho surgeon... he did the revision. I'm now 5 weeks post op and have been pain-free since! The surgeon said every time I moved the metal was slipping, the pain was from massive inflamation of the femoral head. I desperately needed a THR.Dr. Bozic was SO WRONG. Xrays/MRIs are taken while the patient is holding still. Please listen closer to what the patient is describing. I certainly hope you don't turn anyone else away that's in constant pain (9-10+) with loss of mobility. Slippage might be rare but it does happen and fyi the pain was also in the left side lower back and all the way down the front of the leg.. to the ankle. Note this. My spine MRI shows I have a healthy back. I'm grateful finding a more caring/knowledgeable surgeon.
1.0 Rating
December 29th, 2010
lack of communiocation, no options
At one point in our relation ship I even asked for another Dr. I don't know if it is UCSF or the department...I signed away allconcent with no idea that there were options. I nearly bled to death as a result of a persistant bleeder and the cell saver "striker" teck and his report of the procedure was that it was "unremaskable". Was he even there?One leg is 2in shorter than the other,and one knee has a different size inplant, needless to say it is not comfortable. I have restricted range of motion...none of these last three things were addressed at any time...not that he ever listened to a word I had to say. I signed away any right if I ever had any to confront him...I'd like to know how many people did hands on work on me, why certain decisions were made? How do I do this?