Rate Now
Share Your Experience
Have you seen Dr. Kishore Tipirneni?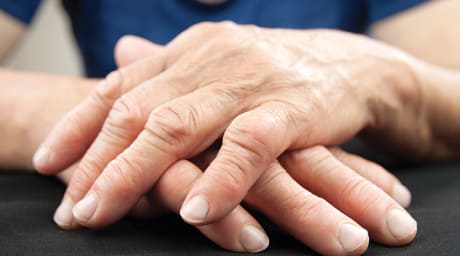 Osteoarthritis
Get the facts about osteoarthritis, including the symptoms and doctors who treat it.
29 Ratings with 11 Comments
5.0 Rating
September 2nd, 2016
Great Doctor!
1.0 Rating
May 7th, 2016
Sucks
Staff couldn't figure out which doctor I should be seen by based on my condition so I got stuck with him. Staff was courteous when I arrived for the appointment. When Dr Tipirneni came in, I told him what was going on and for how long. My "appointment" with him was done in less than five minutes, with no particular treatment plan as far as pain management or any type of physical therapy. His diagnosis was, "Oh, this is typical and it'seems normal for people get swelling." Unfortunately, the reason I saw a doctor was because it is NOT normal for me, and it's causing me pain and discomfort on a daily basis. I'm pretty sure this idiot was done with me the minute he saw me, knew I wasn't going to need surgery for anything, thus no dollar signs over my head.
5.0 Rating
January 29th, 2016
I had surgery from Dr. Tippernini 15 years ago. If it wasn't for him I wouldn't be able to use my right hand or work for a living. Was so thankful for him doing my surgery.
5.0 Rating
August 1st, 2014
great experience
1.0 Rating
June 19th, 2013
No time, no explanations, no consideration
A doctor that does not take the time to explain procedures that are planned, nor take the consideration to ask a patient if they have questions, is a doctor that feels the patient is not important in my opinion. Dr. T performed knee surgery for me about a year and a half ago. To date I have had problems with the knee operated on by him constantly. I am now seeking another surgeon for an opinion on further treatment. My complaint about Dr. T however, is not his surgical skills, but rather his lack of consideration and respect for his patients. He spent a total of approximately 10-15 minutes with me cumulatively between all visits and pre-op. The visits I had with him would last between 1-2 minutes and did not give me the opportunity to ask questions about the procedure that was being scheduled. I should have been more assertive at that time, but you do get the feeling he is not interested in explaining the whats or whys regarding what he is planning on doing. Dr. T is the kind of doctor that appeals to a certain type of patient, one that holds a doctor as one not to be questioned nor queried. Maybe it is a cultural thing, but for me, I would never recommend Dr. T as he gives the impression he is above the patient and the patient's concerns.
2.3 Rating
February 27th, 2013
Dr. Tiperini may be a very smart man and a competent doctor but he has absolutely no bedside manner. I had ulnar nerve transposition. surgery. At the surgical center, he attempted to mark my hand for carpan tunnel surgery, I had to tell him why I was there. He then marked my arm and left. The time spent was approximately 1 minute. He had never explained what to expecty from the surgery. Luckily, I had looked it up on line so I was not ignorant of the facts. After the surgery, the nurse in recovery explained to my husband and I that she couldn't release me until the doctor had checked on me. Dr. Tipernini showed up in recovery, spoke to the woman next to me then left the facility. He never spoke to me. He did my carpal tunnel surgery several years ago and I was aware of his lack of personality but this time was far worse.
5.0 Rating
February 3rd, 2013
Best doctor yet!
Dr. Tipirneni was an amazing doctor and he was the best decision I have ever made. i have no regrets. he was super efficient and very talented. Thank you so much Dr. Tipirneni .
1.0 Rating
April 28th, 2012
Distracted With A God Complex
Dr. T is a highly educated, nice, likable but distracted and distant person. Being that I was in Phoenix and that he was trained in engineering and medicine, I choose him specifically for a knee injury. On multiple visits I discovered and observed his near obsession with minimum patient time, apparently,to advance his own medical data product application business. After an expensive MRI and "wait and see" process, I was told by another of Dr. T's partners in his absence that "only an X-ray could diagnose my issue". It was done, problem found. Surgery required for "fix". Nevertheless,s I chose Dr. T for my Arthroscopic Knee Surgery, again thinking of his technical attention to detail and availability. However, having misgivings, before my surgery, I personally contacted respected knee surgery centers in Phoenix, Los Angeles, Cincinnati, Pensacola, Sidney and London with NFL-Soccer reputations (I even took a 6 hour highly rated on-line doctors AKS course!). Dr. T told me point-blank "You read to much", that "they" didn't know anything, he knew best. After his ten minute AKS procedure three months ago (at a surgery center partially owned by Dr. T.) my symptoms, though improved, remain. For me, I'm done with Phoenix Orthopedic Consultants! Scary, they don't even know how to pre-identity AKS portals for safe surgery nor realize the importance of 4 vs 2 portals as do all the other expert centers I consulted! An easy appointment is nice, but...for about $10,000 in charges, I expected a bit more. Be advised, beware.
5.0 Rating
November 30th, 2009
5.0 Rating
July 6th, 2009
5.0 Rating
February 11th, 2009
2.0 Rating
July 12th, 2017
Nearby Doctors

Dr. Kishore Tipirneni is similar to the following 3 Doctors near Phoenix, AZ.