Rate Now
Share Your Experience
Have you seen Dr. Kristene Whitmore?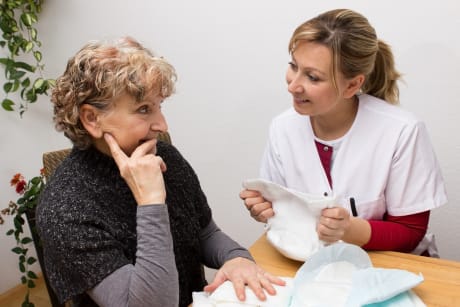 Urinary Incontinence
Learn about the symptoms and causes of urinary incontinence or urge incontinence.
59 Ratings with 21 Comments
1.0 Rating
June 27th, 2016
I would never use dr Whitmore again she really screwed up my bladder lift surgery many years ago and caused me to get staff infection. Don't go to this dr.
5.0 Rating
April 15th, 2016
I have been seeing Dr. Whitmore for over six years. Previously I struggled to find a doctor who was up-to-date with the current research on IC and could actually help me.She has the best bedside manner and her current staff is excellent in responding to phone call questions with immediate or same day questions and especially important, perscrription refills on the same day requested by my pharmacy.
1.0 Rating
August 8th, 2015
A lunatic with a God complex.
If you still believe that doctors know everything and that the patient has no rights and should never ask any questions and just do every single thing that the doctor says to do without any explanation why, then she is probably the doctor for you. I was basically banned from her office after refusing to jump through her diagnostic hoops. In fact, she refused to even see me -- I could hear her outside of the exam room saying, "Why should I waste my time with her?" Well, now I hope that no patient ever has to waste their time with her! It's her way or the highway. After leaving the office without being seen by Whitmore, I was told I could only see Dr. Kellogg (who no longer works there, thankfully, because Dr. Kellogg is wonderful!) for a follow-up exam about something I was in the middle of treatment for with her, but was not allowed to ask about my bladder! I also believe that their practice is set up so that they are making tons of money from the insurance companies off their routine labs, scans, and probe tests. (I bet that's why they insist on having you fax over your insurance information or they won't even talk to you on the phone to set up appointment -- they want to make sure your insurance company will pay them well.) Unfortunately, it seems like her attitude has seeped into almost her entire staff. Even the front desk people want to rush you off the phone as quick as they possibly can. I've had to literally stop them from hanging up on me just so that I could ask the question that I called about. This Practice is absolutely ridiculous. I don't care how much knowledge this woman has, it is not worth being treated like crap. After my first visit, I was told I had to take SEVEN different medications. I only took four of the seven and ended up with the one and only vaginal infection I have ever had in my life, I'm sure due to putting all that crap into my body and throwing it off it's natural balance. Thank God I didn't actually let her touch me! Who knows what kind of damage she would've done. Due to my own good judgment, I really don't have much to complain about, but some of these other posts I've read... this woman should be reported by every single person that has had a problem with her so that maybe she will stop treating patients because it sounds like for every one she helps, she makes another one worse. Some people are even saying that she did procedures on them without permission, and given her attitude, I totally believe this. And it is unethical. It is wrong and should be stopped. She should be stopped.
5.0 Rating
June 22nd, 2015
1.0 Rating
January 7th, 2015
Stay away
1.0 Rating
September 11th, 2013
Do NOT see Dr Whitmore!!!
I waited over 3 hours to see this "so called" expert. I saw her entourage of medical students and residents longer than I saw her. When she FINALLY showed up to make an appearance, she was RUDE, ABRUPT, and CONDESCENDING! I asked her a question about something she suggested and she LITERALLY STORMED out of the room after telling me "If you don't like what I say, you can go somewhere else and you'll never get better." Well, I will NEVER step foot in that office again, which is a shame b/c I've heard wonderful things about the Nurse Practitioners there, too bad they work for that woman. Save yourself time and aggregation and go and see someone else!
1.0 Rating
September 5th, 2013
Poorly run practice! Seems like no one who works there could care less!
First of all it is impossible to see Dr. Whitmore Unless you can wait three months or more. Second she staffs entire office with CRNPs, not MDs. She is the only MD And you can't get an appointment with her. Third it is impossible to make followup contact with any of the nurses you see. They do not reply to faxes or emails or phone calls. The front desk constantly makes errors with important information, meaning that your test results are not forwarded to the nurse or if they are, the nurse never calls back. There is no continuity of care. I am on my third nurse now because when I need an appt or test results, the ones I have seen are either sick or on vacation for over one full week. It is the most frustrating doctors office ever! I get no sense that anybody cares at all. Do not put yiurself through the agony.
1.0 Rating
August 4th, 2013
You can't make this stuff up
I have nothing good to say about Dr. Whitmore. She was rude, uninterested me or my stated complaint, interviewed me with her back to me (asked questions I had already answered twice) while looking at my record on the computer, . She was interested in a urological condition I have but is not a problem for me. She gave me a painful internal exam to learn about this condition, but did not ask one question about my stated complaint. She did prescribe for the condition she never discussed with me, but did not explain the purpose, effects and side effects. Incompetent and unfeeling.
1.0 Rating
February 8th, 2013
No idea about the quality of the physician. Sadly, the ofice cannot even schedule an appointment in a timely manner. They will put prospective patients through the trouble of faxing a copy of an insurance card and contact information before they will even speak with you. Then they will make you wait for more than a week (still no call to schedule the appointment). Then, when you call and inquire, they will advise that they are at least 40 patients behind in being able to call and schedule patients for an appojntment three months in the future. How can any one have confidence in a physician with this poor quality office management?
1.0 Rating
November 14th, 2012
Waste of money (copays)/Time
Dr. Whitmore was recommended to me. I WILL NOT RECOMMEND her to anyone. She is a waste of time and money. Paid copays only to see her nurse practitioner. Asked a question and she didn't like it. She implanted something in my body that never worked or they couldn't get it to work and a yr later had to get it removed and NO not by her. Left her and went to another IC/urologist in the philly area. She is lacking in alot of ways. When I go to the Dr.'s I want to see the doctor not a nurse practitioner. Trust me I gave her plenty of chances and I am not one to complain. I just don't want others to waste time and hard earned money seeing her and getting absolutley nowhere. The choice is yours hope you make the right one. Just thing again before going to this So called wonderful excellent Dr. Good Luck
5.0 Rating
July 23rd, 2012
Very happy with Dr Whitmore
I love Dr Whitmore and her staff I believe she is the best and has an awesome bedside manner and has really helped me excellent care and treatment!!
5.0 Rating
July 15th, 2012
best doc for IC-
Dr Whitmore treated me for IC since 1990 when it was an issue that most Urologists ignored. That makes it even more difficult for a woman because a large number of urologists(male) focus mainly on male issues. She has always been sharp and compassionate, professional and personal, a very special medical caregiver. The only problem I had was this group excepts limited insurance plans and I have often had to go elsewhere when my insurance changed. This is how I learned how poorly an IC patient is treated by many male urologists. And one female urologist who was the worst of them all. When I was in excruciating pain she made me wait three hours and then told me it was only a consult and wouldnt treat me until the next appt...three weeks away. I have gone through all the protocols and biopsied twice and dealing with the flare-ups require someone just like Dr. Whitemore.