Rate Now
Share Your Experience
Have you seen Dr. Kristina Carnevale?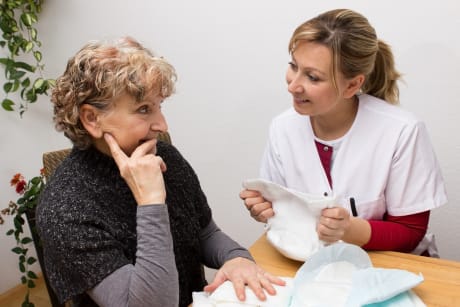 Urinary Incontinence
Learn about the symptoms and causes of urinary incontinence or urge incontinence.
Quality Rating
Highly Satisfied
30 Ratings with 9 Comments
5.0 Rating
January 16th, 2015
Wonderful experience with a caring doctor
Dr. Carnevale delivered my son nearly 5 years ago and has taken care of me ever since. She has always been welcoming, concerned, and genuine. I've had some bad experiences with OBGYNs in the past to the point I didn't want to go at all. Dr. Carnevale changed that for me. I trust her completely and know she has my best interest in mind. She will sit and talk with me about anything I am concerned about and is quick to order testing if I am concerned about something. I've recommended her to anyone who is looking for a new OBGYN.
5.0 Rating
October 9th, 2014
Patient
I would highly recommend Dr. Carnevale I just love her. She has so much compassion for her patients. She talks to you in a level you can understand. Her nurse Practitioner is wonderful also. Willing to listen she probably saved my live. If she see did not send me for further testing. I would of never knew I needed surgery. Dr Carnevale even called and talked to my sisiter in another state on her own time. That says a lot about a Dr. She cares about her patients. I have always had wonderful nurses and care with them. I have been going to her for almost 4 yrs and hope for many more with her & her staff.
1.0 Rating
February 21st, 2014
Nice Dr. with crap staff
Between playing phone tag with the staff because they don't call back on messages you leave, and them sending you to the wrong locations on the outdated business cards with appointment times on them, it's been a frustrating ride. I caught the nurse talking bad about me over their obvious mistake, way to take accountability. I even over heard the Dr lecturing staff about putting in for the wrong prescription with similar names for someone. Saying that's how bad things happen to good docs. She clearly needs to clean house and rid the office of regards. There is one bigger girl at the front desk whom is always rude. I never look forward to going anymore and if I wasn't so far along and going to my hospital of choice after carefully selecting Dr. Carnevale, I would switch to a completely different OBGYN. I feel at this point that even she looks down on me. It's uncomfortable to have someone treat you like an addict over sleep medication when you work forty hours a week in four days on your feet and have a really awful bout with pregnancy insomnia. They obviously do not listen to me because in the message it says to try benadryl. I have already explained that I take it with the medication and still do not get proper sleep. To bring up "addiction", "weaning you off", and " don't take it everyday" is very insulting and both inconsiderate. It's as if saying, 'sacrifice sleep for two days between everyday you actually sleep then go to work your long hours because your addicted and don't need it'. Very demeaning. The Dr is overall usually very nice but I'm almost positive can read my face that I've had enough. I may be a Medicaid patient but we aren't all trash and her staff and own statements have dropped the ball.
1.0 Rating
August 7th, 2012
Not worth it
She is a great person and really polite. But treatment for patients is a nightmare. The staff gets mad and talk to you like your stupid. And the dr response was the girls are really busy.well doc if you got a more educated strong woman working for you they will know to handle their jobs gracefully. You can't be nice and hire low the low class staff you have. They even hang up or click over on the phone without letting you get a word in. Doc words of advise you can't turn ho's into professional. My mom was born in Laos and speak better English then the person answering your phones. And another thing consider your patient time, it's not all about your schedule..so much for trying to find out if the thing growing on my uterus is cancerous.because I couldn't leave work early to and was going to be 15 minutes late... Patients: if your looking for a doc and you work with health insurance don't come here, clearly an office for Medicade people because that's how they treat you
5.0 Rating
March 29th, 2012
Amazing physician
Dr. Carnevale is an amazing physician. I had recently moved to the Fort Worth area with my husband and we found out I was pregnant 3 months later. I went to her and I thought her bedside manner was really great and she was very caring toward me. 2 months later, we found out I had miscarried my baby and she had to perform surgery on me. She and her whole staff have been wonderful during this difficult time. I would recommend her to any woman!
5.0 Rating
May 11th, 2011
Very nice doc
Dr. Carnevale is the first doctor I have seen as an adult who seems to actually care about me as a person, rather than a patient she needs to check off of her appointment list. If she doesn't really care about my well-being then she is great at faking it. The wait time is very long once you get into the exam room.
5.0 Rating
February 9th, 2011
very kind and carying
I have not been to have a female exam since moving to the area over four years ago. Just like all women, I hate going for more than one reason. She helped me by making me feel comfortable in talking to me before the exam and was very gentle and caring during the exam. I would recommend this doctor to anyone.
3.7 Rating
December 22nd, 2010
I love Dr. Carnevale, she is friendly and answers questions to the best of her ability. The only negative (which makes my husband want me to switch dr's) is that I always have to wait about 20 minutes every time I go into the room. I never have to wait longer than 10 minutes in the waiting room, but once I get into the patient room I have to wait FOREVER from when the nurse leaves to when the dr comes in.
2.3 Rating
October 27th, 2009
The doctor is great but there is a thief among the administrative staff
Let me start by saying that this doctor is great. My wait time was minimal and the doctor has an awesome bedside manner. The doctor also had electronic prescriptions which she sent to my pharmacy of choice as I was sitting in the office, which was very cool. My complaint is with the professional staff at this office. I paid a cash co-payment at this office that "disappeared." Someone at this office is dishonest, and that has dampened the entire experience. Furthermore, this office has questionable debt collection practices through their "administrative facility" in North Richland Hills. I will not return to this office, nor will I go to any other doctor in this practice group, despite the fact that I absolutely loved the doctor. If I ever find out that she starts her own independent practice, I will be the first one in line.
5.0 Rating
July 14th, 2017
5.0 Rating
April 17th, 2017