Rate Now
Share Your Experience
Have you seen Dr. Kurt Tauer?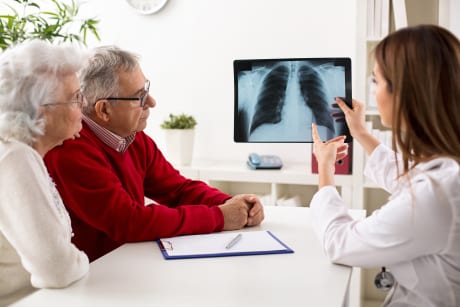 Lung Cancer
Get the facts about lung cancer, including how many people get it and what increases your risk for developing it.
22 Ratings with 12 Comments
1.0 Rating
November 28th, 2016
1.0 Rating
November 20th, 2016
1.0 Rating
October 26th, 2016
Agree with him retiring
1.0 Rating
October 24th, 2016
A loser
This guy is a total fake and fraud. Big talk no follow through. The suggestion for donating his salary and bonuses for coaching of his staff. There are a lot of people there that need it. I would never recommend West Cancer Center to anyone.
1.0 Rating
June 12th, 2016
Time to retire
1.0 Rating
March 9th, 2016
Dishonest and Careless
Dr Tauer gives you face time: he mocks you, is firm in what he says he believes and will do but doesn't mean it. His follow through is ZERO. You will wait forever and never hear back from him. His compassion is nonexistent. Private practice = money hungry individual. As a person he is a zero. I have no respect for him and zero trust in him.
5.0 Rating
July 15th, 2015
5.0 Rating
February 24th, 2013
Committed
I have now been a patient of Dr. Tauer's for 4 years after being diagnosed twice with cancer. I have found him to be honest, committed, thorough, and positive. He sets real expectations, but with faith in the medicines available. I believe in him as a doctor, and grateful to have been under his care.
1.0 Rating
December 29th, 2011
Patient
The wait time is totally unacceptable. Every visit is at least a 2-3 hour behind scheduled visit. When I ask questions to staff as to the delay they t ...
1.0 Rating
May 6th, 2011
Cash Machine
This doctor is interested in "selling" you on expensive and experimental options that, in our case, were already being viewed in a dim light by his colleagues. Once he can no longer ring the cash register with a patient, he loses all interest. I'll never forget that he took forever (days) to return my call once my there was nothing more to be do to or for my wife. It was the only time I had ever asked him to call me. When he finally called - at 6.00 pm - on a Friday - he called my work number even though I left my cell. You could tell his surprise when I answered the work line that had been forwarded my cell.Find somebody else.
5.0 Rating
January 19th, 2011
Ms. Cynthia Stovall
1.0 Rating
October 8th, 2009
HORRIBLE
Dr. Tauer has the worst bedside manner and he does not come off as caring.....at all. We saw him at the West Clinic. I work in the healthcare field and can pick out doctors that are just there for the money. Dr. Tauer is one of those doctors. He would review the cat scan with my family but one time, he told my dad his cancer had metastasized. Later that night he called and told him it hadn't. My dad was happy but we all questioned the interpretation of the cat scan. As suspected, the cancer had indeed spread and he had been wrong in calling my dad, giving him false hope.The radiologist actually is the person who interprets this but when Dr Tauer admitted that the cancer had indeed spread, he was not sympathetic AT ALL.NOr did he apologize. He also gave my dad an option to do chemo after his surgery. It shouldn't have been optional. My dad's cancer may had slowed down the rate it was spreading if Dr. Tauer would have made an appropriate recommendation to definately do chemo. At the time of this discussion, he did not seemed concerned at all if my dad did chemo or not. When the end came for my dad (15 months after being diagnosed), Dr. Tauer told him in a very non-shalant way that he had a few days to a few weeks left. He couldn't have been colder or any less sympathetic. He clearly does not get emotionally attached to patients, which is ok...but he took it a little too far.Also, when my dad did start chemo, they messed up his appointment time so he had to wait 3 hours before getting hooked up. Then he was freezing the whole time. Ridiculous!Dr. Tauer has absolutely no sympathy at all. When my dad went to Heaven, we recieved personal cards from all of his doctors....except Dr Tauer sent one much later, which was a cookie cutter card that he probably didnt even sign himself. My family couldn't be any more disatisfied with him. He is very intelligent, but thats just not enough. I wouldn't send my worst enemy to Dr. Tauer.
Nearby Doctors

Dr. Kurt Tauer is similar to the following 3 Doctors near Memphis, TN.