Rate Now
Share Your Experience
Have you seen Dr. Laura Foster?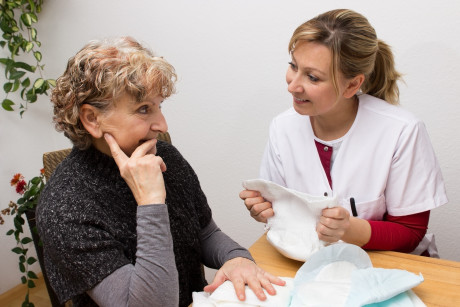 Urinary Incontinence
Learn about the symptoms and causes of urinary incontinence or urge incontinence.
31 Ratings with 13 Comments
5.0 Rating
June 12th, 2015
2.0 Rating
May 4th, 2015
Told me I had PC Cancer and if I didn't do something about it I would be dead in two years, this was 2008. Just had a biopsy at UNC-Chapel Hill. No cancer found. She lied to me after telling me she wouldn't or the pathology report was wrong. Just beware, she likes to send all of her surgery patients to Dr. Aubrey J Evans. He is not there effective May 1.
1.0 Rating
June 5th, 2014
Still suffering
I have seen Dr Foster for many years, when she was Dr. Culp. I really liked her 10+ years ago. She was a good doctor and a good person. But now she has way too many patients and her practice is suffering from that. My last couple visits were very rushed and I felt like I was unwanted. I left depressed with no answers and felt like it was just a money grab. I went to a new Urologist practice and received pretty much the same treatment. In and out, no effort in figuring out my problem. I think Obamacare is ruining the medical industry, Doctors must see twice as many patients as before to make ends meet. I hope all you Liberals are happy with your President. We haven't even begun to see the destructive effects of his policies. Sorry Dr. Foster but you are no longer a good doctor :(
2.3 Rating
April 18th, 2014
No good
I have been a patient of Dr. Fosters for almost 12 years. I did not like her from the beginning, then she grew on me. However, I have lost all confidence in her as a urologist. I waited for over an hour in her exam room for a routine scheduled appointment. She comes in asks a few questions and sends me on my way. I think her patient load is beginning to be too much!
1.0 Rating
January 20th, 2012
Disappointed in this urologist. Didn't take my concerns into consideration. When I asked about alternative treatment options she acted like I was an uneducated hick(I have an a graduate degree). Really not happy, but you may be. Office staff rude and during a procedure by an RN, another doctor Dr. David Cook barged into the room without knocking or announcing his presence. This was a procedure room so he had no business coming in the room. Extremely rude.
5.0 Rating
October 21st, 2011
Dr Laura Foster
Dr. Laura Foster has a professional manner about her that I really admire. She cares deeply about her patients and will leave no (kidney) stone unturned in her attempt to provide her patients with the best possible care she can muster. I have been a patient of Dr. Fosters for five years, I trust her completely and think she's the best!
1.0 Rating
August 29th, 2011
Immature
Dr. Foster's attitude during my visit with her was very immature and rude. She rushed into the office with a "chip on her shoulder" and barely looked at me. Iwas shocked becuase I had heard how nice she was. She asked me questions in a clipped tone and typed into the computer. She gave me little indication of what my problem might be and said I needed some tests which I came to find out couldn't be scheduled for six weeks because she's very busy. I felt like I was in the "wrong place!" PS:I went to another urological practice and had a terrific expereince and am on the road to recovery. I was given an appt. within a week, treated kindly and professionally and maturely by a wonderful doctor and will never go back to Dr. Foster!
5.0 Rating
June 10th, 2011
Dr. Foster is a complete professional. She took her time with me and answered all my questions. Her office staff is very friendly. Don't believe any bad reviews you might read about her. Some people complain about everything. There is no reason to give this woman a bad review. She is very polite and professional
1.0 Rating
May 25th, 2011
Complete disappointment
After waiting 6 weeks for this appt, I arrived 15 minutes early for my 2:15 appt. It was 2:20 before I ever got checked in as it took that long for the only receptionist to check out the previous patient. Sat in the lobby until 3:10. Taken to room and at 3:40 I opened the door to ensure I had not been forgotten. Her CMA advised me that I had not been forgotten and that she "was always behind". Dr finally came in room at 3:50. Very brusk. Said "sorry you had to wait but I am doing the best I can". No exam. No introduction. Not even vitals checked. She ordered CT scan and cystoscopy, but never even evaluated me.I work in a medical office; this would never be acceptable in my office.
5.0 Rating
November 11th, 2010
Excellent
1.0 Rating
December 14th, 2009
Abrasive personality
I saw this urologist years ago after having problems with kidney stones. She came across uncaring and would not even go there with me regarding lithotripsy or other options to help rid my body of stones. She simply said the stones weren't big enough for lithotripsy (shockwave treatment). Her only advise was to drink lots of lemonade and she sent me home. I ended up going to another urologist where I was given treatment options to include lithotripsy. I was never go back to Dr. Foster.
1.0 Rating
June 18th, 2009
cold hearted. Said matter of factly "you have cancer" (prostate). We will just yank it out, lets do it next month. Would not give me a chance to ask questions. Every time I asked or tried she made me sound and look stupid for asking. Didn't want me to consider other options, told me I had no options. "If we don't yank it out ,you will die". Terrible doctor. I told her I wanted to think about it, and she dimissed me as a patient. I think that she would be a poor choice for a man or woman needing an urologist. Lets work together and put her out of business.