Rate Now
Share Your Experience
Have you seen Dr. Lawrence Serif?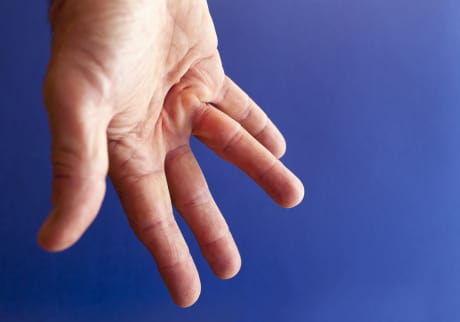 Dupuytren's Contracture
Dupuytren's contracture is a thickening of the tissue beneath the skin of the palm of your hand
36 Ratings with 8 Comments
4.0 Rating
September 22nd, 2017
Hip replacement
1.0 Rating
February 16th, 2017
Appointment to discuss knee surgery.
1.0 Rating
September 18th, 2016
Dr Doom
In my 65 years of life, I have never experienced a more insensitive, non-compassionate, impatient Dr!! I had hip surgery and when I asked for pain medication he said he doesn't GIVE OUT narcotics. He prescribed a medication that did nothing but make me tired. I told him once that I had a few questions and he said he only has time for one! The worst experience I've ever had with a Dr who should a least ACT like he cares. The worst bedside manner ever!!
4.0 Rating
November 5th, 2015
5.0 Rating
April 22nd, 2015
Very satisfied
5.0 Rating
May 23rd, 2014
great doctor
2.3 Rating
January 29th, 2011
The nurse Dorian was too busy to read the directions Dr. serif gave him. Instead of giving me a removable cast he put on a permanent one. I need to remove my cast to do physical therapy. When I told nurse Dorian this, he gave me attitude about having to re-do HIS mistake. It wasn't my mistake but he acted like it was. In addition to his bad attitude he left 3 staples in my elbow. I of course can't see my elbow because of limited mobility. I noticed a tight pulling on my elbow while trying to do my exercises. I felt with my right hand and touched the 3 staples missed by Dorian.Needless to say im not very happy
1.0 Rating
October 12th, 2010
Atrocious!
Dr. Serif is arrogant, dismissive and rude... actually beyond rude. This was our first meeting and yet he couldn't bother to spend more than a few minutes with me, wouldn't listen to my concerns, and as I attempted to get a satisfactory answer to the question, "What should I do?", he turned on me, berated me, raised his voice, got in my face and told me, in so many words, to shutup and quit asking for special treatment! I tried to defend myself, asking him not to raise his voice to me, but that only increased his level of animosity. Finally, he said he'd "spent enough time on this" and stormed out of the examination room. I was stunned, shaken and could not control my tears. Did I mention that I'm a 60 year old woman? I have never had a worse experience with a health care provider in six decades of going to the doctor! (This is a stark contrast to his entire office staff, who could not have been more pleasant, efficient and helpful!) I have no idea if this man is a good surgeon, but he has no business meeting with people who are not under anesthesia. He exhibited not one ounce of compassion, couldn't pretend to care, has a hair trigger temper and couldn't control himself enough to keep a civil tongue in his head! But even if he couldn't bring himself to conduct himself with medical professionalism, let alone as a polite human being, the least he could have done was to give me the courtesy of treating me as a CUSTOMER! After all, my six or seven minute appointment no doubt put several hundred dollars into the coffers of his practice. He should remember that the next time he decides to unload on someone he has just met. I would rather live in pain or go outside my insurance plan and pay 10 times as much to someone else, than to ever go near him again!
4.0 Rating
May 23rd, 2017
4.0 Rating
May 23rd, 2017
1.0 Rating
March 13th, 2017
4.0 Rating
February 28th, 2017
Nearby Doctors

Dr. Lawrence Serif is similar to the following 3 Doctors near Palm Springs, CA.