Rate Now
Share Your Experience
Have you seen Dr. Leonard Remia?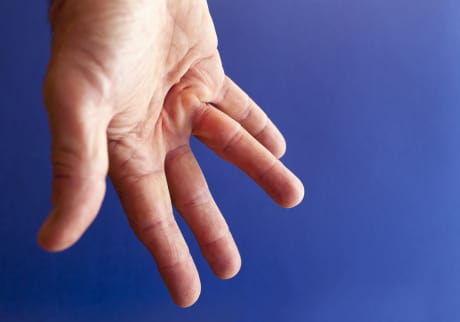 Dupuytren's Contracture
Dupuytren's contracture is a thickening of the tissue beneath the skin of the palm of your hand
51 Ratings with 7 Comments
2.0 Rating
August 6th, 2016
Poor listening skills
Dr. Remia refused to acknowledge that the Vision Scope, which he performed on my knee a week prior to an arthroscopy, was the cause of my extreme discomfort. He stated that he had never had any bad results from Vision Scopes in the two years he had been doing them, and that the arthroscopy would make everything feel better. It not only did not improve the pain on the side of my knee, the PT that he ordered further aggravated what was later diagnosed by his PA as ITBS-tendonitis. At the 6 week post-surgery checkup, he had not read the PT eval that had been sent to him, and based on my telling him that it was not progressing well, and no examination, he ordered 3 Hyalgan shots and was out the door, saying if it didn't feel better by now, it wasn't going to get better. It was his PA who took the time to examine me and diagnose the ITBS, changing the PT orders and explaining that the shots would not help this condition. Dr. Remia may have done some brilliant surgery in his career, however, his unwillingness to take a few moments to listen to a patient and credit them with worthwhile information to consider caused a great deal of discomfort and frustration for me.
5.0 Rating
June 30th, 2016
Great Dr.
5.0 Rating
December 18th, 2015
Left Hip
Had left hip replaced. Home on third day. Walking with cane in ten days. Back to work in construction in 30 days. Best part of process was before surgery. Dr. Remia pushed me to loose weight before surgery and had me do a month of pre- surgical physical therapy. These two thing made all the difference in rehab. 7 weeks now and I continue to do physical therapy to build strength and range of movement. Will recommend for surgical skills. I
5.0 Rating
August 23rd, 2015
Great Doc!
Dr. Diagnosed my hip surgical needs quickly and seemed to know my questions even before I thought of them...very thorough. He had to fly out to a conference the next day, but showed up at the hospital at 5:00 AM just to see how I was doing. He had me out of there after 2 nights and walking again within days. After 4 years, I never even think about the new hip. Highly recommend this man.
5.0 Rating
July 11th, 2013
KNEE
1.0 Rating
June 22nd, 2013
very dissatisfied patient
I had my first ACL reconstruction by Dr. Remia due to his outstanding credentials, but after my experience with him I can not recommend anyone to see him for a serious issue. The first problem I have with Dr. Remia is that he opted for a cadaver reconstruction of my ACL, which after doing more research and other expert opinions on the matter was the worst alternative for someone of my young age. Additionally, his post-care to patients leaves a lot to wish for. I felt treated like a number, and although I am sure that these surgeries are routinely to him, not picking up the phone or being able to reach him with concerns did not make the experience pleasurable. After getting surgery on my other ACL with another doctor, the knee that Dr. Remia fixed currently pivots, and I still experience pains due to the particular way in which he reconstructed my ACL.
5.0 Rating
May 10th, 2011
Top notch Doc/Procedure
top notch Doc/Surgeon. Quick appointment, was on op. Table within 10 days and out after 2 days. This is the fastest recovery time due to the frontal (anterior) entry. I can't imagine doing it the old fashioned (posterior) way. Should be able to drive again within 2 weeks. You'l love this guy.
1.0 Rating
August 28th, 2017
5.0 Rating
August 21st, 2017
5.0 Rating
August 20th, 2017
1.0 Rating
August 15th, 2017
5.0 Rating
August 4th, 2017