Rate Now
Share Your Experience
Have you seen Dr. Lilith Whyte?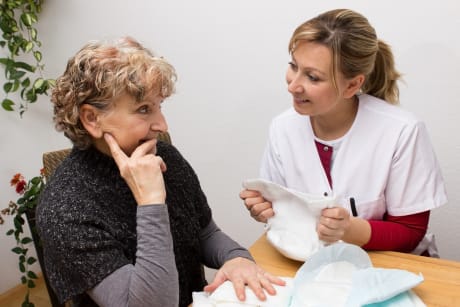 Urinary Incontinence
Learn about the symptoms and causes of urinary incontinence or urge incontinence.
Quality Rating
Highly Satisfied
55 Ratings with 11 Comments
5.0 Rating
August 20th, 2015
5.0 Rating
July 27th, 2015
5.0 Rating
September 19th, 2013
I LOVE MY DOCTOR
1.0 Rating
April 16th, 2013
This Doctor is crazy she a hypocrite and the biggest devil of them all. She can not keep a staff and she does not know how to keep her personal life and business separate.
1.0 Rating
October 12th, 2012
RUN FROM DR WHYTE
2.3 Rating
October 9th, 2012
Very Confused
I feel like time is money dealing with her. Sometimes she's very sweet other times it's like who's this woman! She needs to slow things down and takes things easy, and learn to spend more time with her patients and access their need and meet them before throwing them to the wolves.And yeah I've also been miss diagnose and been given prescriptions that I clearly didn't need. Word of advise...... Carefully do your homework on a doctor before going.
1.0 Rating
September 24th, 2012
Think again
If you are thinking about seeing dr whyte please think again. She delivered my first daughter in 2010 and missed my elevated BP and when she did discover it it was the day before she was supposed to leave for vacation. So she rushed me through pushing so she could go on vacation. I ended up with a 4 degree tear that she did not sew up properly and I have had 3 subsequent surgeries to recontruct everything. My current gyn says I have to have c sections going forward. After I had my daughter I found out from a friend who dr whyte also delivered that the doc left gauze in her and sewed her up. She is a terrible doctor, does not pay enough attention to you during your visit and didn't even remember who I was after when I came in for my 6 week post partum appt. Never ever go to her. Ever.
1.0 Rating
December 13th, 2011
Not good at all!
When I got pregnant with my first child, I really didn't know what to look for in a physician. I found Dr. Whyte's ad in a parents choice magazine. So I scheduled an appointment and went in for my first visit. At first, the level of care was ok, but later on in the pregnancy I started to feel like Dr. Whyte really wasn't concerned with my well being. With this being my very first pregnancy I had many questions. She always had a very short and Uneducated answer that was too generalized to help me understand what was happening to me during my pregnancy. In my 8th month of pregnancy I went in for a routine visit. With my blood pressure only being 120/85, Dr. Whyte decided that my blood pressure was indicating that I had come down with a case of preeclampsia and that I needed to deliver ASAP. First of all 120/85 is not all a high enough blood pressure to make that type of decision, but who was I to dispute. Dr. Whyte was also about 8 in a half months pregnant at this time. Looking back, I feel as though Dr. Whyte wanted to get all of her patients out of the way before it was time for her to deliver her own child. She was very impersonal while doing my delivery. To be frank, she was not even in the room when my son came into this world. She was out in the hall eating chicken! She enduced my labor, broke my water and then went home to take a nap. She didn't quite make it into the room when the nurse told me that it was time to push. Some might read this comment and think that I am being exagerative, but Dr Whyte is a hottt mess and I would suggest that if you are having a baby...DO NOT ...I REPEAT... DO NOT LET DR WHYTE TAKE CARE OF U!!!
5.0 Rating
October 6th, 2011
Great experience overall!!
1.0 Rating
September 1st, 2011
Worst experience ever with a so called doctor
This was the worst experience ever. The doctor was slow, had me wait in the office for over an hour Then wait in the room over an hour. Did a minimal exam, made a false diagnosis, charged me an excessive amount for nothing done. Did one test and never called or sent any results. The staff is IGNORANT and the doctor is not far behind. NEVER DO THIS AGAIN. WARNING!!!
1.0 Rating
July 14th, 2009
I WOULD LIKE EVERYONE TO KNOW THAT DR. LILITH WHYTE IS THE MOST IMPERSONABLE, NONCHALANT OB/GYN I'VE EVER MET. BESIDES THE FACT THAT HER OFFICE STAFF HAS SOME NASTY ATTITUDES, THE OFFICE IS NOT WELL KEPT AT ALL. IGUESS BECAUSE MANY OF HER PATIENTS RECIEVE MEDICAID SHE FEELS AS THOUGHT THEY'RE NOT INDIVIDUALS WHO DESERVE RESPECT & THE BEST POSSIBLE MEDICAL TREATMENT AVAILABLE. IT IS ALMOST IMPOSSIBLE TO GET AN APPOINTMENT, AND ONCE YOUR APPOINTMENT IS SCHEDULED, YOU ARE STILL LIKELY TO WAIT ABOUT 2 HOURS BEFORE SHE EVEN CALLS YOU BACK. WHEN YOUR IN THE ROOM WITH HER, YOU FEEL RUSHED AS IF HER ONLY OBJECTIVE IS TO CARRY ON WITH THE NEXT PATIENT. AFTER 2 YEARS OF SETTLING FOR MEDIOCRE MEDICAL CARE, NEVER AGAIN WILL I RETURN TO DR. WHYTE'S OFFICE.
5.0 Rating
August 5th, 2017
Nearby Doctors

Dr. Lilith Whyte is similar to the following 3 Doctors near Huntsville, AL.