Rate Now
Share Your Experience
Have you seen Dr. Lillian Morris?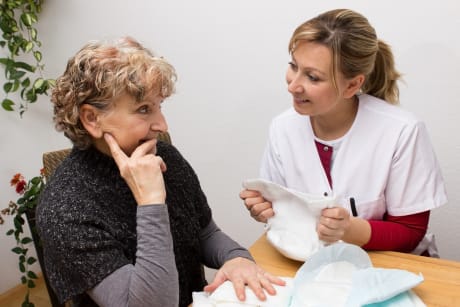 Urinary Incontinence
Learn about the symptoms and causes of urinary incontinence or urge incontinence.
19 Ratings with 10 Comments
5.0 Rating
March 30th, 2015
5.0 Rating
September 30th, 2012
Excellent care.
5.0 Rating
July 8th, 2012
Excellent Doctor
Dr. Morris is caring, smart, and an excellent doctor!
1.0 Rating
February 3rd, 2012
I've never had such poor treatment at a doctor's office. The staff is horribly rude, repeatedly, in person, over the phone, very confrontational. There were also several mistakes made that. Each one I was willing to overlook, but by the third one it was too much, I will never go back and recommend you never do. I called to verify that my Rx had been faxed in and was told no it wasn't, you need to have X procedure done first. I was confused as this was not something I'd ever talked about with Dr. Moriss. But I went ahead and scheduled. Later felt like it was a mistake and about 5 phone calls later they figured out it was. Horrible communication skills on their end. I wasted many many phone calls trying to straighten and clarify my treatment with them.Then I was way overbilled. More phone calls and rudeness trying to straighten this out. They also very rarely return voicemails or pass messages on internally.Lastly, Dr. Morris made a mistake in writing my Rx even though we had been very clear on agreeing to my exact course of treatment in the exam room. To correct the doctor's mistake I had to pay for my Rx twice, once for the mistaken Rx and a second time (full price again) for just a few pills that the first one was short by. Dr. Morris specifically told me I would not be charged for the mistake, but I was and she denied her promise and would not take responsibility.Every step of the way was more hassle and headache than any other medical office I've dealt with. I cannot express how much I absolutely do not recommend Dr. Moriss.
1.0 Rating
August 17th, 2011
Smart Dr Bad Staff
I had called about my lab results ten times and it took the Dr 3 months to get back to me. based on my lab results, the dr stated that i needed to come back for another appointment right away to do more testing.i made it clear to the dr before each visit that i had a deductible and needed to know how much each visit would cost. the staff gave me a specific price and charged me 3 times the amount stated. i have now got a great ppo group health care plan and i will never go back to her again. she was smart but not any smarter than another dr in her 40's.
1.0 Rating
August 10th, 2011
Don't Entrust Your Health To The Incompetent Staff of Women's Healthcare Associates
Concerned about who handles your medical records, confidential information & insurance claims? Then STAY AWAY from Dr. Morris & Women's Healthcare Associates! I called 2 months in advance to confirm acceptance of my insurance & coverage, providing all of my insurance details. When I called back to make my appointment, I reconfirmed my insurance & coverage. The day prior to my appointment, the front desk staff calls to request my insurance information to confirm coverage. I provide the information requested & ask to be contacted if they don't receive confirmation. No call. When I arrive for my appointment, the front desk informs me they have yet to confirm coverage but I could pay out of pocket & they could try to confirm later or reschedule! Outrageous! What a waste of my time: all of the phone calls to ensure coverage in advance, 30 minutes spent completing paperwork, plus driving, parking, etc. No apology nor acceptance of responsibility. Not going to put my health in their hands!
1.0 Rating
June 3rd, 2011
this is the worst doctor I have ever seen. If you value your health and do not want a heart attack after dealing with her - see someone else. anyone else. the car mechanic maybe?uncaring, incompetent, horrendous, all about money and unable to actually diagnose - but will happily bill for her mistakes and a patient's unnecessary pain and expense getting unneeded tests for a condition that does not exist - and no communication during this - horrible experience. horrible. I have no clue why this woman went into medicine. she is atrocious.
5.0 Rating
April 5th, 2011
5.0 Rating
September 2nd, 2010
Excellent doctor
5.0 Rating
September 3rd, 2008
Excellent - Knowledgable - Trustworthy
4.0 Rating
November 10th, 2016
Nearby Doctors

Dr. Lillian Morris is similar to the following 3 Doctors near Santa Monica, CA.