Rate Now
Share Your Experience
Have you seen Dr. Lindsay Mcbride?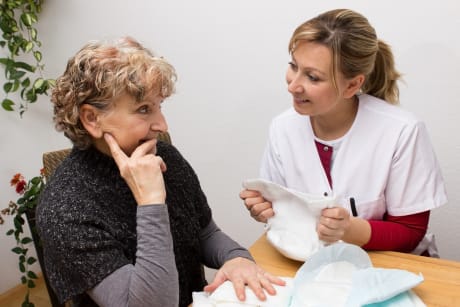 Urinary Incontinence
Learn about the symptoms and causes of urinary incontinence or urge incontinence.
Quality Rating
Highly Satisfied
29 Ratings with 11 Comments
3.0 Rating
April 9th, 2015
1.0 Rating
February 3rd, 2015
Seek a second opinion
If you are an older woman (40 up) beware of anything this doctor suggests. Get a second opinion. For some reason unknown to me, this Doctor feels hysterectomies are a given when you reach a certain age. She also does not use up to date technology for the above procedures. If you are at child bearing age be aware you have choices other than a c-section. My daughter and I now use Fort Worth doctors which have been interviewed prior to using their services. FYI just so you are aware, radical hysterectomies remove your ovaries which produce estrogen. You will need hormones to replace what has been removed. Beware any Doctor who desires to take out ovaries and uterus for no other reason except you are aging; especially if they sell hormone replacement therapy. Also beware the doctor who wants to take out any body part which is not medically necessary. Surgery comes with inherent risks. I personally was dismayed with Dr. McBride for the above reasons. My daughter immediately changed to another doctor when she was told by Dr. McBride she rarely did natural births. I and my daughter are very healthy and happy with our new doctors. One other word of caution, never have a procedure if you feel the Doctor is trying to sell you on a surgery. Which doctor McBride did.
5.0 Rating
December 15th, 2014
LOVE HER
We LOVE Dr. McBride. She is seriously the best doctor ever and I highly recommend her. She delivered my daughter and I couldn't be happier. I'm 18 and she specializes in adolescents, she always made me feel comfortable and as reassured me that everything is going to be fine. She always answers every question. I'm honestly going to miss going to her since my daughter has been born lol! But she is the sweetest lady. Love her so much! (:
2.3 Rating
July 3rd, 2014
not to sure
5.0 Rating
August 9th, 2012
Dr. Mcbride was my doctor for my second pregnancy. I'm a nurse and never have I met a more compassionate doctor. No cold bed side manner here. She's wonderful. She gets excited right along with you as your finding out new things about your baby. I had a c section and I was honestly up and cooking and cleaning two days later. This woman knows what she's doing. This truly was her calling!
5.0 Rating
November 14th, 2011
Love her
5.0 Rating
October 14th, 2011
Best doctor I could ever ask for when I have another baby she will be our doctoe
You ask for a caring doctor this is the one to go to she waa great with all appointments telling what I could and couldn't do. What I need to do because being pregnant and all you think you cant do a lot ask her she will tell you. But over all best one ever.
1.0 Rating
June 29th, 2011
Didn't know what she was talking about.
I came to Dr. McBride to talk about having a surgery. I have a tilted uterus and was looking for a surgery to fix it. When i asked her about it she looked at me like i was crazy and told me the surgery did not even exist. After more research not only have i found the surgeries online, but i have found actual patients that have had the surgery!
5.0 Rating
March 7th, 2011
5.0 Rating
January 16th, 2011
An exceptional caregiver
Dr. Mcbride is one of the best obgyn doctors you will find in the DFW area. She is very professional and polite with the patients. I had a remarkable experience as her patient. SHe treated me as a freiend, always caring about all factors of my health. I am trully pleased with her and I hope she continues to deliver the same caregiving experience I had!!!