Rate Now
Share Your Experience
Have you seen Dr. Lori Claypool?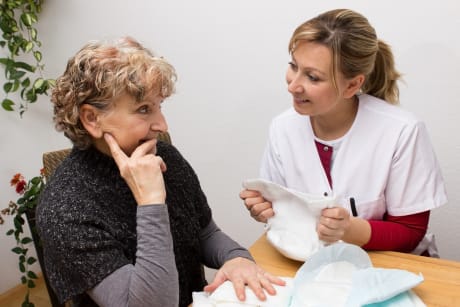 Urinary Incontinence
Learn about the symptoms and causes of urinary incontinence or urge incontinence.
30 Ratings with 10 Comments
5.0 Rating
March 27th, 2017
5.0 Rating
July 22nd, 2015
5.0 Rating
July 4th, 2015
1.0 Rating
March 19th, 2015
I gave birth to my baby in 2010....she seemed like a great dr during exams...but when I gave birth I had to make her induce me when I was 8 days passed my due date. During the birthing process I pushed for 5 hrs...I even asked for a csection after 3 hrs of him not crowning....I ended up with a 4th degree cut, bells palsy, a fistula, and post preeclampsia! I was on magnesium for 5 days in the hospital for the preeclampsia. ..I ended up having to get put on antibiotics to fix the left side of my face, and i had to see a specialist to fix the fistula! Now I have to have csections bc I'm at high risks for a natural birth! I don't recommend her.
2.3 Rating
May 11th, 2013
I liked the office in general and that I got to see Dr. claypool every time I went in for an appt. Unlike some other offices where you might have to see another doctor if your doctor is not in. I will say that she was kind to me when speaking and answered all my questions. Things that I didn't not like we're the fact that she was SO rough with me during my exams and for the birthing process. She also rushed the birthing process with too much force instead of just letting the natural birthing process take place with gentile care. I would not recommend Dr. Claypool to my family or friends. I think her nature is just too rough and uncomforable when its comes to what should be a really beautiful and loving experience.
5.0 Rating
February 19th, 2013
1.0 Rating
September 20th, 2012
I wouldn't recommend Dr. Claypool to anyone. She was extremely non communicative and did not explain the results of my pelvic ultrasound at all. She was not sincere or caring, as I was hemorrhaging and experiencing a difficult time. She ordered an ultrasound, but coded the ultrasound as non covered by her practice, thereby sending me an $800 bill, and all this time communicating non of this to me. She then ordered a procedure for four days later, while my hemoglobin levels were already at 11, expecting me to continue bleeding out for four more days. I would not recommend her to anyone.
5.0 Rating
July 22nd, 2011
5.0 Rating
March 4th, 2011
She is an awesome doctor. She is very involved with your care, really spends time with you and will answer all of your questions. The other thing I loved was that for the most part she takes her own call so she is more than likely gonna be the doctor handling your birth!!! how great is that! alot of doctors have other docs delivering their babies if they aren't on call!
5.0 Rating
April 20th, 2009
The BEST OB/GYN in Jefferson City
1.0 Rating
February 28th, 2017
5.0 Rating
June 30th, 2016