Rate Now
Share Your Experience
Have you seen Dr. Lori Gore?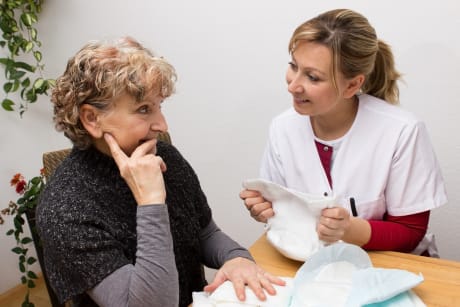 Urinary Incontinence
Learn about the symptoms and causes of urinary incontinence or urge incontinence.
39 Ratings with 21 Comments
1.0 Rating
February 2nd, 2016
1.0 Rating
December 5th, 2015
1.0 Rating
September 16th, 2015
Dr. Gore-Green delivered my child. Throughout the entire pregnancy, her office staff showed incompetence and I was often kept waiting in an examining room for 3 or more hours. During delivery, Dr. Gore-Green showed up late (as my child was crowning and had been begging for them to call her), wearing a white silk dress and heels (it was obvious she was intending to be elsewhere and I had interrupted her plans), and when she delivered my child - she pulled both shoulders out at the same time. Poor bedside manner. Don't go to her.
5.0 Rating
July 1st, 2013
patient
3.7 Rating
February 2nd, 2012
1.0 Rating
July 15th, 2011
Bad doctor
This is far the worse doctor i have ever been through. The staff wont call you back. And they try to make you pay twice. They was supposed to call in my depo shot and i called walgreens and it was never called in. They moved locations and when i went to go look for them they didnt tell me where they was so i went on a wild goose chase. On top of that they wouldnt answer there phone when i need to find them and it was 2 in the evening. Thats not lunch time. Now its 10 am. and there phones are going to voice mail on a friday. The nurse told me i have to change doctors (which i planed on it) but now they are moving out of state. I am only 18 years old and this is my first time finding a doctor by myself and its a terrible experience. If your considering this doctor dont!
1.0 Rating
July 7th, 2011
Over 3 weeks ago I had a procedure done because pap came back abnormal. One of the main things they were looking for was cancer. My file is still on the dr's desk waiting for review. She told me it'd only take a week for the results to come back. So I've been waiting, going crazy, for weeks while my file just sits on her desk. The staff wont give me results. so I'm left waiting, wondering whats wrong with me.
1.0 Rating
June 14th, 2011
DO NOT GO TO DR. GORE-GREEN
I had a horrible time at dr. gore-green's. I went in for my annual appt which was scheduled for 3:15. They made me wait an hour in the lobby and then they finally took me back. Then they made me wait an hour in the room. I was minutes away from just walking out, but she finally came in. Since it was after 5 by this time, she wanted me to come back the next day so they could draw my blood since the lab had closed bc they waited so long. Couldn't drive back to denton the day so I had to find a labcorp. They told me the results to my test would be in in a few days. I waited a week and tried to get the results and the staff was extremely rude. Scheduled a follow-up appt bc my blood results showed high thyroid. Follow-up appt wasn't any better. waited out in the lobby for an hour and half and waited 30 minutes in the room. There were probably 6 people out in the lobby who had been waiting as long as I had, yet people who came in after us got in and out before us being seen. and all I needed was to get my blood drawn for more tests, but again since they took so long to get to me, they asked me to come back bc the lab had closed again. It's been over a week now since my tests were done and yet to hear anything from them. Have called several times just to get another rude person on the other end of the line. This is the worst doctor I have ever been to. Dr. Gore Green was nice, but seemed distracted and didn't really listen to what I said. You would think she would want to listen so they don't get malpractice suits filed against them.....The wait staff was horrible and rude. I WILL NEVER GO BACK AGAIN.
1.0 Rating
October 21st, 2010
I will never go back to her office!
The nurse was polite and helpful, but Dr. Green was rude, and make me feel extremely uncomfortable. I would not recommend her to any woman. I felt like she was pushing me out of the office when I had many questions about my yearly exam. She was supposed to talk to me about birth control, but didn't seem to give a flying rats nest. I have never been to a worse gyno. This woman makes all doctors look really bad.
1.0 Rating
September 23rd, 2010
Dr was great; office staff TERRIBLE
Nearby Doctors

Dr. Lori Gore is similar to the following 3 Doctors near Tahlequah, OK.