Rate Now
Share Your Experience
Have you seen Dr. Louis Bley?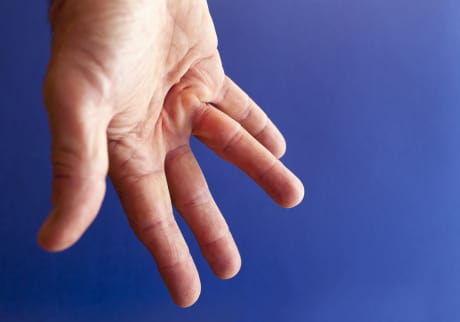 Dupuytren's Contracture
Dupuytren's contracture is a thickening of the tissue beneath the skin of the palm of your hand
Quality Rating
Highly Satisfied
33 Ratings with 12 Comments
5.0 Rating
October 28th, 2016
Psychologist
5.0 Rating
March 23rd, 2016
RN
This is why YOU should choose Dr. Bley Dr. Bley listens. You will never feel rushed or feel that you are bothering him. You will have time to tell your story and be able to express how your particular orthopedic issue impacts your life. Dr. Bley is patient. You can cry. Show frustration. Even tell him a joke or two. And, yes. He will laugh at your joke. Dr. Bley is honest. He will tell you like it is, whether or not you like it. Why? Because YOU need to know what is happening with YOUR body. Dr. Bley is kind. He reveals his empathy readily and knows that you are suffering. And, he wants to help make you feel better! Dr. Bley is an excellent surgeon! His surgical skills will help you achieve your physical goals. Make sure you do your part by participating actively in your Physical Therapy program. Dr. Bley is loved and respected by his staff. All members of his staff will easily share their fondness for him. You will feel the same! Choose Dr. Bley. You will not be disappointed!
5.0 Rating
May 31st, 2015
I have been playing soccer long enough to know a lot of friends who experienced knee injuries, so when I ruptured my patellar tendon I received a number of recommendations for orthopedic surgeons. I was a bit disappointed when my primary care physician told me that she had to refer me to a surgeon in their practice rather than one of the doctors I requested, but I opted to see Dr. Bley before going somewhere else. One visit was all it took and I was sold. He has a great bedside manner; he is friendly, confidence inspiring and decisive. My surgery went well and I am back playing soccer again - no small feet now that I am 40. It is a tough injury so it was a long road back and it will never be quite the same, but I am more than happy with Dr. Bley's work and where my knee is today.
5.0 Rating
May 2nd, 2014
Shoulder Surgery
5.0 Rating
April 7th, 2014
Modest surgeon!
5.0 Rating
October 18th, 2013
Excellent results with rotator cuff surgery
Dr. Bley repaired one shoulder for me four years ago. Everything went like clockwork and my shoulder has been back to normal for a long time. He was quite cautious about what he allowed me to do after the surgery, which was very helpful. When I tore the rotator cuff on the other side this summer, he repaired that one for me as well. Now 7 weeks post-op, I am well on my way to another full recovery. I'm very pleased with his skill and care and would see him again for any other orthopedic issue. I am also a physician and appreciate how well his staff works together. Great surgeon, great staff.
1.0 Rating
February 28th, 2012
stay away! stay away!!!
Mr. Bley is a very confident man. He will tell you within the first five minutes what he thinks the problem is, but expresses it as a firm diagnosis. Unfortunately I followed through with surgery on my legs- compartment syndrome with decompression surgery as the solution. This is a dated procedure and improperly diagnosed. I know have permanent nerve damage in my feet and lower legs. I have a hard time standing for more than five minutes. My feet have multiple issues. I have blood flow issues now as well in my legs. It was a night mirror. I cannot warn you enough- stay away from this man. He operates to quickly without proper alternatives. I am only 28 and loved athletics. I will live without feeling in my legs for the rest of my life. I will have further complications in my legs for the rest of my life. The blood flow in me entire body is now dysfunctional. I hope to warn anybody to please stay away from this awful person. Hopefully nobody else will have to experience what I did.
1.0 Rating
July 15th, 2011
WORST DOC EVER
I have relly bad knees and decided to go see Bley (even though he shows up only once a week to this office) since I live close to this office. He ordered MRI of only one knee even though I told him I had pain in BOTH knees and the apin wasn't the same in both. His response was that MRIs are expensive and that he'll know more when he takes a look at one of the knees. Fast forward 3 visits later, he orders MRI of the other knee as well. In the meantime, without looking at the results properly, he suggests a lateral release (which is only 65% effective), and does not gaurantee that I will feel better!. I decided not to go in for that, after which he orders other x-rays and more MRIs. My last and final visit with him - he tells me that I have cartilage issues on my femur on both knees. And once earlier, he had told me I had wear and tear on my patella (on my left) and femur (on my right). So when I questioned him, he said, he doesn't know what he discussed with me earlier, and he'd have to go back and look. At one of the appts, he was running over an hour behind, and so I went to the front desk to reschedule. He was walking down the hallway that same instant, and said he could see me right then. Walked in the exam room with me, totally unprepared to discuss my test results...asked me how I was feeling and just listened to my problems (AGAIN). No suggestions, nothing. Asked me to schedule another appt the following week. In the last and FINAL appointment (which was the 6th visit with him) he referred me to another surgeon for a second opinion and said I could choose him or the other surgeon to perform surgery on me. And then he said he doesn't care who I choose since he has a LOT of OTHER patients wanting and waiting to see him. This was totally unwarranted, in my opinion.
1.0 Rating
May 9th, 2011
My visit with MD Bley at Scope medicalo
5.0 Rating
December 11th, 2010
Mark Widtfeldt
Dr Bley put me at ease instantly. I had torn both shoulders and had him do surgery on my left shoulder in september. I now have full mobility in that shoulder and am gaining the strength back daily. Great guy and an even better doctor. If you looked at my shoulder you'd never know I had surgery. He'll be doing my right shoulder if it needs surgery. The crew at Faulkner Hospital were also fantastic. Thanks Doc
5.0 Rating
July 28th, 2010
Charlie Carmone
5.0 Rating
September 23rd, 2009
Rotator Cuff Surgery
Nearby Doctors

Dr. Louis Bley is similar to the following 3 Doctors near Somerville, MA.