Rate Now
Share Your Experience
Have you seen Dr. Lyle Victor?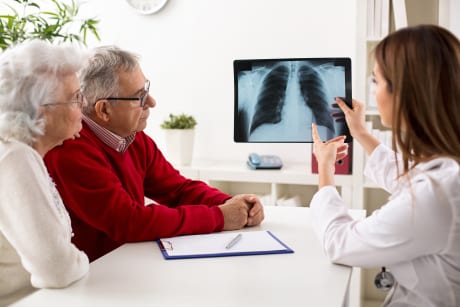 Lung Cancer
Get the facts about lung cancer, including how many people get it and what increases your risk for developing it.
Quality Rating
Highly Satisfied
44 Ratings with 22 Comments
5.0 Rating
September 9th, 2017
An excellent diagnostician
Dr. Victor has been my sleep specialist and my pulmonologist. He was able to diagnose my mild sleep apnea and also prescribe the correct device that would help my condition. After a number of weeks of hearing different diagnoses concerning a breathing problem, he diagnosed the problem right away in the office, and ruled out COPD right away, following up with diagnostic tests. He is an erudite in his field, and has a way of making you feel like you are at home in his office. I highly, without equivocation, recommend Dr. Victor.
5.0 Rating
July 28th, 2017
Efficient
5.0 Rating
June 20th, 2017
I am so pleased with the results of my visits with Dr. Lyle Victor, and this is why. After my first visit, he ordered a sleep study which confirmed that I have OSA. He prescribed an auto titrating CPAP and had his team find the best mask for me. Shortly after beginning use of the CPAP, he ordered the DME to adjust the machine to help me breathe even better. I've been using the CPAP for months now. My sleep is so much better!! At follow up appointments, he reviews the data and asks how I'm feeling. He then offers real and effective suggestions so I can continue to improve my quality of sleep, which improves my quality of life. His approach is to improve my sleep without the use of prescription drugs, and it's working. Dr. Victor is obviously highly regarded by his peers as well as his patients. Every time I visit, there is a new Beaumont Intern learning from Dr. Victor. And he lets them work with patients rather than having them "stand in the corner and watch me." You can tell they are learning. They're really sharp! He treats them like doctors and like eager learners. It makes me smile watching their interactions! Finally, he is a very kind man. So smart but not condescending. And he has an enviable sense of humor which can best be appreciated in person! His staff in the office and in the sleep lab are so nice and very helpful, especially when dealing with the DME's. My first visit with Dr. Victor was one of the most important decisions I've ever made.
5.0 Rating
June 13th, 2017
Dr. Victor
2.3 Rating
November 29th, 2011
I am not satisfied with my experience because Dr. Victor changed his mind about the best treatment for me after the insurance paid for my first machine. I paid for the second machine that had other features out of pocket because my insurance would not pay for more than one machine every five years. My DME supplier would not exchange the used machine for a new one but gave me a discount. I could have kept using the machine I already had, but when it comes to OSA, I am getting what the doctor recommends because it's that big of a deal to me. I just wish that the more accurate determination of the proper treatment was made at first so that I wouldn't have gotten screwed.
Doctor's Response
This is the first time I have been on Vitals, so I am late in responding. I did not mean for you to have any out of pocket expense at all for the new machine (which I assume is an auto-titrating unit). If you are going to Home Care, maybe I can get you a refund. Just let me or the office know. I do not know who you are.
SHOW
5.0 Rating
August 18th, 2011
Dr Victor and his staff provided excellent professional and personal care. I would gladly recommend his services for sleep problems.
5.0 Rating
August 17th, 2011
5.0 Rating
June 7th, 2011
5.0 Rating
April 29th, 2011
5.0 Rating
April 27th, 2011
Mr, Tom Spraker/ Sleep Apnea Patient
Doctor Victor and his staff have always been with the utmost care and concern for me. His secretary, Cindy, has always been professional when dealing with me. She has always scheduled and followed up with my appointments. Dr. Victor, also professional, was personable, yet direct in his approach to my needs. Overall, Oakwood Hospital has taken care of me.
5.0 Rating
April 21st, 2011
nice hair