Rate Now
Share Your Experience
Have you seen Dr. Lynn Lindaman?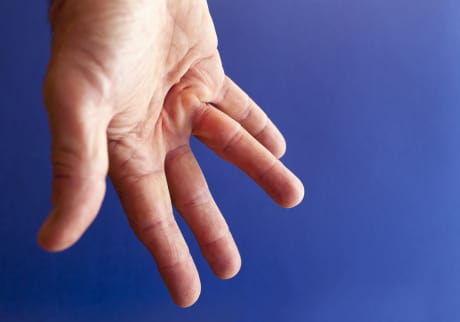 Dupuytren's Contracture
Dupuytren's contracture is a thickening of the tissue beneath the skin of the palm of your hand
31 Ratings with 8 Comments
5.0 Rating
March 21st, 2017
Dr. Lindaman is the best doctor I've ever had. He and his staff are very kind and professional. Was taken care of here for Scoliosis and it's been almost 3 years and we still keep in touch.
1.0 Rating
October 15th, 2015
Rude Staff and Doctor
This Dr was very rude and so was his office staff. I had to wait over an hour for an appointment that I arrived on time for and was told by his staff that I should be grateful that he is seeing me as he is a very busy DR. I arrived at 4pm and was not seen until 5pm. When I complained the office staff became combative and told me the Dr was late for his dinner party by staying late to see me. Really? Too many Dr's have God complexes. If I had arrived an hour late I bet he would not have seen me but it's ok if I have to wait an hour and I better not complain. I will never visit this Dr. again. He didn't have the decency to apologize for making us wait so long. I changed Dr's the next day.
1.0 Rating
June 25th, 2015
5.0 Rating
January 22nd, 2015
Pleasant experience
1.0 Rating
October 27th, 2014
! His license to practice should be pulled!
I wouldn't recommend this guy to anyone....he thinks he knows everything and knows nothing.i nearly lost my son...check him out on Iowa Courts on line....just because a case is settled out of court doesn't mean hes not guilty! I gave 1 star because there is no negative star....103 temp...wound site oozing and draining...vomiting...he must have the Flu! Give me a break...
2.3 Rating
September 5th, 2014
Don't like his billing
I can't really speak to the office staff, as I was coming in with a complaint. The complaint was that I had brought my son in with what the "urgent care pediatrician" said was "not a break, but see this guy (Dr. Lindaman) to make sure". As it turns out, this Dr. is NOT good for "double checking" work. He spent 5 minutes (maybe another 10 prior to seeing us) telling us he looked at the X-rays that were provided and that it was a minor break that a splint would be adequate for. 15 minute consultation... right??? NO!!! instead he uses a "one size fits all" 3-month "fracture management" fee... so, over the next 90 days I have the right to bring in my son and radiate him all for the same price. Needless to say, I (and my insurance company) end up getting billed $800 for a 15 minute consultation. If you get sent here from another doctor with something that "may" be a break, you need to go to that doctor and express your extreme dislike for their desire to "pass the buck" to another doctor (which is one of the reasons they do this). Also, if you have a "minor" osteopathic issue, I suggest somewhere else, as you will be billed for premium "fracture management", when a simple consultation may be all you need. The fact that you have to "know" all this ahead of time is particularly annoying. On the plus side (2 stars instead of one), while the Dr. was not necessarily a "wildly compassionate" man, I don't think he's bilking the public for extra money (e.g. he didn't replace the splint that my son had received the day prior just because he could)... he just has a "one size fits all" mentality... which I distinctly disagree with.
1.0 Rating
July 22nd, 2013
I would not recommend this physician to anyone. The receptionist is very unprofessional and rude to patients. I observed this at each of our three visits. Dr. Lindamann spent less than 5 minutes with our daughter at each visit. At our last appointment, and it will be our last, he examined her, said she needed surgery, referred us to Iowa City and left the room. As a first time mother I was floored- there was no explanation of her condition which we had to ask his nurse to get a name for since he walked out the door before my husband or I could speak. I understand that he didn't want to assume what treatment would be proposed by the doctor to whom he was referring; however, it is not acceptable to not sit down and explain the condition itself. We will be taking our daughter to Iowa City for consultation and surgery.
1.0 Rating
August 16th, 2012
NOT RECOMMENDED!!!
I would absolutely NOT recommend this office or physician. This office (receptionist) is the most unprofessional individual/office I have ever come across in any office or any type of "customer service" type profession. We have been to this office approximately 5-6 times in the past two years and each and every single visit we have experienced this woman being EXTREMELY rude and utterly unprofessional to either us or have witnessed her being the same way with other patients, either in the office or on the phone. This last visit was the straw that broke the camels back and caused me to immediately transfer care to another more competent, professional, kind office and surgeon. Dr. Lindaman himself was made aware of this during our visit and he wasn't far behind his receptionist in terms of professionalism and being receptive to his office staff performing in such a rude, crude, immature, unprofessional manner. If you are looking for a professional, compassionate physician and office, this most DEFINITELY is NOT the place you want to be!!!!
5.0 Rating
March 21st, 2017