Rate Now
Share Your Experience
Have you seen Dr. Madonna Tomani?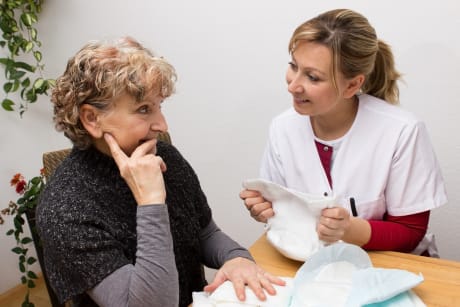 Urinary Incontinence
Learn about the symptoms and causes of urinary incontinence or urge incontinence.
27 Ratings with 10 Comments
5.0 Rating
December 8th, 2016
5.0 Rating
January 19th, 2016
A New Doctor
After having several other doctor visits that were painful in the extreme, I had to find a new doctor. I had a consult with Dr. Tomani about these visits to other the other doctors and I followed up with a check up a week later. She was very professional yet friendly. I found her to be easy to talk too.
5.0 Rating
October 1st, 2015
Husband's point of view
My wife's best friend recommended this office and we were very excited to start our first pregnancy experience. We had no problem to schedule an app and met most of the staff - the receptionist, nurse, ultrasound tech and Dr. Tomani herself. So far everyone was friendly and we got all our questions answered. Wish me luck to comfort my very hormonal wife for the remaining of the 6 months!
5.0 Rating
September 26th, 2015
My first experience
5.0 Rating
August 3rd, 2015
New to Rochester
I am new to Rochester and made an app at Madonna OBGYN simply because of the convenient location, not because of the reviews. I wanted to have my own point of view on it. The original app date was offered in a few weeks although after I mentioned my problems, I got my app in a couple of days. After meeting Dr. Tomani, I was very pleased with her - all that unpleasant experienced in GYN offices she made into a very simple and pleasant trip. She gave me a few options and answered all my questions. The Ultrasound app I needed was scheduled the next day. Clean office, relaxing atmosphere, friendly and professional staff.
5.0 Rating
July 9th, 2014
1 baby and counting
I see a lot of negetive reviews but I absolutely love Dr. Tomani. Yes she is fast at doing her annual exams but who wants to spend a lot of time there? She has personally called me to follow-up on abnormal ultrasound findings and was great during my first pregnancy. Her staff is wonderful too ... It feels like some of these reviews about the staff were from the old practice (not Modonna Obgyn). I had a similar experience there but the new office has been excellent.
1.0 Rating
July 8th, 2013
staff
I was literally assaulted by the NP or PA (whichever) when I went in complaining of kidney pain. She gave me a hard and quick karate style chop to my left flank exactly where I was having severe discomfort. I put up my hand to thwart off a second but she managed to get past me and do the same to the other side. I was in tears and terror. Look, I am a nurse. I expected I would go in and give a urine sample and have this type of exam. The problem was in the severity of the blow and the fact that there was no warning that she was to begin the exam. The bigger issue in my eyes was the fact that she showed no concern nor gave an apology. This happened last year and I am finally getting around to writing the doctor and this site because the last straw came today when I was not even allowed to make an appointment because I had a $10 outstanding charge on my account. That's right, not even make an appointment. If this doesn't show where this practice has their priorities, nothing does. These people have it all backwards.
1.0 Rating
September 12th, 2012
Dr. Tomani is ill-informed and has a dreadful bedside manner. She made it clear that she was in rush and did not take any time to answer my questions. She had interrupted my story after 1 sentence and never let me finish. She is unwilling to put time and effort into making a correct diagnosis or figuring out alternative solutions to please the patient. Her office also had poor follow-up, forgetting to call me with results that were needed before I could begin treatment, for which I never received an apology. I would not recommend Dr. Tomani or her office if you're looking for decent care or health solutions.
1.0 Rating
May 2nd, 2012
I would not recommend her practice
I did not have a good experience at all. Her staff especially the receptionist and a blond manager that had a sour sergeant personality type; was part of the problem. I wanted out. That is the last thing you need when you are pregnant: to deal with a discourteous, uncaring staff. Madonna didn't spend much time with me... 5 minutes and I saw myself asking questions when she was getting out the door not very caring. The wait was long even if I got the first appt of the day.The app to find out about the sex of the baby I had a tech with a sour face the whole time; which ruined the whole experience. When I told about these issues to Tomani -- she asked me to go look for another doctor and defended the attitude of her staff..! I was 5 months and I got another doc; and I am so glad I did. I love him. I also took with me 2 patients I had recommended to her. Piece of advice: if you are not happy get out as soon as possible! I took too long thinking things would improve they didnt, they got worse.
1.0 Rating
February 9th, 2012
More interested in botox than practicing medicine
I had a vaginal abscess. The staff was rude and inefficient. Dr. Tomani was distracted and actually gave a sales pitch about botox as something their clinic offered! I had puss draining from my body, I was not interested in botox! She forgot to prescribe antibiotics. When I called for a prescription they wanted to book an appointment.
4.0 Rating
April 6th, 2017
Nearby Doctors

Dr. Madonna Tomani is similar to the following 3 Doctors near Rochester, NY.