Rate Now
Share Your Experience
Have you seen Dr. Marc Breslow?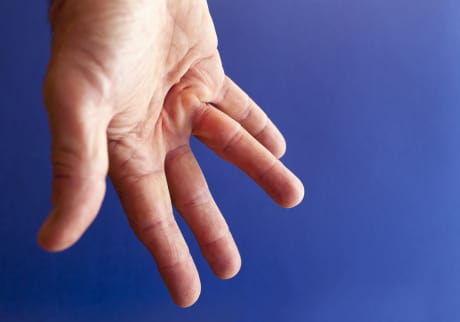 Dupuytren's Contracture
Dupuytren's contracture is a thickening of the tissue beneath the skin of the palm of your hand
27 Ratings with 8 Comments
5.0 Rating
October 29th, 2015
Dr. Breslow was wonderful. He took the time to explain my X-ray and what it was showing. After my MRI, he called me on my cell and discussed in detail the options. He suggested physical therapy rather in the hopes of avoiding surgery. He took time to understand my needs and wants and how other factors like my weight and diet can help with my injury. He really showed that he cared about his patients.
3.0 Rating
September 11th, 2015
Dr. Breslow is very affable. I never have received an injection of cortisone from any doctor with such utter confidence and ease and vitually minimum of pain in my life. He knows where to inject the medication with amazing accuracy. Wish he would sketch a picture of where the injury in located so I could get a better visual.
5.0 Rating
October 15th, 2014
I like him and I like IBJI for the most part
Dr. Mark Breslow is sort of quiet but seems like he knows what he is doing. I didn't feel rushed and didn't have to wait too long like with some other docotors at IbJ. I had to wait too long with this other doctor there. Anyway, he got me a MRI and gave me a knee surgery that worked out good for my knee and my job. I told my boss about him and I think he is going to him with his knee to. I don't like doctors but this one is a good one
5.0 Rating
March 24th, 2014
1rst visit
2.3 Rating
April 17th, 2013
Definitely will not go back
I spent an hour in their offices and saw the doctor for maybe 5 minutes. He sent me for X-rays and looked at them to "diagnose" my problem before even talking to me. When he finally did come in to talk to me, it was for a whole 5 minutes and it was obvious by the time he got to showing me the X-rays he had already made up his mind that what I had was not worth his time and simply sent me to physical therapy with no diagnosis. I feel like going there was a complete waste of my time.
1.0 Rating
October 27th, 2012
Worst caring specialist
I have a really bad knee injury and he didn't care to diagnosis me right, saw me for ten mins and sent me home with the wrong diagnosis, prescribed me meds that made me gain 12+ lbs, paid 70 dollars for a copayment and took 2 weeks to return my call because I was not feeling well on his drugs then has his assistant return my call and say the doctor wants you to try Alive... Aww How caring for my health. He wasted my time, money and health. Thanks for nothing
3.0 Rating
July 7th, 2017
3.0 Rating
July 7th, 2017
4.0 Rating
May 14th, 2017
5.0 Rating
February 17th, 2017