Rate Now
Share Your Experience
Have you seen Dr. Marc Greenstein?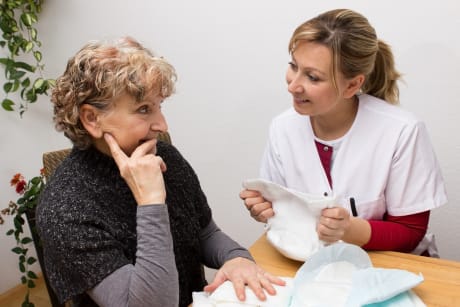 Urinary Incontinence
Learn about the symptoms and causes of urinary incontinence or urge incontinence.
Quality Rating
Highly Satisfied
36 Ratings with 13 Comments
5.0 Rating
June 28th, 2017
Knowledge & great bedside manner
5.0 Rating
April 20th, 2017
was excellent
5.0 Rating
September 9th, 2015
A top doctor in his field
Dr. Greenstein has the highest level of expertise in the field of urology. He has managed multiple urological issues that I have ad for more than 10 years. He not only handled several emergencies that I had, but also carefully monitors my issues for my long-term health to avoid future problems. His office is equipped to provide ultrasounds on-site. The convenient patient portal allows for patients to get information and ask questions. He is also a caring professional who prioritizes the well-being of his patients.
5.0 Rating
March 27th, 2015
The best!
Marc Greenstein is the best urologist ever. No nonsense, listens, works with the patient and makes me laugh. I don't know what state I would be in if I hadn't have found him, completely by chance. Also his speed to reply to emails, even on a Sunday, is unbelievable. Really cares a lot about his patients.
2.0 Rating
March 26th, 2015
Unhappy, painful healing
Disappointed in my visit, had a lot going through my mind and was looking for a scalpel free vasectomy. I didn't realize that he didn't do this and ended up with a lot of pain I wasn't expecting. I should have paid more attention, but was nervous and didn't take it all in, he mentioned the words 'scalpel free' so I just assumed thats what I was getting. WHY WOULDN'T YOU DO A SCALPEL FREE VASECTOMY WHEN IT IS THE BEST METHOD FOR POST-OP PAIN?!?! Healing was tough. Wish I went with another provider who uses newest and best methods.
Doctor's Response
I am very sorry you experienced post procedure pain. I only perform the No Scalpel Vasectomy (Scalpel Free). Pain is expected after any surgical procedure whether a scalpel is used or not and pain medications are provided to all patients. Please call me with any ongoing concerns you have. Dr G
SHOW
5.0 Rating
October 21st, 2013
One great Doctor
Dr Greenstein is a very caring, considerate and knowledgable Dr. He will go to the ends to find a cure for what is bothering you. He has a wonderful bedside manner and is funny which helps. He is also very helpful by way of insurances etc. He even offers holistic ideas if the patient would like to try them. I highly recommend him to anyone that needs a Urologist/Surgeon. I'm sending my parents there that's how much I trust him. His office staff is also fabulous anything you need they are right on top of it.
5.0 Rating
September 23rd, 2013
Caring Professional
I first met Dr. Greenstein in hospital. and later at his office. He was very professional and had a caring attitude. Never rushed his visits and always wanted to be sure I or family members had no questions and understood what we had discussed. He works with my primary and my other doctors sharing test results and treatemt plans, He has a very reassurring smile and I feel very confident in his being my doctor. The office staff...receptionst is very cold and distant. indifferent attitude when i phoned the main office to make appt in Summit NO ONE there could give me directions to the office or where it was near. (next to Summit post office across from train station) NO ONE advised that there is parking in the rear so i rode around 25 mins looking for a metered parking space. Other patieny's family memebers had to leave to pay meter so they didnt know either about the parking. Dr Greenstein is so personable upbeat the staff just seemed to be dragging through a job they obviously dont like.Sad
1.0 Rating
August 16th, 2013
Terrible Office Experience
I went to the Urology Group of NJ (UGNJ) office for an appointment with Dr. Greenstein, and never got to see the Doctor. We had a terrible experience with the office admin. After failing to validate our insurance because its effective date was a day before the visit, and as a result agreeing to pay for the visit out of pocket. As part of the registration process, she asked for a credit card, which we provided. A few minutes later she hands back the card, and a charge for $385. We asked how could she validate what to charge, if we had not even seen the doctor... and whether she ever went to a restaurant and got handed the bill, prior to even seeing the menu. Instead of explaining, the office admin proceeded to tell me that I was "getting into her space", and we needed to go the waiting area and speak to her supervisor... to which I responded by saying... Thank You, but we won't be seeing this doctor. Please refund my card! ... Just horrible office atmosphere!
Doctor's Response
I am sorry that you had this experience. I have discussed this with my staff and corrections are being addressed. Dr. G
5.0 Rating
March 4th, 2013
Great doctor!!!!
3.7 Rating
January 25th, 2013
I go to this doctor for treatment of an overactive bladder. I visit his office in downtown Summit for most appointments. The building and waiting room are lovely and clean, though sometimes parking is an issue (just like in any downtown). Re: waiting times, sometimes things are prompt, and sometimes there are lengthy delays (over an hour), even with few people in the waiting room. His office staff, including the nurse/tech, are usually very nice. Dr. Greenstein himself seems very caring and genuinely interested in helping people. When I had trouble making my co-pays, he worked out payment method. Also, he really wanted to find root cause of the problem, and not just medicate it away. He also communicates with patients by e-mail, if they wish. A few things to keep in mind . . . he did NOT explain how long the pain might last after my cystoscopy, which turned out to be over 2 weeks (longer than any cystoscopy I've had). Also, he did not go over how painful a urinalysis would be. Preparing patients for these types of things would likely increase their comfort and confidence level in the physician.
5.0 Rating
September 3rd, 2012
Surgery experience..
5.0 Rating
July 24th, 2012
Excellent
Dr. Greenstein was friendly, prompt and thorough. He accomodated my special needs and followed up when necessary.