Rate Now
Share Your Experience
Have you seen Dr. Maria Mora?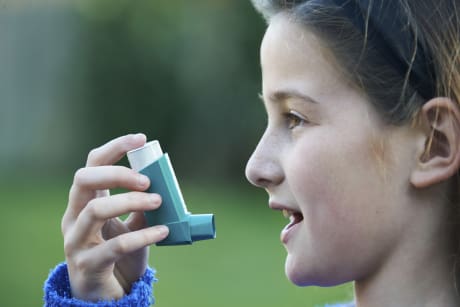 Childhood Asthma
Get the facts about childhood asthma, including the causes, symptoms and complications related to this condition.
41 Ratings with 13 Comments
1.0 Rating
February 6th, 2016
5.0 Rating
December 13th, 2015
1.0 Rating
August 11th, 2015
Be cautious and check the facts
1.0 Rating
June 9th, 2015
Most uncomfortable experience...
The first time I took my two boys to her I thought the comments she made to my kids was odd. I wasn't really sure how to respond. Then I took my 5 yr old in for an ear infection. He was tired and just did not feel good. During the visit I asked him to get up off the floor and get on the table. Before he could get up she was loudly saying "what did your mom say?"... I'm thinking ok.. Every question she asked he answered very polite and called her ma'am several times. When we were wrapping up the visit and she was entering info in the computer he reached for the light switch, I swatted his hand away and he knew not to do it again. She then after the fact said " If you don't behave you don't get a sticker!" he looked at me kind of confused. He wasn't interupting her or attempting to damage anything so really it's not her business. The appt was done and she walked out of the room. I'm talking to my son saying "come on, let's go, we are done" he was upset I could tell it bothered him when she said that. She stood in the hall staring at us and he was nervous not looking at her and walked out and down the hall the wrong way. I said " no wrong way let's go this way" he looks at me and over to her kind of scared. I realize he doesn't want to come this way because she is staring him down. She said " that's it! you don't get a sticker!" his face gets red and I can tell he wants to cry. He comes to me and we walk to the check out window. The lady ask for our name and when she is asking if I need anything else. Before I can answer Dr.Mora yells from the back of the front office and points saying "he doesn't get a sticker!" my son runs out of the building crying. He was already scared and nervous about the going to the doctor. The only plus for children going to a doctor is a little treat on the way out. It connects a positive emotion with a doctor's visit. My son then asked me if he was a bad boy because she was such a mean lady to him. Which he has never said. I'm extremely upset with him having this experience. I will not be going back. I'm sure she knows her stuff, but maybe it's time to retire when you start making a 5 year olds feel that way. Hopefully with this much detail she will know who this is and think about how she treats people the world can be an ugly enough place don't add to it. I won't go back.
5.0 Rating
January 25th, 2013
Best Doctor ever!
5.0 Rating
October 24th, 2012
very pleased
1.0 Rating
September 11th, 2012
Would NOT refer anyone every!
The doctor is not a friendly person. She never in a good mood and neither is the staff. The staff is just as rude as her. I been going there for 5months but am switching doctors as soon as possible. I have never been so unhappy with a doctor. She is not a very kid friendly doctor either. she is very short and in a rush every time. Also refused to fill out FMLA papers for my job due to my child having a disibility. She said I didnt need it. Which is untrue due to all the appts I have for her. Dont waste your time. This Doctor is the worst over all.
5.0 Rating
August 13th, 2012
Dr. Mora is a Great Doctor and a Great Person! August 2012
My son, Chris, has been seeing Dr. Mora for over 10 years, and She is very kind and very professional. Dr. Mora, has great knowledge, and great experience, with all children. My son, is now in 7th grade, and he had to get his Junior Highimmunizations, t-dap, etc, and she and her staff, have been always, consistently, very kind, and very positive ,toward my son, and me, since, my son was 2 years old! My husband and I and our son drive over 40 minutes, to see her, but the drive is worth it!Dr. Mora, cares greatly about all the children, and their parents. Thank you, Dr. Mora, for all your kindness and for all your knowledge, that helps families, children, stay happy and healthy!
1.0 Rating
November 18th, 2011
rude and uncaring
my family and i do not like this dr. The first time i met her it wasnt pretty. She does not do well with little children! She yelled at my two little children and told them if they were not quiet she would "put them into a corner"! Well for one you don't talk to my children that way! In her profesion she shouldnt be acting in that manner! If she doesnt like children then dont be a PEDIATRICIAN!!!
5.0 Rating
October 18th, 2011
Middleburg Peds.
1.0 Rating
March 4th, 2011
Uncaring Doctor
No one in the pediatrics side of this doctors office acts like they care anything about being there. When Dr. Mora comes in to do what she needs to do she acts as though she wants to get in and out as fast as possible and doesnt give solid answers to your questions, much less acts as though she cares to hear the questions to begin with. She is without a doubt the most rude unprofessional uncaring doctor ive ever been to and i will not be back! Her office staff, with the exception of the young lady at the sign in desk, is just as rude and uncaring as she (Dr. Mora) is.
1.0 Rating
December 2nd, 2010
Bad Dr.
This Dr. does not like little babys from ages 1yrs to 6yrs old, she has been rude and tells my children how to behave or what not to say; she has an I do not care attitude, she double books her appts that is why you wait so long, even if you have an appt you will wait 20 to 30 mins after your appt time before you get seen. She tells you there is nothing wrong with your child and in two days you are back again. She is raugh with my child telling her " she needs to lay down now"
Nearby Doctors

Dr. Maria Mora is similar to the following 3 Doctors near Middleburg, FL.