Rate Now
Share Your Experience
Have you seen Dr. Mark Agulnik?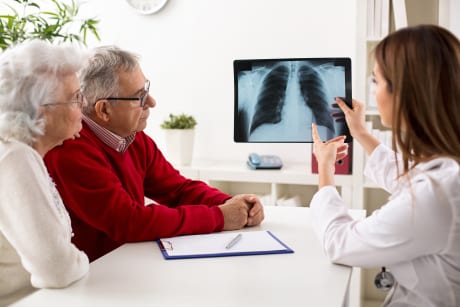 Lung Cancer
Get the facts about lung cancer, including how many people get it and what increases your risk for developing it.
32 Ratings with 12 Comments
1.0 Rating
March 2nd, 2017
Awful
Worst doctor we have seen. Terrible beside manner and zero follow up. Team claims doc is too busy to talk to patients. Entire team is unprofessional. Doctor takes no time to explain anything, very short with patients. I left our last appointment with him knowing he didn't care and that we could never go back to him.
1.0 Rating
July 13th, 2016
Doesn't bother to remember his patients' conditions, let alone their names. He is an awful doctor, and it is shocking that he was able to pull off fooling Northwestern into hiring him. He did not give my father the treatment and attention needed and had the nerve to come into my father's recovery room after a 9+ hour surgery to yell at him and my mom for asking questions regarding his lack of treatment. Do yourself a favor, and ask for a different Doctor if you get assigned to Agulnik. There are so many amazing doctors at Northwestern, but Agulnik somehow managed to slither himself in.
1.0 Rating
February 25th, 2016
Daughter of patient
I lost my dad 8 months ago, and I still wonder to this day if he would still be here or would have at least suffered less if Mark Agulnik wasn't involved. Mark failed at taking proper scans of my dad during my dad's recession. My dad had tonsil/throat cancer, and Mark failed as a doctor by scanning my dad's chest instead of his throat. For months and months, my dad was told that he was "cancer free," while cancer was growing in his throat/neck, which is where Mark was supposed to be scanning the entire time. I understand that my dad's chances of survival were slim since his cancer came back, but is that really an excuse for scanning the wrong part of the body? I advise anyone who has Mark as their doctor to not take any chances with him and find a new doctor.
1.0 Rating
October 5th, 2015
See someone else is you can
In 3.5 months of my Mom being his patient he "evaluated" her for a total of 5 minutes. I use the term loosely since he only looked at her chart and prescribed medication. Her sarcoma was predominately in her leg, and he never looked at it. His nurses were as helpful as they could be, but Dr. Agulnik himself was non existent. My mom was hospitalized at northwestern for her leg and they discovered some pneumonia in the process. In 4 days at his hospital he never once came in to see his patient. They sent her home with 3 days worth of antibiotic and never scheduled a follow up to verify that the medicine did its job. 2 weeks later she was back in the hospital and her pneumonia was far more advanced, she passed away last weekend. Could it have been prevented with a follow up or a Dr. that actually cared about his patients? Unfortunately we will never know and now we are without one of the most amazing people in the world...@ 54. Cancer is tough enough to go through, feeling like you are going through it alone and with no care or concern from your Dr is a terrible feeling. If your family member is recommended to Dr. Agulnik, i recommend you get a second opinion. Call cancer treatment centers of America.
1.0 Rating
July 13th, 2015
5.0 Rating
November 9th, 2014
Amazing doctor. Caring, thoughtful and bright. We are lucky to have met him.
5.0 Rating
September 14th, 2011
Very Good Doctor
Have had many doctors in my lifetime and Dr. Agulnik rates right up there at the top. Very knowledgable, understanding, easy to talk to, will call you at home to talk about your results and treatment. He is no nonsense...very upfront , yet caring. Nevr makes you feel like you are beingrused out the dor. takes time with you.
1.0 Rating
December 31st, 2010
Went in for a visit with family member. He did not even look at us (spent most of the time looking at his computer). and quickly got impatient with our questions.Luckily, after first visit pathologist contacted us that diagnosis changed and we need to see a different oncologist (an answer to a prayer!).Thus, we had only one visit and don't know the answer to some of the rating questions.
5.0 Rating
November 28th, 2010
A caring physician in a difficult time
5.0 Rating
September 7th, 2010
5.0 Rating
October 26th, 2009
Nearby Doctors

Dr. Mark Agulnik is similar to the following 3 Doctors near Chicago, IL.